NBA
Isaiah Thomas had some advice for Zion Williamson after his mild knee sprain
"We will be ready for you in the big boy league."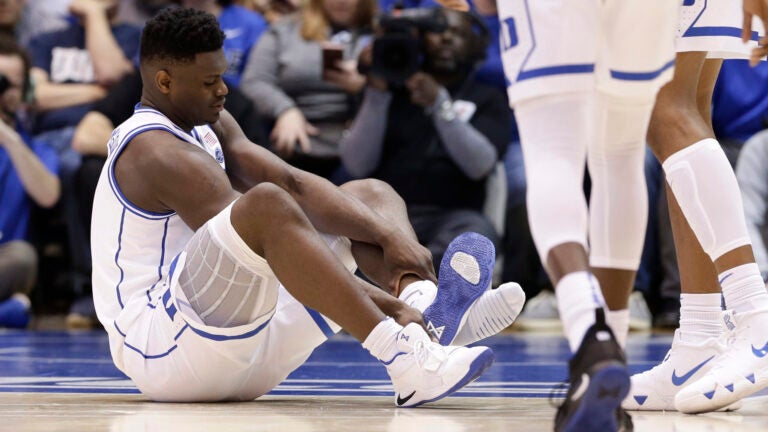 Not even a minute into the hotly anticipated men's college basketball matchup between North Carolina and Duke on Wednesday night, freshman Blue Devils star Zion Williamson left the game with what was later called a "mild knee sprain."
The injury came as Williamson was pivoting and his foot gave out. The replay showed his shoe might have been the culprit:
Zion's shoe: destroyed ? pic.twitter.com/LqQ2te0Jay

— SportsCenter (@SportsCenter) February 21, 2019
Immediately, viewers — including former President Barack Obama, who was in attendance — recognized the shoe's role in potentially causing Williamson to slip. Sports business reporter Darren Rovell speculated about the public relations ramifications for Nike.
Yet former Celtic Isaiah Thomas focused on Williamson, offering a piece of advice in a later tweet as he made a larger point.
Let these kids go straight out of HS!!! Too much on the line to be messing with college if you got a legit chance to turn pro. One injury can change somebody career, Zion sit yo ass down lol and we will be ready for you in the big boy league #LookingOutForThePlayers

— Isaiah Thomas (@isaiahthomas) February 21, 2019
Williamson is in the midst of an impressive freshman season, and he's already considered a likely No. 1 overall pick in the 2019 NBA draft. Thomas hasn't been the only one to wonder if Williamson should sit out the remainder of the season and avoid risking further injury.
Thomas's initial point — to let players head into the NBA draft directly from high school — has been an ongoing discussion. Current rules stipulate that players must be one year removed from high school before they can sign in the NBA. Other NBA players, like Utah Jazz guard Donavan Mitchell, discussed the league's age restriction as he noted that Williamson and fellow college athletes receive none of the revenue.
"Something has to change," Mitchell wrote in a tweet, though Mavericks rookie Luka Doncic had a quick response:
go play in europe ??‍♂️?✌️ https://t.co/2o2VPbwnYX

— Luka Doncic (@luka7doncic) February 21, 2019
In 2018, an NBA memo to teams around the league announced that eligibility rules for high school players could change in 2021, but not earlier. For the short term, Williamson and other talented young players will have to grapple with the system as it currently exists.