NBA
The Portland Trail Blazers got stuck in an Emerson College elevator
"This is not how you treat a former No. 1 team in the West."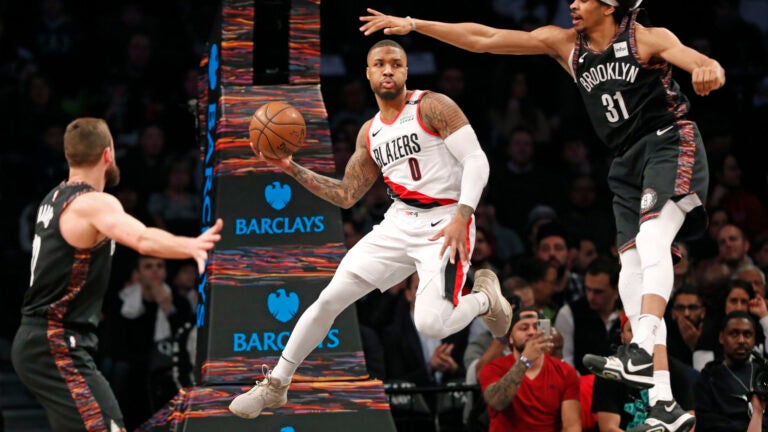 After arriving in Boston Monday night, a group of Portland Trail Blazers encountered a bit of a roadblock while trying to get shots up at Emerson College's Max Mutchnick Campus Center Tuesday afternoon.
Wearing their warmup gear, several players, including former Celtic Evan Turner, were trapped in an elevator for what they estimated to be about 30 minutes. Turner, center Enes Kanter, and center Meyers Leonard all shared video of their experience — and eventual escape — on social media. In the clips, Blazers point guard Damian Lillard is seen crouched in the middle with a shirt over his head.
"This is not how you treat a former No. 1 team in the West," Turner is heard saying, jokingly, in the background. "We deserve better."
Emerson issued the following statement on the incident: "This afternoon, an elevator at 150 Boylston Street owned by Emerson College stopped between two floors and delayed members of the Portland Trail Blazers from reaching the street level for about 15 minutes. No one was injured in the incident. The College apologizes for the disruption and hopes the team takes it easy on the Boston Celtics tomorrow night."
The team said Tuesday was "a rest and recovery day," with no formal practice, so the snafu did not impact its schedule. The Blazers take on the Celtics Wednesday night at TD Garden. Turner will not play due to left knee soreness.
Stuck in the elevator with the squad ??‍♂️ ? @trailblazers pic.twitter.com/2Yu5zrdFfH

— Enes Kanter (@Enes_Kanter) February 26, 2019
https://twitter.com/MeyersLeonard11/status/1100481174563106816