NBA
Knicks owner James Dolan remains the biggest question mark in quest for Kevin Durant, Kyrie Irving
2019 was the sixth consecutive year the Knicks failed to make the NBA playoffs.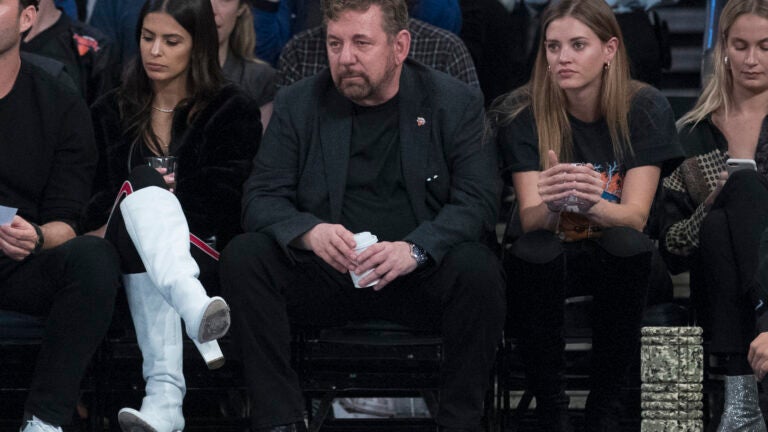 Another wretched New York Knicks season has ended, but from its ashes a justifiable optimism is taking root. The Knicks have the money to add two star players this summer, and there is a growing buzz in the NBA that they could acquire Kevin Durant of the Golden State Warriors and Kyrie Irving of the Boston Celtics, who can be free agents.
With one of the top picks in the NBA draft, optimism turns to giddiness. Could next season's Knicks feature not only Durant and Irving but also Zion Williamson, Duke's freshman sensation? Or will the Knicks trade their lottery pick for a standout like Anthony Davis of the New Orleans Pelicans?
Such big names potentially brighten their future, but there's another name that could make a difference: James L. Dolan.
And so it must be asked: Will Dolan, the unpredictable and imperious owner of the team, find a way to mess it all up?
Based on his two-decade history as owner, there is reason to wonder. For the second time in five years, the Knicks won only 17 games, a franchise low. This was also the sixth consecutive year the Knicks failed to make the playoffs, and the 12th time in the last 15 years. It's a staggering level of impotence for a team that spends as much money as it does and has all the inherent advantages of playing in New York City at Madison Square Garden.
That enduring failure, combined with Dolan's public mistreatment of some fans, has led to a growing anger and skepticism in a disaffected, if dedicated, fan base.
Watching the team spin its wheels seems part of the appeal or burden: The Knicks have committed more than $800 million in payroll over the last decade — not to mention millions more spent on a revolving door of high-profile executives — and they spend over the league salary cap each year as a matter of course. They also have averaged no fewer than 19,000 fans a game, no matter how bad they were.
There are always appealing visiting teams to watch, and some seasons have started strong only to fizzle. But with such a crucial summer on the horizon, the thinking among fans and Knicks observers goes, perhaps not even Dolan can mess up this opportunity to forge a proven winner.
"I wish he had a longer fuse when it comes to the fans," said David Stern, the commissioner of the NBA from 1984 to 2014. "There are some overreactions, but it will have nothing to do with free agency or how the team is run. That all falls on Steve Mills and Scott Perry. Him having a short fuse at times will have zero bearing on player signings."
Mills, the team president, has worked with Dolan on and off over the last two decades, and Perry is the general manager. They are the latest group that Dolan has entrusted to run the basketball side of the organization. (Others have included Isiah Thomas, Larry Brown, Donnie Walsh, Mike D'Antoni and Phil Jackson — all highly compensated and most of them successful elsewhere but unable to succeed under Dolan.)
Dolan may be seen as the odious, impulsive and vengeful tyrant of the Garden, but Stern said Dolan desperately wanted a championship squad.
"Jim has been on a crusade to get the best basketball people around him," Stern said. "That's what he thought he had with Phil and Isiah and Donnie, and what he thinks he has now with Steve and Scott."
But even with some of those well-respected men, Dolan was known to interfere in basketball decisions, particularly Walsh's. Dolan has vowed to cease the meddling, and Mills says he has kept his word.
"I keep him informed, but he does not get involved in what we do," Mills said in a telephone interview last week.
Dolan, however, did dictate to Mills which news outlets could be involved in some of Mills' own news conferences. On two occasions this season, The New York Daily News, which Dolan and Madison Square Garden accused of being biased against them, was not invited, meaning Mills did not have total authority over everything to do with the Knicks.
"Jim has strong opinions about the media," Mills said, "and how he has been covered by the media and how we've been covered by the media. Really, my focus and what I have complete control over, how we build this basketball team — that's what I lock into."
Dolan declined to be interviewed for this article.
Several other executives who have worked closely with Dolan over the years but did not want to be named in order to speak candidly described a complex man layered with contradictory impulses and character traits.
He can be irrational but also is fiercely loyal to certain people. He can be socially awkward and quite charitable but also unleash a volcanic temper on employees.
He is said to worship his father, Charles, 92, the founder of Cablevision. But while Charles Dolan would carry lists of employees' names in his pocket to help greet them and ask them about their lives, James Dolan is just as likely to walk past employees with barely a hello, associates said, and berate others in meetings. Many employees at the Garden simply try to keep their distance.
Seth Abraham was the chief executive of Madison Square Garden for almost five years, until 2004, when Dolan was directly in charge of the Knicks, the Rangers and the Liberty. The two worked together closely.
"He's got the right mindset," Abraham said. "The issue is that he's a zealot and his passion sometimes overwhelms him and the people who work for him. His passion is hot."
Certainly, some fans and charities have benefited from his generosity, while others have felt the sting of his wrath.
Most notably, Dolan had security guards wrestle Charles Oakley, a former Knick and fan favorite, out of the building in 2017, an unpleasant scene that unfolded in front of thousands. And last month he had guards detain and then bar another fan from the building who had called out to him, "Sell the team!"
Although Dolan may eventually sell the Knicks and the Rangers (he sold the Liberty), few think he will do so any time soon, especially when the fortunes of the team could be close to changing significantly. The Knicks are valued at $4 billion, the highest in the league, according to Forbes magazine.
"Fans probably don't like him because of the team's record and because he didn't engage much with them," said Enes Kanter, the center who played parts of two seasons with the Knicks until he was released in February and is now on the Portland Trail Blazers, who are in the playoffs. "But if they knew him more directly they would probably like him more."
Kanter said the fans had the right to feel the way they did because New York City is a great city, but its basketball team has struggled historically. "They deserve a good team," he added.
They have not had one — a real good one — in 20 years, and the anger mounts. In fact, fear of a growing dissatisfaction among fans led to the Garden quietly limiting the amount of beer and alcohol that could be purchased at games late this season, perhaps a prudent decision considering the level of frustration in a fan base with little to cheer.
Prudent decisions have not always been the norm with the Knicks. This is the organization that Stern once said was "not a model of intelligent management." That comment came a dozen years ago, toward the end of an ugly time in the history of the organization, when a former Garden executive, Anucha Browne Sanders, sued the Knicks and Thomas for sexual harassment, and won in court.
There is also a perception among fans and people in the league that prospective players want no part of the bungling Knicks because the team is mismanaged to a point where winning is nearly impossible. In 2015, the Knicks made offers to LaMarcus Aldridge, Greg Monroe and DeAndre Jordan, who was coming off two very productive seasons at the time, and all three signed elsewhere. The next year, the Knicks could not even get a meeting with Durant.
Now the hope is that Durant has changed his mind, perhaps convinced that he and Irving or another top free agent could be the ones to lead the Knicks to their first title since 1973. But with the Dolan wild card, hungry Knicks fans cannot be sure.
"He has cultivated an environment where NBA guys don't want to play there," said Gary Horn, 57, a lifelong Knicks fan and screenwriter who grew up in New York and now lives in California. "But his grand flaw is that he has deputized people who don't know how to draft young players."
A few years ago at the Chicago predraft camp, Mills said, players and their agents told him that they did not want to join the Knicks but said the reason was more about the Knicks' strategy under the former executive Phil Jackson.
"It was the organization, style of play, however you want to talk about it," Mills said.
Mills added that he and Perry were working hard to change the perception of the Knicks and that David Fizdale, the coach, was a draw for both players and fans by dint of his magnetic personality.
Some fans are ready to believe the circumstances have aligned for a superteam.
"If Durant thinks playing for the Knicks is what's best for his business and branding goals," Jonathan Macri, a fan and founder of the Knicks Film School, a website dedicated to the team, said, "Dolan's reputation as an unpleasant, impulsive individual isn't going to change that."