NBA
Los Angeles Lakers reportedly trade for Anthony Davis
Davis will be teaming up with three-time NBA champion LeBron James.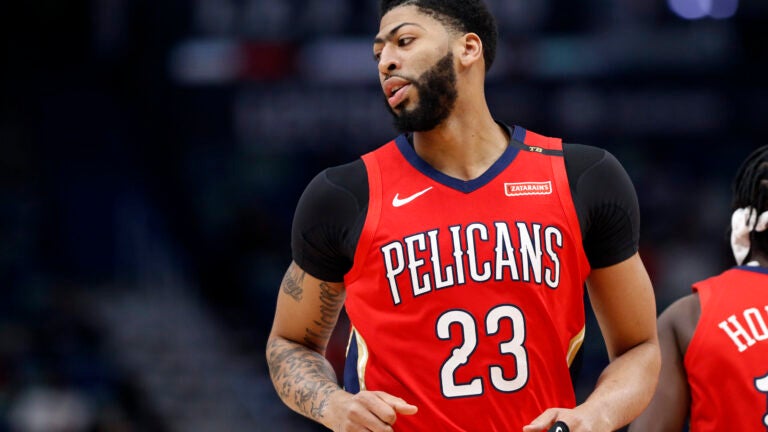 The Los Angeles Lakers and New Orleans Pelicans have agreed to a blockbuster deal that will send All-Star center Anthony Davis to L.A., ESPN's Adrian Wojnarowski reported Saturday evening.
According to ESPN, the Pelicans will receive a trio of young players — 21-year-old point guard Lonzo Ball, 21-year-old forward Brandon Ingram, and 24-year-old shooting guard Josh Hart — along with a trio of first-round draft picks in exchange for Davis. One of the picks is the No. 4 overall selection in this year's draft, but details surrounding the other two had not yet been disclosed.
The Pelicans are expected to shop the fourth-overall pick, which could make their haul even bigger. New Orleans already holds the No. 1 overall pick, likely to be used on Duke's Zion Williamson, after winning the draft lottery in May.
The Celtics were also interested in trading for Davis, but, according to Marc Stein of the New York Times, refused to make forward Jayson Tatum available. Davis's agent Rich Paul made it explicitly clear in an interview with Sports Illustrated last week that if the Celtics had traded for Davis, the deal would have been a one-year rental.
With Davis off the table, the Celtics still face several questions this offseason:
1. Is Kyrie Irving gone? 
The rumblings that Irving is on his way out have been building for a while now, with multiple reports saying he is interested in signing with the Brooklyn Nets. Irving staying in Boston remains a distant possibility, but that scenario seems even less likely now that the Celtics cannot sell him on teaming up on Davis.
2. What will the Celtics do with their draft picks? 
Boston holds the three first-round selections — 14th, 20th, and 22nd overall — in this year's draft, which is scheduled to take place on June 20. Wojnarowski reported during ESPN's "NBA Mock Draft Special" last week that the team does not want to have three rookies on its roster next season.
If they find viable a trade partner, the Celtics could package the picks to move up the draft board, acquire a future first-rounder, or acquire more experienced talent.
3. Will Al Horford opt out? 
Irving might not be the only player on the move, as Horford has a player option for the final season of his four-year max deal.
Immediately following Boston's season-ending loss, Horford affirmed he would like to return. His thoughts, however, may have changed now that an Irving-Davis tag team isn't part of the club's future. According to the Boston Globe's Adam Himmelsbach, Horford has not yet made a decision. The deadline is Tuesday but can be pushed back if both parties agree.
It's possible Horford will opt out so that he can restructure his contract with the Celtics, securing a long-term deal. This avenue would also create more cap space.
Other players with futures in flux include unrestricted free agent Marcus Morris, restricted free agent Terry Rozier, restricted free agent Daniel Theis, and restricted free agent Brad Wanamaker. Center Aron Baynes recently exercised his player option to stay with the Celtics for the second year of his contract.