NBA
Dejounte Murray signs shoe endorsement deal with New Balance
"I always took pride in being different"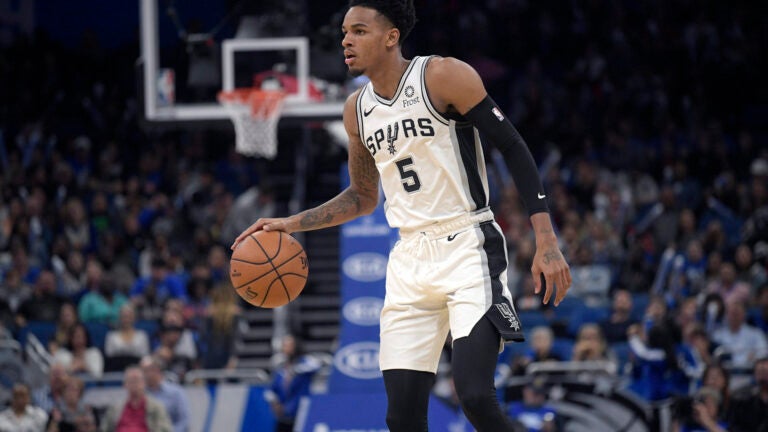 New Balance has added another NBA player to its roster.
Spurs guard Dejounte Murray officially announced on Thursday that he has signed an endorsement deal with New Balance. In a promotional video, Murray is seen dunking while wearing the "Lights out" OMN1S black and white colorway that will drop December 4. The company recently dropped the Kawhi Leonard OMN1s sneaker in October.
Murray, who is currently averaging 10.9 points, 4.5 assists, and 6.8 rebounds this season, is the latest athlete to sign with the Boston-based footwear and apparel company. He explained on social media that he chose New Balance to be "different."
I Always Took Pride In Being Different From Others In Whatever I Did In My Life. This Is Only The Beginning And I'm Excited To Be Apart Of The Family For Years To Come!! ??? @newbalancehoops @newbalance #WeGotNow pic.twitter.com/ZfInxpfvxS

— Dejounte Murray (@DejounteMurray) November 21, 2019
And here is a look at the Murray NB kicks as well as Murray snacking on some spurs…. #gospursgo #nba pic.twitter.com/gqj6PZG6eH

— JeffGSpursZone (@JeffGSpursZone) November 21, 2019
"I always took pride in being different than others in whatever I did with life," he wrote on Twitter in his signature all-caps type. "This is only the beginning and I'm excited to be a part of the family for years to come!"
Now a part of the New Balance "fam", Murray joins former Spurs teammate and current Clippers forward Kawhi Leonard and Thunder forward Darius Bazley, who signed a $1 million deal with the company that included an internship at the New Balance World Headquarters in his hometown of Boston while training for the 2019 NBA Draft.
In the office at Boston Landing, which neighbors the Bruins and Celtics practice facilities, Bazley helped design some of the company's first basketball sneakers in 30 years.
"I've been on a pretty unconventional path," Bazley said according to B/R Kicks, "and so has New Balance. This has felt like the right fit from the start."
With the addition of Murray, New Balance will continue to extend its basketball market and influence.