NBA
Kobe Bryant and his daughter Gianna were honored with a mural in Cambridge's 'Graffiti Alley'
"[Bryant] touched everybody."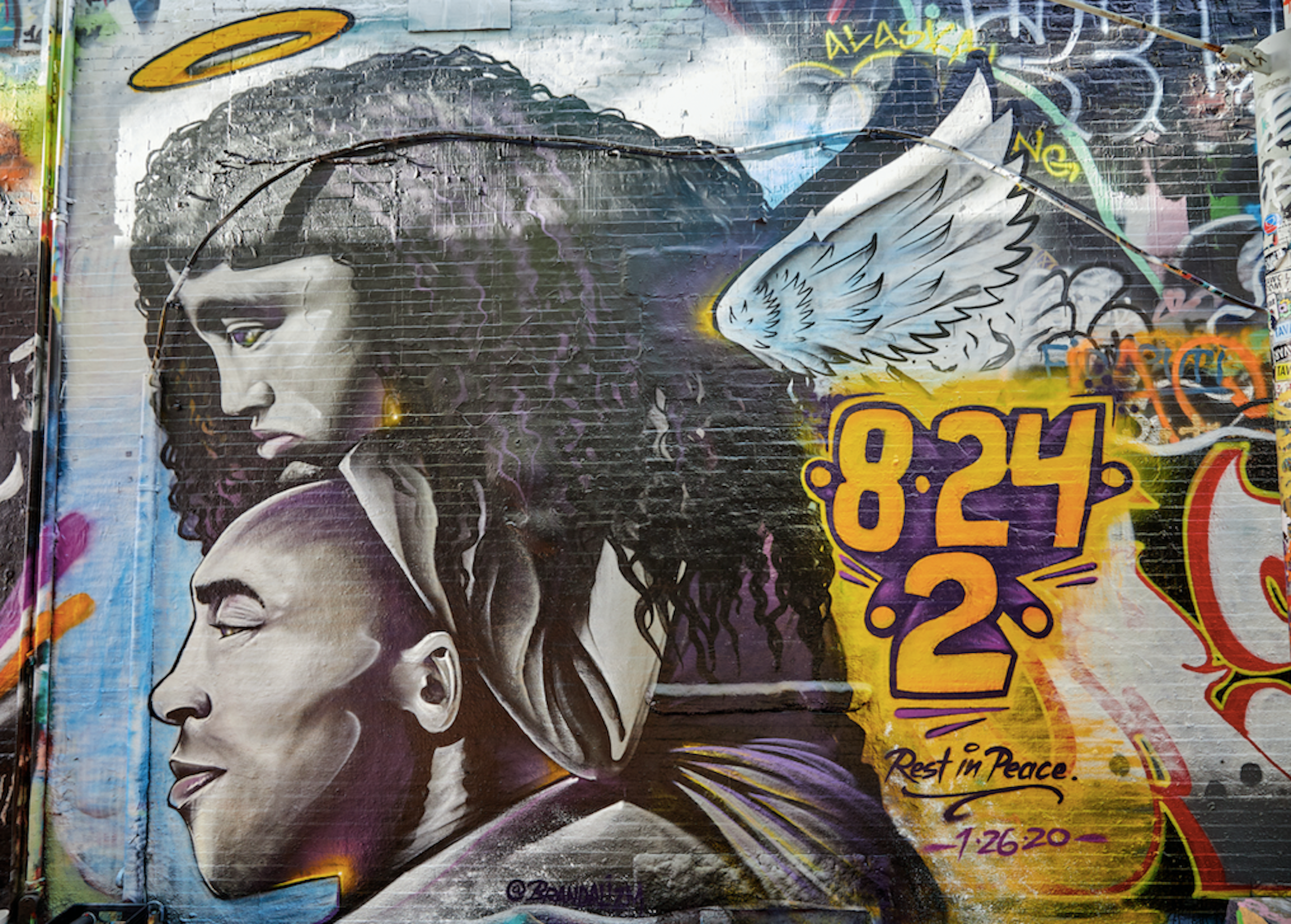 With many around the world paying homage to the life and legacy of Los Angeles Lakers legend Kobe Bryant, the Central Square Business Improvement District felt it was important to do so in Cambridge.
Along Richard B. Monica Way, known as "Graffiti Alley", the District commissioned street artist Brand Rockwell, professionally known as Brandalizm, to create a mural of Bryant and his 13-year-old daughter Gianna — who were two of the nine victims that died in a helicopter crash in California on Sunday. The piece commemorates Gianna, depicted as an angel with a halo over her head, sitting on top of her father's shoulders while he gazes onward, smiling gently. Bryant's jersey numbers — 8 and 24 — are written in gold paint to the right of him.
Underneath his numbers in cursive are the words, "Rest in peace. 1.26.20".
Michael Monestime, the executive director of the business improvement association, told the Boston Globe that he felt like the location in Cambridge was the perfect place to honor the Bryants. The 80-foot-long brick has memorialized other notable figures, including Martin Luther King Jr., whose image stands right beside the Bryants' mural.
"We know 'Graffiti Alley' is an asset, so when things like this happen in the world it quickly becomes a place where we can memorialize or honor someone or something," Monestime explained to the Globe. "We saw a lot of chatter online about his passing, and a lot of people in their feelings about it, and we wanted to celebrate the life of him and his daughter."
Monestime said he chose Brandalizm for the project because of his previous work in Graffiti Alley. He called him a "skilled artisan" who could efficiently get the job done.  The pair met in the alley around 7:30 a.m. on Monday and by 3 p.m, he was finished.
"Brandalizm was able to do this piece quick and in response to the passing of Kobe Bryant," Monestime said. "And since then we have seen many people sharing pictures and stopping into the alley."
Using the hashtag #CentralSq, many have shared images of the mural across social media. One of those is of onlooker Julizza Villanueva, who left a bouquet of flowers in front of the mural on Tuesday.
Villanueva told the Boston Herald's Angela Rowlings that she felt like Bryant, "touched everybody."