NBA
Watch both of Arlington's Pat Connaughton's slams in the dunk contest
One of them earned a 50, but it wasn't enough to advance to the final round.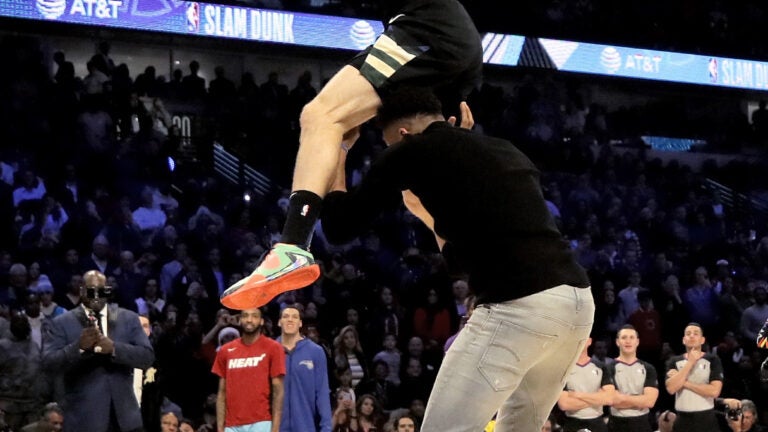 Before Saturday night's Slam Dunk Contest, Arlington and St. John's Prep product Pat Connaughton told Boston.com he was hoping to catch people by surprise and put on a show.
Though he didn't ultimately win the contest, the Milwaukee Bucks reserve certainly turned some heads in the process.
Connaughton earned scores of 45 and 50, missing out on the finals by one point to Derrick Jones Jr, who went on to win the contest after outlasting Aaron Gordon.
For Connaughton's first dunk, he paid homage to the movie "White Men Can't Jump" by dressing as the character Billy Hoyle and unleashing a similar dunk to one Hoyle busted out in the movie. Connaughton alluded to the fact that he wanted to help debunk the stereotype, and he did so with some help from Milwaukee Brewers superstar Christian Yelich.
"That's the MVP of baseball!"

Pat Connaughton brings out @ChristianYelich for his first dunk ?? pic.twitter.com/12DOPAf5dE

— NBA on TNT (@NBAonTNT) February 16, 2020
That dunk got 45 points, and on his second and final attempt he brought out teammate Giannis Antetokounmpo for some assistance. Connaughton cleared the 6'11 Antetokounmpo, tapped the ball off the backboard, and slammed it home, garnering 10s all around.
https://twitter.com/BleacherReport/status/1228878313763917825