NBA
'Run your own race': Arlington's Pat Connaughton on becoming an NBA champion
"It's set in more and more as it's gone on, because it's something that will never get taken away."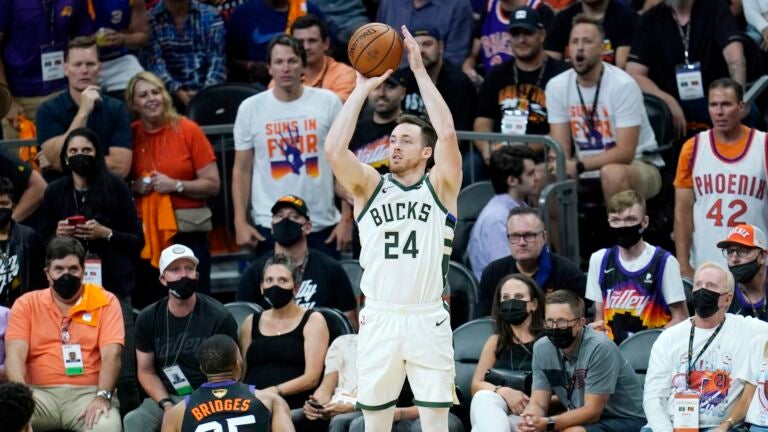 Whenever Pat Connaughton comes home to Massachusetts and makes a special appearance at a With Us Foundation camp or clinic, one of his favorite parts is watching those in attendance realize he truly is just a kid from Arlington.
The more Connaughton speaks with campers through his foundation, the more they understand he didn't have any ties to professional sports growing up. He didn't have a fast track to the NBA or take any shortcuts. Connaughton simply found his passion as a kid, pursued his dreams relentlessly, and turned his career arc into something special. Seeing their faces change, as they start to understand he was just like them, makes everything come full circle for Connaughton.
"It was an organic, love, desire, passion for sports, and it was something I've just worked at to try to accomplish," Connaughton said.
Next time Connaughton returns to a camp in Massachusetts, those campers will be speaking with an NBA champion. Connaughton averaged 9.2 points, 5.8 rebounds, and shot 42.3 percent from 3-point range while playing 30 minutes per game in the NBA Finals. His defensive presence, athleticism, and ability to give the team whatever boost it needed helped the Milwaukee Bucks capture their first championship in 50 years.
Connaughton, who averaged 4.2 minutes per game as a rookie with the Portland Trail Blazers in 2015-16, has gradually carved out more and more of a role for himself as his professional career progressed. He earned the trust of Bucks coach Mike Budenholzer early on and was instrumental in their success each of the past three seasons, culminating with his spirited and steady play in the NBA Finals.
This past week, he's soaked in the moment with family, friends, former coaches and teammates, and others in his circle who have been by his side the entire time. His voice was hoarse when he spoke with Boston.com following a journey he'll always cherish.
"It's set in more and more as it's gone on, because it's something that will never get taken away," Connaughton said.
Connaughton sharpened his craft at Fidelity House in Arlington, powered St. John's Prep to a state title in 2011, and was a catalyst at Notre Dame. He was also a pitcher with a Major League arm, but he opted to pursue basketball professionally instead.
He said his rookie year taught him it was necessary to look at himself in the mirror and admit he needed to improve. Connaughton was always the best player on his team in middle school and high school, and one of the best in college, and it was time to grasp that wasn't the case anymore and work relentlessly to close the gap.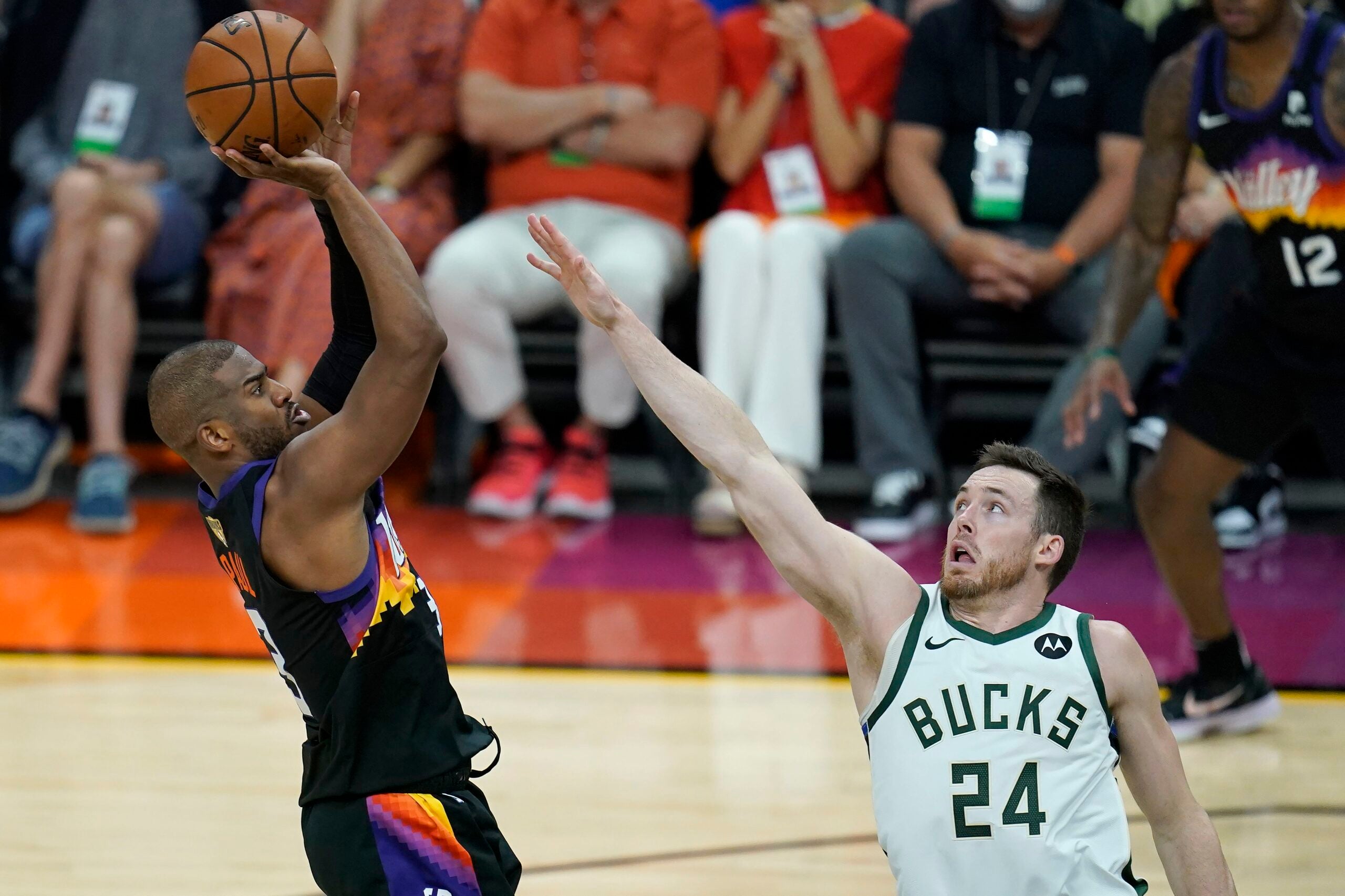 The 6-foot-5 Connaughton played some stretch-4 in college, but he understood that he needed to work on his body and skill set and be able to playmake and hit shots more consistently if he wanted to make it as an NBA shooting guard.
"It's a marathon, not a sprint," Connaughton said. "You've got to run your own race."
He upped his scoring average to 5.4 points in his final year with the Blazers, then 6.9 the next year with the Bucks as he learned to complement Giannis Antetokounmpo, Khris Middleton, and the rest of the roster.
As crushing as falling short of a title in 2019 and 2020 was, Connaughton said those setbacks paid dividends this year. The Bucks struggled at stretches during the regular season, and fell behind 0-2 to the Brooklyn Nets, 0-1 to the Atlanta Hawks, and 0-2 to the Suns, but they never questioned their ability to bounce back.
"Every playoff game is kind of like its own movie," Connaughton said. "We had to make the necessary adjustments, look at the film and see where we could get better, stick to having each other's backs, and come together to overcome adversity. That's what championship teams do."
He hit four 3-pointers en route to 14 points in both Game 2 and Game 5. In Game 4, a pivotal Bucks win, he drilled a go-ahead 3-pointer late in the fourth quarter and was a game-high plus-21. The next closest player on either team was Middleton at plus-10.
Connaughton said he's often pegged as a shooter, which of course he is, but he also tries to use his athleticism, playmaking ability, and other skills to his advantage. Even if he barely gets any looks, he still prides himself on making winning plays.
"Coach Bud saw value in that, and my teammates saw value in that, and I was able to do that at the highest of levels," Connaughton said.
Of course Connaughton had the luxury of playing alongside Antetokounmpo, Middleton, and Jrue Holiday, who made his life a lot easier. Connaughton praised his teammates and called it a "storybook ending" for Antetokounmpo to drop 50 points in Game 6. He said Antetokounmpo doesn't need the limelight, but he deserves it, because he's an even better person than player.
When it was finally over, and the Bucks had sealed the title with Connaughton on the court, he said it was surreal after all it took to get to that point. He started to think "What's next?" initially, because the playoffs had been such a grind, then it fully hit him that the journey was complete. As he looked up at the confetti and celebrated with the fans, it sunk in that his dream had become a reality.
Connaughton said he'd love to bring the trophy back to Arlington, but there might be one slight 6-foot-11 obstacle in his way.
"Who knows if Giannis has even stopped holding the trophy for the last week?" Connaughton said. "He had both trophies and was calling them his babies. I don't know if anyone's ever going to see the trophy again, but I'd love to. It would be something that I think would be really cool, to stick it in Fidelity House and let the town and the city come and take it in, to inspire the next generation of kids. It would be awesome to share that moment with the town that shaped me."
Get the latest Boston sports news
Receive updates on your favorite Boston teams, straight from our newsroom to your inbox.