NBA
Kevin Garnett hid his basketball playing from his mom as a teen
Garnett told Jimmy Kimmel that his mother only found out about him joining the school basketball team one year before he declared for the NBA draft.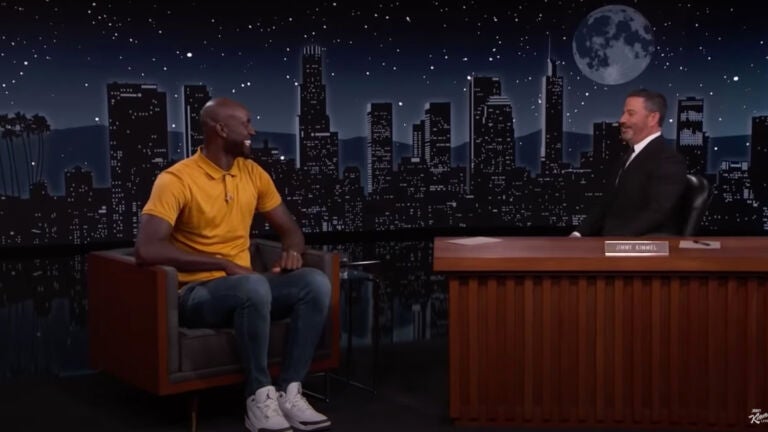 Back in 1995, Kevin Garnett kicked off a renaissance of "prep-to-pro" players by jumping directly from high school to the NBA, paving the way for the likes of Kobe Bryant, Jermaine O'Neal, Tracy McGrady, and LeBron James.
But the former Celtics and Timberwolves great wasn't always sure he could make a career of playing basketball, especially because he was forced to hide his burgeoning talent from his mom.
Garnett, whose documentary film "Kevin Garnett: Anything Is Possible" debuts Wednesday at 5:30 p.m. on Showtime, told talk show host Jimmy Kimmel that he successfully hid the fact that he was on the school basketball team from his mother for several years.
"She found out when I was a junior in high school," Garnett told Kimmel. "I made varsity in 8th grade, and she was like, 'What? No. You're gonna go to school, you're gonna focus on education. I want you to get into these books.'"
Garnett told Kimmel that being raised as a Jehovah's Witness, he came from a very disciplined household. So when his mom found out about his secret, she was "livid."
The way Garnett tells it, one of his classmates went to his mom's hairdressing studio and mentioned she was going to watch Garnett play.
"I was in the layup line, laying it up," Garnett said. "It was a typical night — we were playing a rival, it was a big night. Then my mom walked in with my little sister, and I almost pooped on myself."
Kimmel also brought up the news that the Celtics will be retiring Garnett's jersey in March, while the Minnesota Timberwolves organization — for which Garnett played for 14 seasons — has not.
Garnett had long expressed a desire to become a part-owner of the Timberwolves when his playing career concluded, despite a long-simmering dispute with previous owner Glen Taylor. Earlier this year, Garnett announced that his ownership group's bid to purchase the team had ended.
"You are quite clearly far and away the greatest Minnesota Timberwolves player of all time, I mean there's no question," Kimmel said. "How is it possible that the Celtics have seen fit to retire your jersey but the Minnesota Timberwolves still have not?"
"Well if you know anything about the Boston Celtics, they're known for their championships and the way they do things, "Garnett said. "They do things in a championship way. And that's what I'm gonna say."
"I love the city of Minneapolis and I'm not here to crap on anything," Garnett continued. "Someone has a franchise, and the way they want to run the franchise is up to them."
"They have new owners, though, right?" Kimmel joked.
"I don't know, I haven't kept up with that," Garnett replied, to laughter.
Newsletter Signup
Stay up to date on all the latest news from Boston.com