NBA
'Basketball is everything to me': Isaiah Thomas incredibly grateful after making return to NBA
"I just never thought I would feel this way again."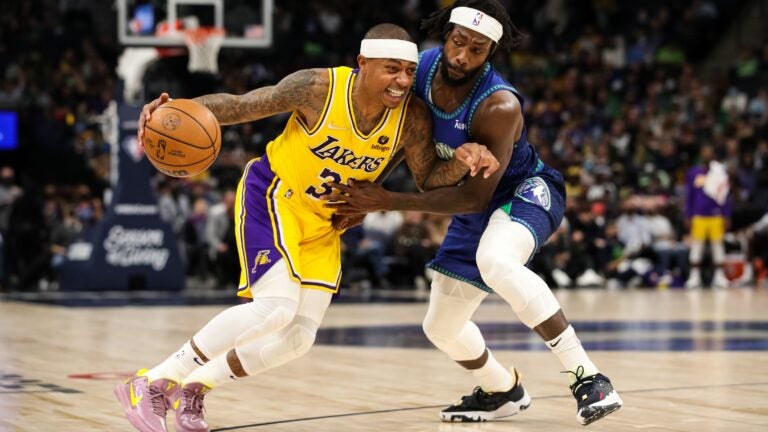 "The Little Guy" is back in the NBA, and he's looking and feeling like himself.
After playing only three games with the New Orleans Pelicans a season ago — and a total of just 87 over a five-year span — former Celtics guard Isaiah Thomas has earned his way onto the Los Angeles Lakers roster once again.
He poured in a team-high 19 points in 22 minutes in the Lakers' 110-92 loss to the Minnesota Timberwolves on Friday, hitting seven free throws and even registering a block.
Thomas, who has dealt with a lingering hip injury over the past few years, said he has "no limitations" with his body at the moment. He said his low moments were not being able to play at the level he knows he can and that it was frustrating when his mind was telling him one thing and his body another.
"That was my first major injury, so that was like, basketball is everything to me," Thomas told reporters Friday. "So it really stopped me from being who I am. It really stopped me from being happy. Like, basketball always made me happy. So it was tough for me."
He called his stretches without basketball the lowest moments of his life, along with when his sister, Chyna, died in 2017. Thomas said he leaned on his support system and credited them for keeping him going.
"The dopest moment for me? When I checked into the game and they really cheered for me," Thomas said. "And this is an away game. Those moments mean more to me than anything, just because people respect what I do and people respect the grind that I'm on."
Thomas said that his stature helps, adding that people enjoy cheering for a 5-foot-9 player who's a "normal person's height." Most of all, he's grateful to feel like himself again.
"Not saying I didn't think I would be back in the NBA," Thomas said. "I just never thought I would feel this way again."
Get the latest Boston sports news
Receive updates on your favorite Boston teams, straight from our newsroom to your inbox.