NBA
NBA trade deadline tracker: Celtics send Josh Richardson to Spurs, bring back Daniel Theis
Here's what happened with the Celtics at Thursday's NBA trade deadline.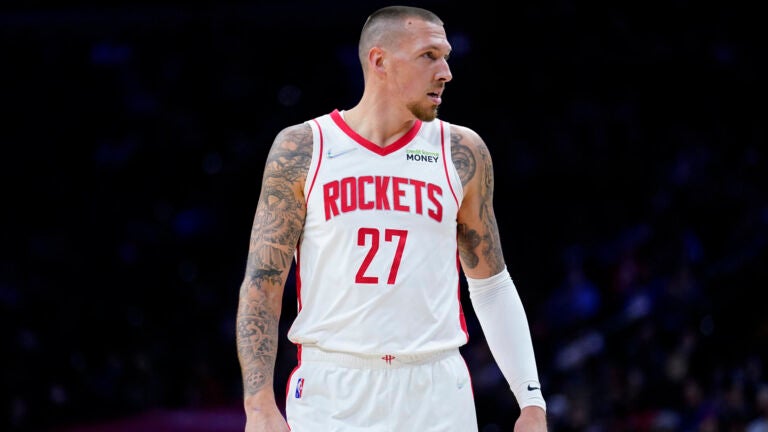 The NBA trade deadline passed at 3 p.m. Thursday with the Celtics making a series of moves. Here's what they did:
Report: Celtics acquire Daniel Theis in exchange for Dennis Schröder
Right before the trade deadline, the Celtics brought back Daniel Theis from the Rockets, trading Enes Freedom and Bruno Fernando to the Rockets.
The trade was reported by the Athletic's Shams Charania.
Freedom was subsequently waived by the Rockets.
Report: Celtics send Josh Richardson to Spurs (Feb. 10 — 1:31 p.m.)
Josh Richardson is on the move after all. The Celtics are sending Richardson to San Antonio for guard Derrick White, according to The Athletic's Shams Charania. White is averaging 14.4 points and 5.6 assists per game this season.
The Celtics dealt Romeo Langford and a first-round pick to the Spurs in addition to Richardson.
Report: Sixers and Nets agree to swap James Harden, Ben Simmons (Feb. 10 — 1:20 p.m.)
Per Shams Charania of the Athletic, the 76ers will receive James Harden in exchange for Ben Simmons in a blockbuster trade. The Nets also acquired Seth Curry, Andre Drummond and two first-round picks for Harden, while sending little-used veteran Paul Millsap to the Sixers.
Celtics could still trade Dennis Schröder to one of "3-4 teams" (Feb. 10 — 1 p.m.)
Per the Boston Globe's Adam Himmelsbach, "3-4 teams" have expressed interest in Schröder. He reported that a potential deal is "50-50" and that the Celtics have no interest in moving Josh Richardson.
Celtics cut costs with minor trade (Feb. 10 — 12:30 p.m.)
The Bol Bol era is over in Boston before it even began, according to ESPN's Adrian Wojnarowski.
Report: Donte DiVincenzo off the board for the Celtics (Feb. 10 — 11:50 p.m.)
The Celtics reportedly had interest in Donte DiVincenzo, but the Bucks agreed to a deal that sent the 25-year-old guard to the Sacramento Kings as part of a four-team trade, according to ESPN's Adrian Wojnarowski.
The Kings acquired DiVincenzo, Trey Lyles and Josh Jackson in the deal. The Bucks picked up Serge Ibaka and a pair of second-round picks. The Pistons got former No. 2 overall pick Marvin Bagley, while the Clippers received Rodney Hood and Semi Ojeleye.
Report: Celtics discussing Terrence Ross deal with Magic (Feb. 10 — 11:45 p.m.)
Last year prior to the deadline, Danny Ainge made his final trade as the Celtics' President of Basketball Operations — acquiring Evan Fournier from the Magic in exchange for a second-round pick.
This year, Ainge's successor Brad Stevens might make his first deadline deal with the same franchise. According to Gary Washburn of the Boston Globe, the Celtics are working on a trade that would send Dennis Schröder, another player and a pick to the Magic in exchange for Terrence Ross. Ross, 31, is an athletic microwave scorer off the bench.
Schröder — a veteran guard who is on a cheap one-year deal — likely doesn't hold much value for the rebuilding Magic, which means the unnamed player and/or pick would offer the value in trading Ross.
Report: James Harden wants a trade but doesn't want to formally request one (Feb. 10 — 11:30 p.m.)
Per ESPN's Adrian Wojnarowski, Nets star James Harden — who forced his way out of Houston to join Kevin Durant and Kyrie Irving in Brooklyn last year — does not want to make a trade request.
He does, however, want to be traded to the 76ers to play with Joel Embiid. The Sixers and Nets reportedly have not had serious trade discussions yet, but they are planning to speak prior to the 3 p.m. deadline. A deal would almost certainly involve Ben Simmons and further assets from the Sixers, such as draft picks or defensive specialist Matisse Thybulle.
Simmons grew disgruntled in Philadelphia and has not played for the Sixers this season. Per Wojnarowski, the Nets are willing to hang on to Harden for the rest of the season even if he leaves after this season in the hopes of winning a championship.
Celtics coach Ime Udoka discussed the trade deadline on Tuesday (Feb. 8 — 7:00 p.m.)
Speaking with reporters prior to Tuesday's game against the Nets, Celtics coach Ime Udoka said he believes the Celtics could improve internally.
"Obviously there's tons of options and people are calling," Udoka said. "But like I said, until something happens, we'll focus on what we have in-house and how we're playing, which is obviously pretty high level right now."
Udoka and the Celtics won five games in a row and seven out of eight prior to Tuesday. Still, Udoka acknowledged that teams are looking to improve "at all times."
"We can do a lot within ourselves, what we have," he said. "Obviously shooting is a big piece of it and a big part was health initially. Once we touched on those things, being whole for this extended amount of time now and improving our shooting, trying to get back to where we were, that's something we can do in-house, but you're always looking for shooting, and like I said, we have a lot of room to improve within what we already have here."
Are players and coaches shocked when a trade does happen?
"For the most part, like I said, we're focused on what we're doing and that's an every game-to-game thing, let alone trades happening," Udoka said. "And so me, being in the league this long, as a player and a coach, you're used to it. I don't think guys bat much of an eye at it at all."
Report: Kings get All-Star Damontas Sabonis, Pacers get Buddy Hield, Tyrese Haliburton in six-player trade (Feb. 8 — 2:00 p.m. )
The first big trade of the week belongs to the Sacramento Kings and Indiana Pacers.
The Pacers reportedly agreed to ship two-time All-Star forward Damontas Sabonis, Jeremy Lamb and Justin Holiday to the Kings in exchange for guards Tyrese Haliburton and Buddy Hield as well as forward/center Tristan Thompson and a 2027 second-round pick, according to ESPN.
Sabonis, who has made two straight All-Star teams and is averaging 18.9 points and 12.1 rebounds in his sixth NBA season, will provide Sacramento another big man to play off of electric guard De'Aaron Fox. Meanwhile, the Pacers get backcourt help in Haliburton, a second-year player who is averaging 14.3 points and 7.4 assists, and the streaky Hield, who is averaging 14.4 points in the 2021-22 season.
Report: Blazers trading C.J. McCollum to New Orleans
The Damian Lillard-C.J. McCollum Era in Portland is over.
Sources tell The Athletic's Shams Charania the Trailblazers will send McCollum to the New Orleans Pelicans in exchange for Josh Hart, Nickeil Alexander-Walker, Tomas Satoransky and draft compensation. Larry Nance Jr. and Tony Snell will also join the Pelicans in the trade.
Portland is now reportedly aiming to rebuild their roster while also trying to keep Lillard, its famously loyal star, in town. On the other hand, New Orleans likely hopes McCollum can pair with stars Zion Williamson (who's still out with a foot injury) and Brandon Ingram to create a playoff-worthy "Big 3" that can crack the playoff picture in the Western Conference.
Report: Bucks and Celtics talking Dennis Schroder-Donte DiVincenzo swap
NBA writer Keith Smith tweeted Tuesday morning that reports of the Bucks and Celtics having trade talks centered around backup guards Dennis Schroder and Donte DiVincenzo are "accurate," adding to speculation from last week about the possibility of Schroder going to Milwaukee.
However, there's no done deal yet because Boston might have to give up even more to make the deal.
"What has killed a deal thus far is the Bucks want the Celtics to include Grant Williams in the deal and Boston is unwilling to part with their backup big man," Smith wrote.
Meanwhile, Smith also reports the Celtics have gotten calls about Josh Richardson, including from the Lakers, but "nothing has gotten close" in terms of dealing the backup forward.
The Celtics could explore a Grant Williams deal.
According to Jackie MacMullan in an appearance on the Bill Simmons podcast, the Celtics might consider dealing forward Williams prior to the deadline.
"The one thing I've heard that I don't like is the possibility of (the Celtics) moving Grant Williams," MacMullan told Simmons. "I think Grant Williams has had a really good year. He's four inches too short but he's the only guy who is hitting 3s for you. You better get a shooter back if you are going to trade Grant Williams."
Williams is an interesting name on a couple of levels. On the one hand, as MacMullan pointed out, Williams has been a revelation this year — a powerfully built forward who is shooting one of the best clips from the corners in the NBA. At times, he has even shown flashes of a post-up presence (which was where he excelled at Tennessee). Defensively, he can guard several different positions even if he is, as MacMullan put it, four inches too short.
Still, you have to give up value to get it in return, and Williams has real value as a 23-year-old on a rookie deal. The question the Celtics would need to consider with Williams is whether they are selling high or giving up on a player who is just scratching the surface of his potential. In 92 possessions this season, the lineup of Jayson Tatum, Jaylen Brown, Robert Williams, Marcus Smart, and Grant Williams has outscored opponents by a staggering 45.5 points per 100 possessions, and there's some symmetry in having five players all drafted by the same team on the court at the same time.
Multiple teams have made offers for Schroder; Josh Richardson also a trade target
The Chicago Bulls and Milwaukee Bucks have reportedly put offers "on the table" for Schröder," according to multiple sources.
The Action Network's Matt Moore wrote Sunday that the Bulls and Bucks could take on the veteran guard in exchange for some needed cap relief for Boston. Additionally, Bleacher Report's Jake Fischer reported the Celtics and Bulls discussed a deal that would give Schröder to Chicago for Troy Brown Jr. and a second-round pick.
Richardson, meanwhile, has apparently been on the Utah Jazz's radar, according to Fischer.
Timberwolves reportedly trying to trade for Marcus Smart
Bleacher Report's Fischer also suggested the Minnesota Timberwolves are looking into Smart as an eventual replacement for Patrick Beverly, who will be a free agent after this season. KTSP and SKOR North host Darren Wolfson added more fuel to that fire, quoting a source on Friday saying the Wolves are "definitely trying to trade" for the Celtics starting point guard.
The catch: the Celtics reportedly wants guard Malik Beasley and either third-year forward Jaden McDaniels or a first-round pick. The Athletic reported last week the Celtics explored trading Richardson and either Aaron Nesmith or Romeo Langford for Beasley, but it appears Minnesota might be set on Smart.
Get the latest Boston sports news
Receive updates on your favorite Boston teams, straight from our newsroom to your inbox.