NBA
NBA writer defends 'shameless Boston media' after Joel Embiid's All-Star snub
SI's Chris Mannix said the issue is about the fans, not the media.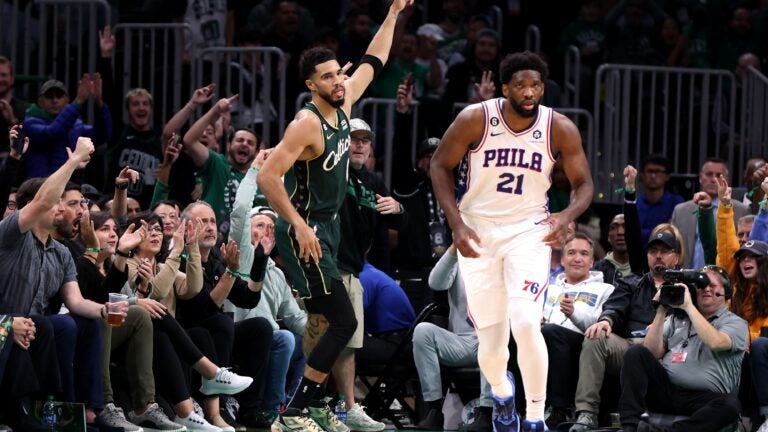 Philadelphia 76ers president of basketball operations Daryl Morey thinks Joel Embiid should have been selected as a starter in the NBA All-Star game.
After he found out the Philadelphia center didn't make the starting lineup and Boston's Jayson Tatum did, Morey blamed the media for it.
"The shameless Boston media is way overrepresented," Morey said in a Philadelphia radio interview. "They haven't recused themselves, and they shoved Joel low enough so that he's not an All-Star starter. It's crazy."
Sports Illustrated senior writer Chris Mannix disagrees. While he praised Morey for his transparency and willingness to go on the radio, Mannix pushed back on the assertion that Boston media were the reason Embiid was not named a starter.
"Let's start there. He's wrong," Mannix said during an appearance on NBC Sports Boston. "The media voted Joel Embiid number three. That means he was voted a starter by the media. The players voted Joel number three. The fans voted Joel number four. So maybe, Daryl, you should go to your marketing department and say, 'How is it that Philadelphia, population 1.5 million, was outvoted by Milwaukee, population 500,000?' And maybe we start figuring that out from there."
Mannix noted that he voted for Embiid as a starter over Milwaukee's Giannis Antetokoumpo. Then he offered some criticism on Morey's move from Houston to Philadelphia.
"Here's what somebody objective might consider shameless," Mannix said. "How about if you're an executive of a team that you build up in a somewhat contender way, and then when that team is on fire and burnt down to the ground, you leave and say you're going to take some time off, and then weeks later you reemerge with a contender. Some might say that is shameless, not voting for All-Star."
Mannix suggested for Morey to focus on what his team could have done to get Embiid more fan votes.
"Fourth in fan voting," Mannix said. "Your problem is not with the media who voted him top-3. Your problem is not with the players. Your problem is the fan vote. You got outvoted by the fans. Look internal. Do a better job of reaching out and getting Joel Embiid, who is a great player, more of the fan vote."
Sign up for Celtics updates🏀
Get breaking news and analysis delivered to your inbox during basketball season.