NBA
Nets reportedly trade Kyrie Irving to Mavericks
Irving requested a trade from Brooklyn on Friday.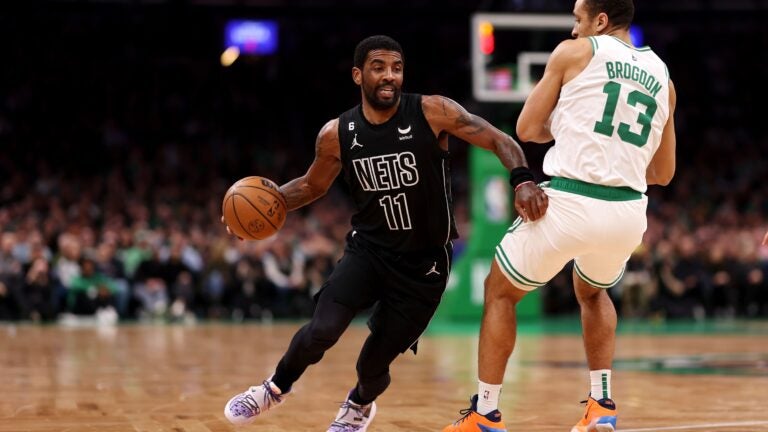 Kyrie Irving's time in Brooklyn is officially over.
The Brooklyn Nets agreed to a deal to trade the All-Star point guard to the Dallas Mavericks on Sunday, The Athletic's Shams Charania reported. The Nets will receive guard Spencer Dinwiddie, forward Dorian Finney-Smith, a 2029 first-round pick, and a second-round pick in return for Irving, ESPN's Adrian Wojnarowski reported.
The Lakers were the other top suitor for Irving, Wojnarowski reported.
The reported trade comes two days after Irving requested out of Brooklyn as he sought a contract extension. Irving will be a free agent at the end of the 2022-23 season.
Irving signed with the Nets in 2019 after a rocky two-year tenure with the Celtics. Irving maintained his star play for much of his time in Brooklyn, scoring 27.1 points per game. However, he had trouble staying on the court, playing in just 143 regular-season games over four seasons due to numerous reasons.
Injuries cut Irving's first season with the Nets short as he played in just 20 games. Irving missed nearly the first three months of the 2021-22 season due to his COVID vaccination status. The Nets eventually let him return to play in road games in January 2022 but he didn't play in home games that season until late March, when New York City uplifted some of its COVID vaccination laws and regulations.
Irving missed more time for off-court issues in November when he shared a link to a documentary that promoted anti-Semitic beliefs. After initially failing to apologize and denounce the film, Irving was suspended for at least five games by the Nets. He returned to the lineup after missing eight games.
The Nets had some success on the court during Irving's time with the team. They earned the No. 2 seed in the Eastern Conference entering the playoffs in 2021, beating the Celtics in the opening round. But Irving got hurt in the ensuing series against the Bucks, which resulted in a loss in a seven-game series.
Irving's unavailability led to Brooklyn sinking to the No. 7 seed in the Eastern Conference in the 2021-22 season. The Nets were swept by the Celtics in the first round of the playoffs as a result.
Brooklyn was playing better again this season, holding the second-best record in the Eastern Conference until Kevin Durant went down with a knee injury on Jan. 8. While Durant hasn't returned yet, the Nets are 32-20 and hold the No. 4 seed in the Eastern Conference standings.
Sign up for Celtics updates🏀
Get breaking news and analysis delivered to your inbox during basketball season.