NBA
The Kyrie Irving sweepstakes are over. Let the Victor Wembanyama race begin.
Wembanyama is expected to be the No. 1 pick in this year's NBA Draft.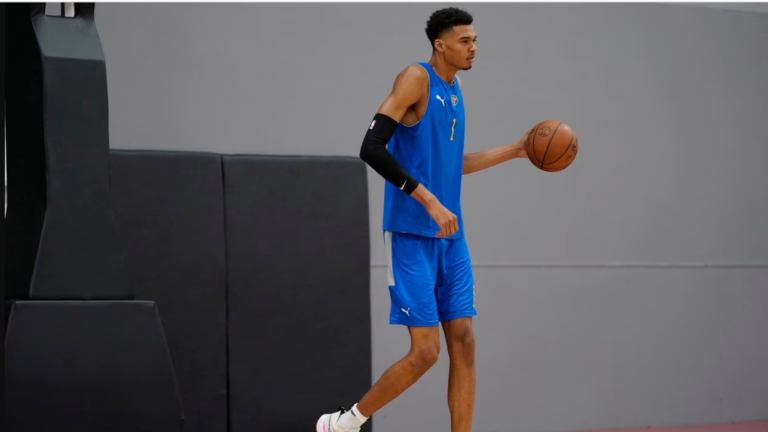 The NBA's trade deadline season opened with a bang on Sunday when two aspiring contenders came together in an effort to solve their nagging problems.
The Dallas Mavericks needed a secondary star to pair with Luka Doncic. The Brooklyn Nets needed to free themselves from a disgruntled Kyrie Irving. Voilà, a deal was reached to send Irving to Dallas just two days after the enigmatic guard requested a trade on Friday.
For Dallas, the hope is that an all-star backcourt featuring Doncic and Irving will boast enough firepower to drive a deep postseason run. For Brooklyn, the deal represents a fresh start after years of controversies and the opportunity to construct a more balanced and reliable supporting cast around Kevin Durant.
As the trade deadline approaches, though, keep a close eye on the bottom of the standings. After all, Irving was the only notable star on a winning team actively seeking a new home. Many of the most likely sellers will be motivated by a desire to better position themselves for a race to the bottom. While draft lottery positioning is almost always a major factor driving deadline decisions, this year's top prize – French phenom Victor Wembanyama – is perhaps the most coveted prospect since LeBron James.
Why should a bottom-dweller hang on to a veteran rotation player for another two months if trading him could help set up a decade-plus of exciting and winning basketball? With that in mind, here's an overview of some possible movers before Thursday's 3 p.m. (Eastern time) deadline.
Houston Rockets
Things have gotten so dark in Houston that active players like John Wall and Austin Rivers have started taking open shots at the organization's culture. The Rockets enter Monday's action with the NBA's worst record at 13-40, and they have made precious little progress since trading James Harden in January 2021.
Houston ranks 29th on offense and 28th on defense, second-year guard Jalen Green remains maddeningly inconsistent and Coach Stephen Silas can't expect ownership to be content with these results much longer. Veteran guard Eric Gordon would make far more sense as a bench scorer and floor spacer for a playoff team than he does in Houston's aimless youth movement.
San Antonio Spurs
Gregg Popovich and company are on track for the franchise's worst season since 1996-97, a 20-win campaign that landed them Tim Duncan with the No. 1 pick. With a threadbare roster of spare parts following the 2022 trades of Dejounte Murray and Derrick White, the Spurs (14-39) must do everything in their power to finish with one of the NBA's three-worst records to maximize their chances of landing Wembanyama.
Jakob Poeltl, a 7-foot-1 center who is due a new contract this summer, and veteran wing Josh Richardson, who is on an expiring contract, would seemingly be easy to move.
Detroit Pistons
Cade Cunningham's season-ending shin surgery stopped Detroit's season in its tracks in mid-December. Suddenly, a deep rebuilding plan was stuck in stasis until the 2021 No. 1 pick returns to the court next season. Wembanyama's outside shooting and rim protection would make him an outrageously good fit alongside the dynamic backcourt duo of Cunningham and 2022 lottery pick Jaden Ivey, so the Pistons have every reason to launch a fire sale.
Sharpshooting forward Bojan Bogdanovic, who was acquired from the Utah Jazz in a preseason move, has drawn interest from several suitors, including the Los Angeles Lakers. Meanwhile, Alec Burks is in the last guaranteed year of his contract and could provide a modest scoring punch off the bench for a playoff team in need of backcourt depth.
Charlotte Hornets
Owner Michael Jordan has consistently opposed the concept of tanking, but sometimes his team is so bad that his philosophical preference doesn't really matter. This is one of those years, as Miles Bridges's off-court legal troubles, LaMelo Ball's ankle injuries and major regression on the defensive end have left the Hornets dead in the water.
Sadly, their roster is largely lacking in attractive targets, though 32-year-old center Mason Plumlee would be an affordable option for teams in need of frontcourt depth given his expiring $9.1 million contract.
Toronto Raptors
Most outside observers would agree that Toronto has too much talent on paper to be on the outside of the East's play-in mix. Nevertheless, an uninspiring offense, lineup fit questions and persistent whispers of internal discontent have transformed the Raptors into potential sellers.
There's been lots of recent buzz around forward O.G. Anunoby, who should command a significant haul of draft assets if he is dealt. Fred VanVleet, who recently changed agents and is seeking a new contract this summer after a down year, is another candidate to be moved, as is scoring-minded wing Gary Trent Jr. The more pieces Toronto dumps, the more quickly it can begin retooling around 2022 Rookie of the Year Scottie Barnes.
Utah Jazz
After a wildly impressive start, the rebuilding Jazz have fallen back to .500 and are hovering on the edge of the play-in mix. In truth, the Portland Trail Blazers, Oklahoma City Thunder and Los Angeles Lakers all have more to gain from making the play-in than the Jazz, who is still in asset collection mode after trading Donovan Mitchell, Rudy Gobert, Royce O'Neale and Bogdanovic last summer.
Utah has plenty of veterans who could fill holes for contenders, including Mike Conley, Jordan Clarkson, Kelly Olynyk, Malik Beasley and Jarred Vanderbilt. The Jazz might not be able to challenge Houston, San Antonio or Detroit to claim a 14 percent chance at Wembanyama, but it could maneuver from its current 1 percent odds to an 8 percent shot with a few calculated minor deals.