NBA
Mac McClung, now the NBA dunk champ, wasn't an unknown
McClung, who is on a two-way deal with the 76ers, was a viral sensation for his dunking ability before his triumph on Saturday.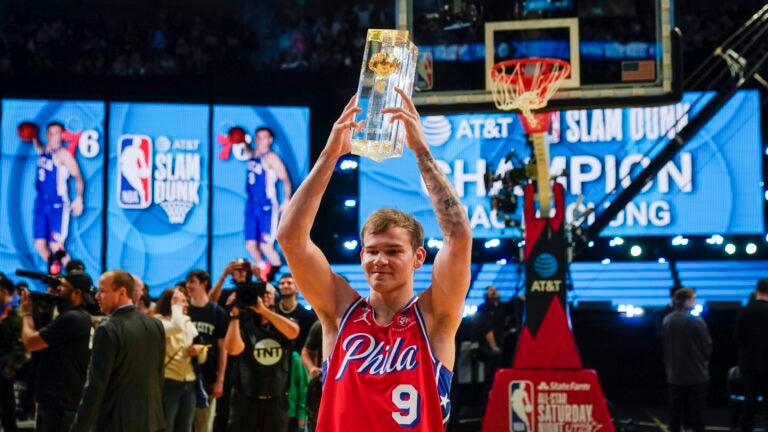 SALT LAKE CITY (AP) — Mac McClung was not exactly an unknown.
Long before he won the dunk contest at NBA All-Star Saturday, he was a YouTube phenomenon. It's impossible to add up all the views that videos of McClung — everything from dunks to documentaries — had gotten, but it was in the hundreds of millions.
Yet it all seems different now, after this 6-foot-2 boyish-looking guard from a small town in Virginia with trampolines for legs and only two NBA games on his resume became the league's dunk champion and finally brought buzz back to an event that had been more criticized than celebrated over the last few years.
"He saved the dunk contest," Shaquille O'Neal said, and countless others echoed those sentiments.
Time will tell if they're right. But an event that is designed to create unforgettable moments — Michael Jordan taking off from the foul line, Vince Carter saying "it's over" after a dunk, Aaron Gordon jumping over the Orlando Magic mascot, Dwight Howard donning the Superman cape — got a massive shot in the arm from a guy who now has more dunks in the contest (four) than he does in actual NBA games (one)."It's a cliche, but you can really do whatever you want to do," said McClung, who is on a two-way contract with the Philadelphia 76ers and playing in the G League. "I've had so many people even at the highest level … if you are a young kid, and someone who is an inspiration to you, someone that you respect so much tells you that you can't do it, it doesn't matter. Literally, if you manifest and put your mind to it, you can literally make your life and reinvent yourself every day."
The reactions from NBA players watching the show, both in Salt Lake City and elsewhere, were amazing.
"Tough," Cleveland guard Donovan Mitchell shouted as he watched courtside, while several other All-Stars like Giannis Antetokounmpo — with his mouth open in disbelief — filmed the action on their phones.
Every dunk by MAC MCCLUNG in his almost flawless victory at the 2023 NBA Dunk Contest

Tap the glass over 2 people: 50
360 windmill: 49.8
Double Pump Reverse: 50
540!!!: 50

And made every dunk on the first try
SHAQ: "He saved the dunk contest" pic.twitter.com/5RGjujUCMU

— Ballislife.com (@Ballislife) February 19, 2023
Golden State's Stephen Curry said on Twitter: "Man was a viral (House of Highlights) high school dunk phenom, still working his way to the League, but lemme go get that dunk contest trophy right quick and bring it back to life!!! Unreal."
McClung knows he is an underdog story. He grew up playing football and baseball in Gate City, Virginia, before deciding sometime around sixth or seventh grade — standing barely 5 feet tall at that point — that basketball would be his priority.
He started going viral in high school for his array of dunks, and he has handled all the attention that comes with internet fame as well as he can for years.
"One thing with this game is you have to learn how to adapt," McClung told The Associated Press last year. "I want to be known as someone who can help a team, help a championship team, be a good energy guy and a good culture guy and a good locker room guy."
So if he was an unknown to NBA fans, that's maybe understandable. He had the final basket of the 2021-22 NBA season, breaking free for an uncontested reverse dunk to cap the Los Angeles Lakers' overtime win over the Denver Nuggets last April. That was his third, and most recent, field goal in the NBA.
But, even if he hasn't gotten to establish himself at the NBA level yet, there's no question that he can play. He broke records held by Allen Iverson and J.J. Redick in high school. He had big numbers at Texas Tech and Georgetown in college.
And now, he's a dunk champion. He's viral, again. Maybe this time the NBA door will open.
"I'm not really worried what other people think, good or bad," McClung said. "I'm just staying the course. My goal is to make an impact in the NBA, and I'm just going to keep working until that happens."
Sign up for Celtics updates🏀
Get breaking news and analysis delivered to your inbox during basketball season.