NBA
Hawks fire Nate McMillan with team stuck in 8th in East
McMillan went 99-80 as Atlanta's head coach.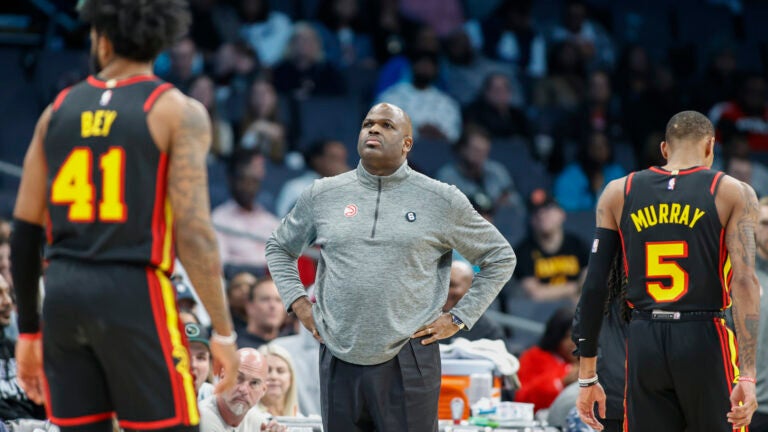 ATLANTA (AP) — The Atlanta Hawks on Tuesday fired coach Nate McMillan, who was unable to follow up on the success of leading the team to the 2021 Eastern Conference finals.
Atlanta general manager Landry Fields announcing the firing. The Hawks are 29-30 and in eighth place in the East this season.
Assistant coach Joe Prunty will serve as interim coach. Prunty joined the Hawks in July 2021 as lead assistant.
The 58-year-old McMillan went 99-80 as Atlanta's coach, including a 27-11 record as interim in the second half of the 2020-21 season. His success that season earned him the full-time position.
McMillan was frustrated in his attempts to improve Atlanta's defense, a consistent weakness that weighed down a team led by high-scoring guard Trae Young.
McMillan denied reports early this season that he considered resigning.
Overall in 19 seasons, McMillan has a 760-668 record with the Seattle SuperSonics, Portland Trail Blazers, Indiana Pacers and Hawks.
"I would like to thank Nate for his leadership and professionalism during his time with the Hawks," Fields said in a statement. "He is truly a class act, and we appreciate the graciousness and work ethic he brought with him every day."
The Hawks finished 43-39 in the 2021-22 season and, after escaping the play-in tournament, lost to the Miami Heat 4-1 in the first round of the Eastern Conference playoffs.
Atlanta then added more emphasis to a win-now approach by trading Danilo Gallinari and three first-round picks to the San Antonio Spurs for All-Star guard Dejounte Murray.
The trade formed a backcourt pairing of All-Star guards in Murray and Young and placed more heat on McMillan to guide the Hawks back to the top of the conference.
Instead, the Hawks have struggled near .500 most of the season. They lost four of six games before the All-Star break and are only one game ahead of 10th-place Toronto in the East. The slide left Atlanta closer to falling out of the play-in tournament than moving into the No. 6 spot for a guaranteed playoff position. The New York Knicks are sixth, 3 1/2 games ahead of Atlanta.
"Decisions like these, especially in-season, are always extremely difficult, but we believe it's in the best interest of our team to move forward with another voice leading the way," Fields said.
McMillan dealt with persistent rumors he had disagreements with Young. Fields' desire to seek "another voice" could be a sign McMillan's message had worn thin with Young and other players.
This has been a season of turnover for Hawks' leadership. Travis Schlenk stepped down as team president on Dec. 21 as Fields assumed control of daily operations. Kyle Korver was named assistant general manager on Jan. 16 as the team continued to remodel its front office.
Fields and Korver are working with principal owner Tony Ressler's son, Nick Ressler, the director of basketball and business operations, in the new management team.
McMillan's 760 wins rank 18th all-time. In 11 trips to the postseason, his teams have a 28-48 record, including a 11-12 record with Atlanta.
This is not Prunty's first experience as an interim coach. He posted a 21-16 record as Milwaukee's interim coach over the final 37 games of the 2017-18 season. He was an assistant with Milwaukee from 2014-18.
Prunty also served as an assistant with the Phoenix Suns (2018-19), Brooklyn Nets (2013-14), Cleveland Cavaliers (2010-13), Portland Trail Blazers (2008-10), Dallas Mavericks (2005-08) and San Antonio Spurs (2000-05), where he won three NBA championships.
Sign up for Celtics updates🏀
Get breaking news and analysis delivered to your inbox during basketball season.