NBA
Stephen Curry asked Tom Brady for advice on playing past age 35
"Thirty-five is a big milestone, but the next one is 40."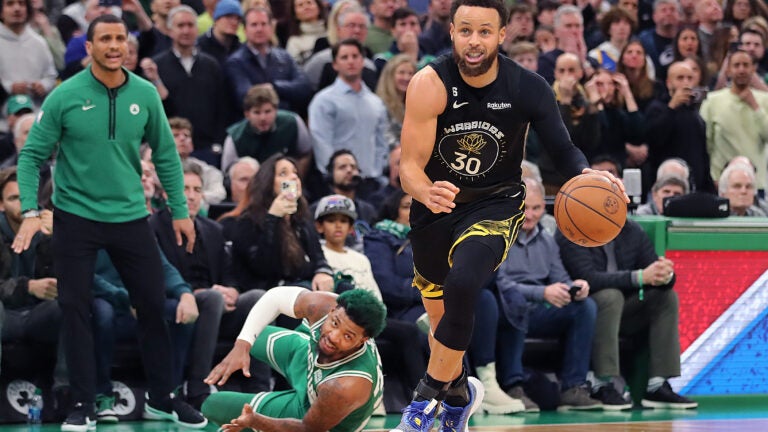 At 35 years old, Stephen Curry is still one of the NBA's most formidable offensive weapons.
In an interview with ESPN's Andscape, Curry said he once had a goal of playing 16 years in the NBA like his father Dell Curry.
As he navigates his 14th season, Curry said he feels like he has plenty left in the tank. But, he still sought advice from a pair of high-profile NFL quarterbacks on how to play for a long time.
"How I feel right now is not how I thought I'd feel at 35," he told ESPN. "That number sounds crazy, but in my head, I feel like I got a lot left. The work I put into this I still enjoy. Who knows how [the future] looks? I talked to Tom Brady, Aaron Rodgers, and other guys who have been on the other side of the halfway point."
Playing quarterback is different than playing point guard, Curry acknowledged.
But the tenacity that it took Brady [45] and Rodgers [39] to play as long as they have is something Curry figured he could learn from.
"They really did a good job of disciplining themselves for what is happening in real-time," he said. "They're 40 feeling like they can still play. I'm trying to stay in that mode. Thirty-five is a big milestone, but the next one is 40. The way I feel right now, who knows?"
Warriors coach Steve Kerr, who played with Michael Jordan on the Chicago Bulls in the 1990s said Curry is the "best-conditioned athlete" he's ever been around in the NBA.
"No one combines the work ethic with the skillset and the ability to put that all together in this package of incredible endurance and quickness. Every time he comes back, I watch him work," Kerr told ESPN.
Curry, who led Golden State past the Celtics in the NBA Finals last year for his fourth championship, said winning a fifth one would mean "everything."
"Obviously, Bill Russell [11 championships as a player], nobody's going to catch that," he said. "But to get to Jordan winning six and Kobe winning five, the [San Antonio] Spurs' Tim Duncan. So, all that stuff is about the inherent legacy that you'll continue to create even though we've done a lot and that's why we still work tirelessly to make that a reality again."
Curry is optimistic that he'll play quite a bit longer in the NBA. But, he remembers what it took for his dad to reach the longevity of a 16-year career.
"I remember the last three years of his career he had a back spasm problem in Milwaukee," Curry said. "I just remember all the work he had to do to play those last three years. Times have changed in terms of what your prime is."
Newsletter Signup
Stay up to date on all the latest news from Boston.com