NBA
Draymond Green ejected from playoff game for flagrant foul
With the Warriors pushing the ball up court and Sabonis on the ground, Green took a hard step right on Sabonis' chest.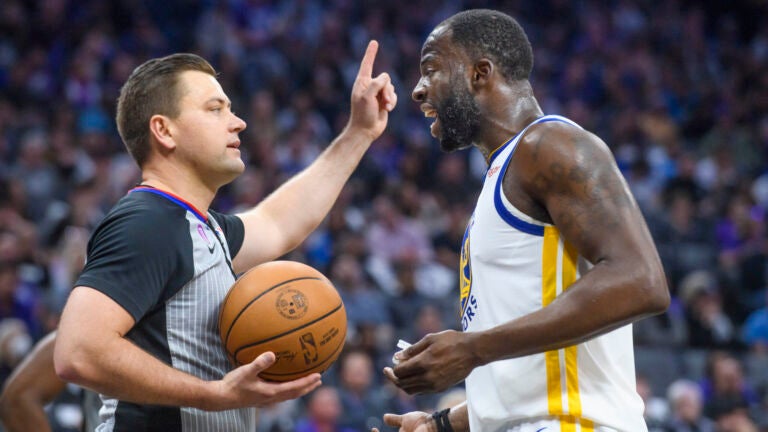 SACRAMENTO, Calif. (AP) — Golden State Warriors forward Draymond Green was ejected from a playoff game after stomping on the chest of Sacramento's Domantas Sabonis.
The play happened in the fourth quarter of the Kings' 114-106 win in Game 2 of the first-round series Monday night after Stephen Curry grabbed a defensive rebound.
With the Warriors pushing the ball up court and Sabonis on the ground, Green took a hard step right on Sabonis' chest. Sabonis stayed down for a few minutes as officials reviewed the play.
"My leg got grabbed," said Green, referring to a play in Game 1 with Malik Monk. "Second time in two nights. Referees just watch it. I have to land my foot somewhere. I'm not the most flexible person, so it's not stretching that far."
Sabonis was called for a technical foul for grabbing Green's leg and Green was given a flagrant-2 foul that led to an automatic ejection.
"We're both fighting for the rebound," Sabonis said in a postgame interview on TNT. "We fell on each other. Stuff happens. It's basketball. We've got to move on to the next play."
Kings coach Mike Brown said Sabonis was set to undergo X-rays to check on his ribs and lungs after the game.
"Obviously, we hope our brother is OK," teammate De'Aaron Fox said. "We hope he's not injured. Even just outside of basketball, to fracture a rib or puncture a lung, that's a serious injury. So we just hope for the best right now."
During the review, fans in Sacramento yelled derogatory chants toward Green, who egged them on by waving his hands, holding a hand to his ear calling for louder cheers and standing on a chair.
"I was just having fun," Green said. "It's a fun game and fun atmosphere to play in. It's fun."
This isn't the first playoff infraction for Green, who got suspended for one game during the 2016 NBA Finals after accumulating too many flagrant fouls in the playoffs that season. He was also ejected from a playoff game against Memphis last season.
Green has been called for six flagrant fouls and 27 technical fouls in 147 career playoff games.
Now the question will be whether the play warrants any additional suspension or punishment.
"It'll be interesting to see with what the NBA does after they review it," Brown said.
Sign up for Celtics updates🏀
Get breaking news and analysis delivered to your inbox during basketball season.