NCAA Tournament
Bill Curley remembers BC's chances against No. 1 UNC getting laughed at in 1994. Then they won.
The former Boston College star reflects on a historic NCAA Tournament upset.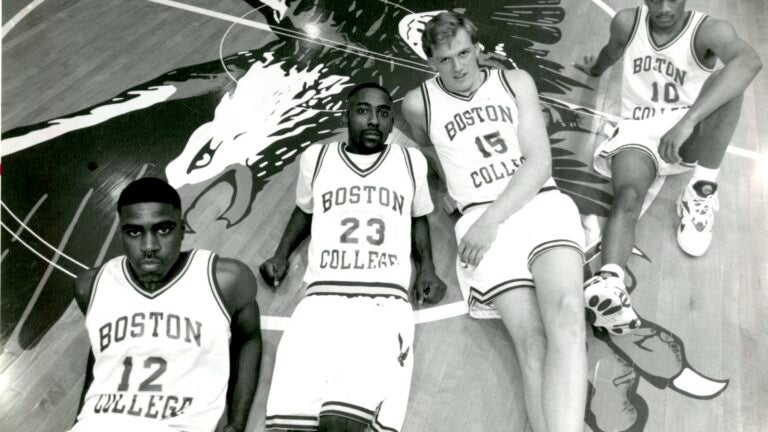 They were the defending national champions. They were the No. 1 team in the nation and top overall seed in the field of 64. They were the North Carolina Tar Heels. Dean Smith, a living legend in college basketball, was still on the sideline. Future NBA players Jerry Stackhouse, Eric Montross, and Rasheed Wallace were wearing the same Carolina blue that had been made the sports' sartorial standard by such icons as Bob Mcadoo, James Worthy and Michael Jordan.
It was 1994.
It was supposed to be the Heels' year. Again.
Boston College entered the '94 NCAA Tournament feeling about as low as they could.
"We go into that tournament after getting killed in the Big East tournament," Bill Curley, a BC senior in 1994, recently said as Carolina was working its way toward a 2017 national championship. "I don't think there was ever more of a negative feeling going into a tournament than we had based on the way we got knocked out of the Big East tournament that year."
David had his five stones and that slingshot when he stepped in against Goliath in the Valley of Elah. BC brought a starting lineup that included four seniors and a freshman, who would end up on the wrong side of Smith and the Heels thanks to a flagrant foul, to USAir Arena in Landover, Maryland, just outside of Washington, DC.
Even before the Big East tournament ended for Boston College with a 23-point loss to Georgetown, it wasn't supposed to be the Eagles' year. In the early weeks of March, it seemed to be simply another year that happened to include BC playing basketball.
A McDonald's All-American who led Duxbury High School to a Massachusetts state championship in 1989, Curley and fellow seniors Malcolm Huckaby, Gerrod Abram and Howard Eisley went 19-9 during the 1993-1994 regular season to earn a No. 9 seed in the tournament, even after flaming out of the Big East tournament. It was the school's first tournament appearance since 1985 and just its ninth overall. Coached by Jim O'Brien, a former BC player who graduated in 1971, the Eagles needed a second-half comeback to survive a first-round matchup with Washington State, 67-64, to set up a date with the top-seeded Tar Heels in the second round.
"The place was packed with all these cameras, all these reporters," Curley said of the first media availability after the UNC-BC matchup was set. "And I think the first question somebody asked us was 'How do you feel going into a game knowing you can't win?' And the whole place just kind of erupted laughing at us.
"It was almost demoralizing a little bit right there. Each of us just ground our teeth and clenched our fist. We knew right then and there that we were going to bring it. It's like: Who are these guys?"
With Curley scoring 10 of the team's 11 final points, Boston College proved everyone wrong with a 75-72 victory over North Carolina. They would go on to defeat Bobby Knight's No. 5 seed Indiana, 77-68, to reach the Elite Eight for the first time in school history. Thanks in part to caliber of the vanquished opponent and also to Curley's uncontainable, victorious exultance being immortalized on the cover of Sports Illustrated's March 28, 1994 issue, the UNC game has remained one of the NCAA Tournament's most iconic upsets — at least in New England.
Curley, currently the men's basketball coach at Emerson after taking over for O'Brien in 2014, shared his recollections of the game during the 2017 NCAA Tournament.
This interview has been lightly edited and condensed for length and clarity.
How much are the kids you're coaching at Emerson aware of your own college basketball exploits?
Bill Curley: There's some video so that they've seen a little bit. I've been going through the process of getting rid of my VHS tapes and putting it into the computer. I'll show them little clips here and there if they say something. I think they're familiar. That game in particular — being on the cover of Sports Illustrated — kids ask about it a lot.
What do they want to know? What do you choose to share the most?
BC: I thought I played terrible in that game. I struggled a little bit. I think our guards played a tremendous game. Howard and Gerrod, they were just going nuts. They created the tempo and the pace of the game, following our game plan to a T.
I think the kids at this level tend to be fans. A couple of years ago, kids were excited when they found it on YouTube: "Oh coach we're watching this."
(Scroll down to watch entire BC-UNC game)
Ahead of the game, what was your mindset for taking on the No. 1 seed defending national champion North Carolina Tar Heels
BC: It was just a weird thing. Obviously, it was our first time in the tournament. When we got to BC, they had been struggling for a few years before we got there. So we kind took our lumps when we were young — and that's why you try to play. Part of the reason why you go there, is you think, 'OK, we can win there.' Obviously, we didn't win as much as we would like, but when we got to that point we were competitive and people didn't want to play us.
That's probably the beauty of it: Once you get to march madness, you catch lightning in a bottle and we somehow got through that first game, and the crazy part, with all the hype, media and you're playing the no. 1 team in the country, the defending champs.
When did you realize it was possible to do what everyone else thought was impossible?
BC: Honestly, we just believed from the get go. In our practice, even the day before practice, coach came out with the game plan of what we were going to do and how we're going to get them. I don't think we doubted it for one second. Really that was really the first time in our four years that we knew what we wanted to do and what we had to do. There was never any question. Maybe it was just me, but I just felt like from the day we knew who we were playing and got our game plan that everyone was real confident in what we were doing. I don't think there was any question that we could win this.
From when we started playing, you get running up and down, OK they're big, they're HUGE. We were kind of the small guys, and they had a hard time keeping our guards in front of them and containing them so we were going inside. I just remember Gerrod [Abram], Malcom [Huckaby] and Howard [Eisley] bombing threes away. We would suck them into their trap. We would allow them to trap us with their length, and then we would just kick it for the open three.
When did you sense that UNC became aware that you could beat them?
BC: I think they knew from the get-go. I think the way they made such a big deal of the physics of a 280- or 260-pound guy colliding with a 150-pound guy, the way they reacted to that, blowing that whole thing out of proportion with Danya [Abrams]. I think they knew were in for a fight. They were a great team and all that, but it was more about us. I think that's how we felt, maybe for the first time in our careers: that we just got to do this and we can play with anybody and everybody in the country.
With the game on the line, the ball found its way to you late. Was that a coaching decision, your teammates' choices or you wanting the ball?
BC: It's a team game. If you watch it, they always had maybe two guys bumping, hitting me. And these guys are huge. I think it was hard for them to maintain that the way our guards were shooting. At the end of the game, they had to respect those guys and get out on them. So I had a little bit more one-on-one coverage later in the game. Coach O'Brien had some great calls at the end of the game, and the ball was able to find me. I was fortunate to make a few shots. But we had the guards and we had the bigs — with Danya and Paul Grant — to really make a great run at this.
Your points broke late ties — 70-70 and 72-72 — and your last points came from free-throw line. Where you aware of significance of those shots out there?
BC: It sounds corny, but you grow up playing and you're not thinking about the game or the situation. You know where you are, but this is what I've done a million times, making free throws. This is why we work so hard in the offseason and why during the season you shoot extra free throws and all that. You're just going back to that, and staying in that moment. You don't worry about what happens if this or that. This is what you grow up playing for. You know you're in the tournament, you know what it takes to win and what happens if you don't. You just focus on what you've practiced for so many years.
What stands out from aftermath of the win?
BC: It was exciting every time you win, especially in the tournament when there are just not a lot of games played anymore. In the beginning of the year, you've got something like 300 teams playing. When you get down to 16 or 8 teams left or whatever it comes down to, everything is more magnified. I just enjoyed it. My brother had just won the state title the day before. My parents and a lot of my aunts and uncles surprised me showing up in Washington to see that game. I just remember trying to find them in the stands after.
It was what you play basketball for. You play to compete for championships. You work hard. People think it's about how many points you have. No. You play to win, and that's the only number that counts how many you get in that "W" column. We picked a good time to go on a nice spurt; every game was really magnified with each win.
https://www.youtube.com/watch?v=R8zZY6hRpws