Tom Brady
Tom Brady loves Tampa Bay weather, won't be caught dead living in Northeast again
"I'm loving the warm weather. It's been a great feeling."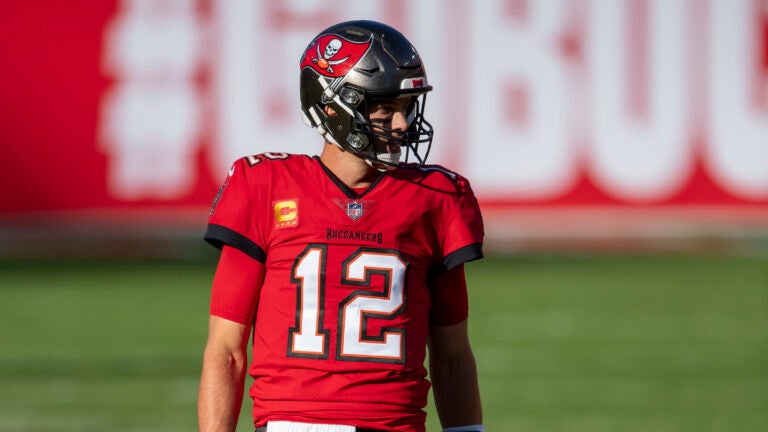 Former New England Patriots quarterback Tom Brady seems to have found his footing nicely since signing with the Tampa Bay Buccaneers this offseason.
Most importantly, the Buccaneers are firmly in the NFC wildcard hunt at 7-5 with a big game against the Minnesota Vikings — another potential playoff team — looming in Week 14. Brady has thrown for 28 touchdowns this year and 3,300 yards to lead his new team. Cam Newton and the Patriots, meanwhile, have looked better the last two weeks, but they still have a difficult path before them to even get into the postseason.
Brady is enjoying something else about his new setup in addition to just football though: The warm weather.
"The last couple of days have felt like early October mornings where I have been in the northeast for a long time," Brady told reporters on a video conference on Thursday. "I've been loving wearing a hoodie for a couple days. It's amazing to be at this point in the season and still be outside practicing. Today turned into a really nice day. I know we have a warm one coming up on Sunday.
"I always came down to Florida late in the year. We always played the Dolphins, they were in our conference, and it was pretty tough to adjust to. Just being in it really prepares you for the heat because it definitely takes a toll if you're not used to it."
By way of reference, Sunday is expected to reach 56 degrees in Boston, but the forecast through Christmas Eve shows no other days over 45 degrees.
Brady, it seems, doesn't miss that this deep into the season.
"I've loved being outside every day and I think being a native Floridian, I was a native Californian for a long time in my life and I went away from it for about 25 years, and you won't catch me dead living in the Northeast anymore," Brady said. "I am loving the warm weather. It's been a great feeling."
Tom Brady, Florida Man

"You won't catch me dead living in the northeast anymore." #GoBucs pic.twitter.com/SOJBlQ4ZZY

— Grace Remington (@GraceRemiWTSP) December 10, 2020
Brady was asked about the Patriots' struggles in November when New England tripped and fell into a 2-5 start.
"I have a lot of relationships with a lot of teammates. I wish everybody the best all the time," Brady said at the time. "I don't ever wish for anyone to not perform at their best. I certainly wish for our team to play its best. Maybe the only team I don't root for is the team we're playing on that particular Sunday.
"Other than that, it's just about us being the best we can be, working hard every day to put ourselves in a great position to be successful."
The Buccaneers and Vikings kick off at 1 p.m. on Sunday.
Get Boston.com's browser alerts:
Enable breaking news notifications straight to your internet browser.