Readers Say
Boston.com readers are overwhelmingly rooting for Tom Brady and the Buccaneers in Super Bowl LV
Nearly 90% of readers that responded to a poll said they don't care what team the GOAT plays on.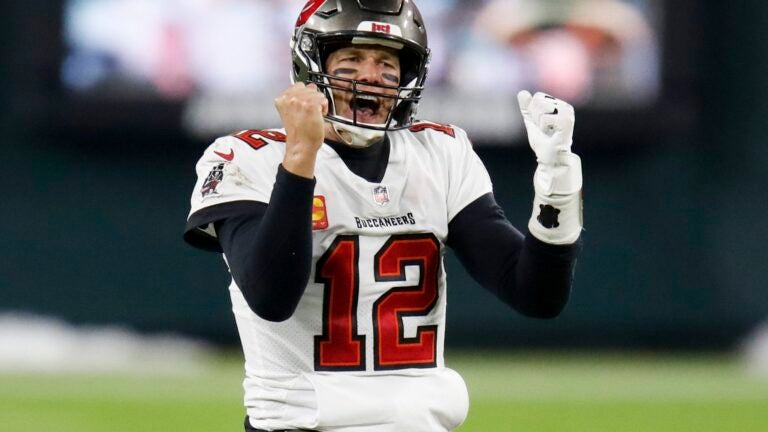 Tom Brady cemented his spot as one of the greatest athletes of all time with nine Super Bowl appearances over two decades with the New England Patriots. But thanks to a victory over the Green Bay Packers in the NFC Championship game on Sunday, he's angling for another ring with the Tampa Bay Buccaneers instead.
After a somewhat messy breakup with a long-term partner like that, it can be difficult to see your ex thriving with someone new, so we wanted to know how Boston.com readers felt about seeing Brady reach his 10th Super Bowl with another team.
The answer is rather definitive. A recent poll asking readers whether they will root for Brady in Super Bowl LV got well over 9,000 votes, and an overwhelming majority — nearly 90% — responded that they would cheer for him no matter what team he's on.
Perhaps fueled by lingering feelings of betrayal, around 8% said they're hoping that Patrick Mahones and the Kansas City Chiefs prevail over the Brady and the Buccaneers. The remaining 2% said they'll skip the big game altogether.
Obviously, the results of the poll are self-selecting. We embedded it in several articles about Brady, so it's safe to assume that most readers who came across it were people who are still invested in the success of the quarterback.
But Google search data also seems to show that New England hasn't quite let go of the GOAT. On Sunday, several New England states greatly eclipsed Brady's new home of Florida in total search interest for the quarterback.
Wisconsin also had high interest in Brady on Sunday, probably because Packers fans needed to do some reconnaissance on the man who helped deny their team a trip to the big game.
That search pattern is even more obvious over the past 90 days, when the top states looking up the quarterback were in New England, with Florida much farther behind.
Here's a selection of reader responses on Brady and the matchup between the Chiefs and the Bucs:
"If you can't root for a guy who gave Patriots fans 20 years of unparalleled success and a lifetime of great memories then you need to see a professional about your bitterness and cynicism."
"Rooting for Brady, but not necessarily the Bucs. Gronk's path to TB is definitely less satisfying and I definitely am not a fan of Antonio Brown getting his Super Bowl win with Brady."
"According to concrete data, the Chiefs should be the favorites. But in games like this, the mystique of a great leader can inspire his team mates and convince them they are the team of destiny."
"The first thing to leave a ship struggling at sea are the rats. He knew the Patriots were in for a tough season with the hardest schedule and difficult cap situation. He jumped ship to better his brand and logo. I never rooted for KC in my life but I will be this year and I hope they destroy Brady."
"I have never seen a professional football player who seemed to enjoy playing football as much as Patrick Mahomes. He is driven to win, but he is still having fun. Tom Brady is certainly driven to win, but I don't see the joy, the love of just playing the game."
"I have been a Buccaneers fan since 1979 (with the drafting of Doug Williams). Decades of futility, the excitement and success of the Dungy years, and the 2003 Super Bowl wins culminate in a home-field appearance in Super Bowl LV! All thanks and praise to TB12 for the best season ever!"
Boston.com occasionally interacts with readers by conducting informal polls and surveys. These results should be read as an unscientific gauge of readers' opinions.
Get Boston.com's browser alerts:
Enable breaking news notifications straight to your internet browser.