Patriots
Brandon Bolden of Patriots suspended for PED use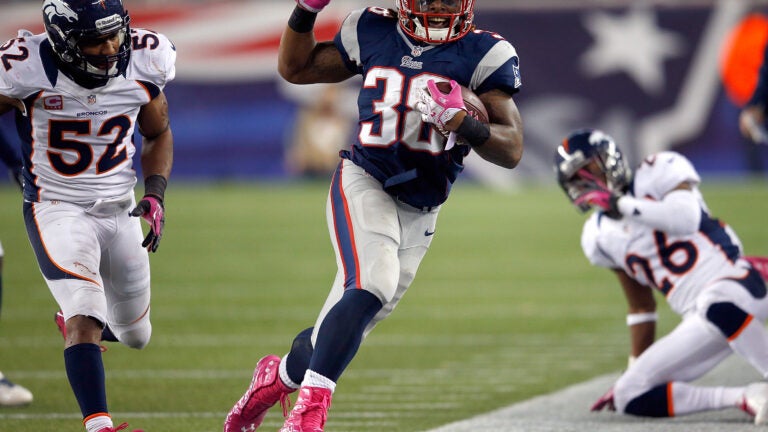 Patriots running back Brandon Bolden has been suspended by the NFL for four games for violating the league's performance-enhancing drugs policy, the league confirmed on Friday.
Bolden hasn't played since Oct. 14, leaving the game at Seattle with a knee injury that has kept him off the practice and game field since.
He won't be able to return until Dec. 3 at the earliest, even if his knee improves. The league announced the suspension, but would not specify which substance triggered the action.
The suspension begins immediately, which means Bolden will miss games against the Bills (Sunday), Colts (Nov. 18), Jets (Nov. 22), and Dolphins (Dec. 2). He will be eligible to return to the team on Dec. 3, and would next be able to play in the Dec. 10 game against the Houston Texans.
Bolden has 43 carries for 234 yards and two touchdowns this season. His best game came in Week 4 vs. the Bills, when he ran for 137 yards on 16 carries.
Bolden, who has a base salary of $390,000 this season, stands to lose $97,500, because the suspension is without pay.
Undrafted out of Ole Miss, Bolden made the team with a strong training camp. He had his best game of the season in a 52-28 Week 4 win at Buffalo, rushing for a career-high 137 yards, the only time he's topped 100 yards so far. He followed that with 14 carries for 54 yards the next week against the Broncos, and had rushed for 28 yards in the Seattle game when he got hurt. He's been inactive the past two games, and didn't practice at all this week.
The Patriots have won two straight games without Bolden, using starter Stevan Ridley at running back, plus reserves Danny Woodhead and Shane Vereen.