Patriots
Why the Patriots actually improved in 2012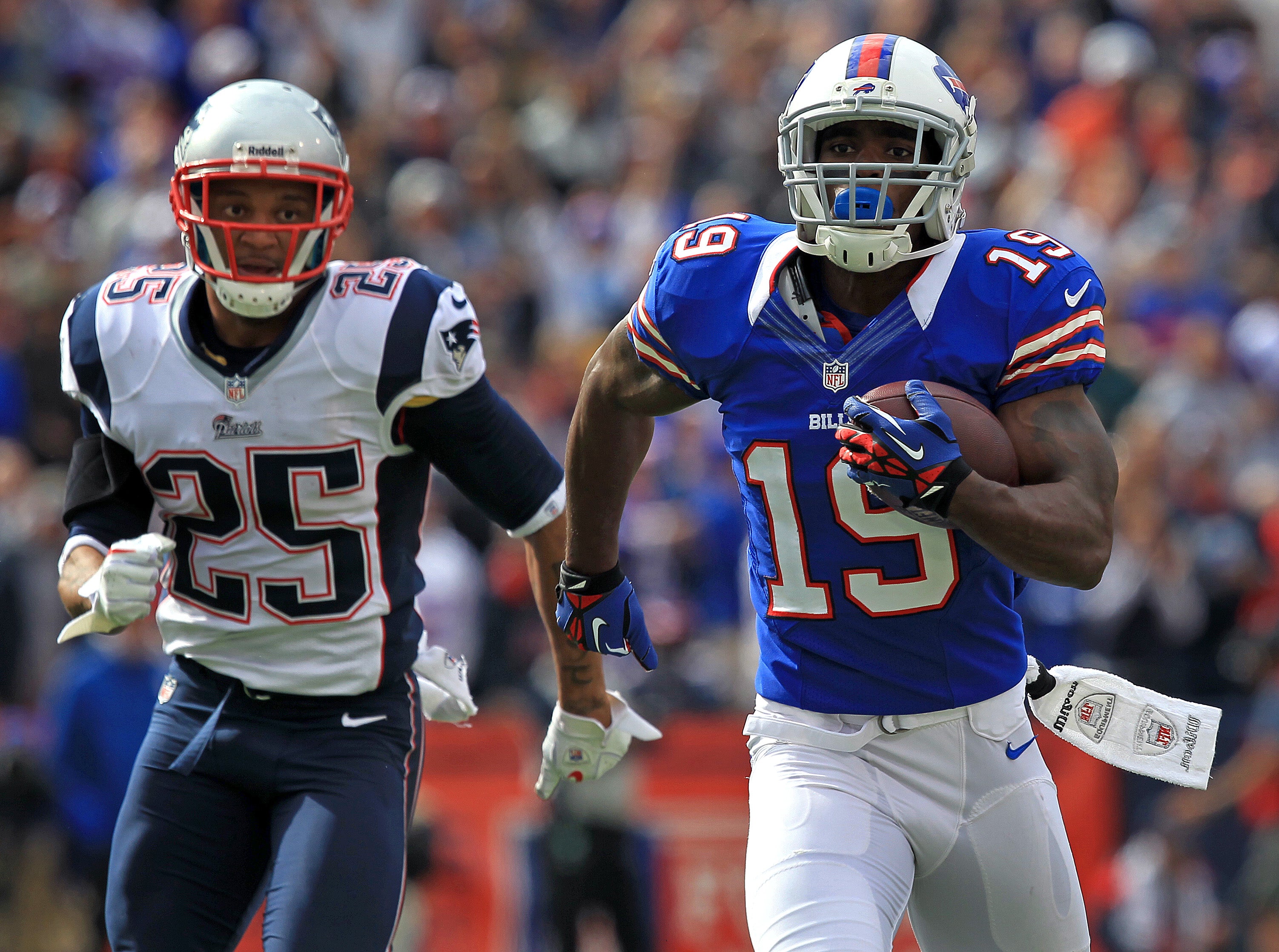 The goal for every team is improve, not only over the course of one season, but from one season to the next.
"If you're not getting better, you're getting worse,'' is the popular saying.
Taking a big-picture look, it's hard to deny that the Patriots took a step back from 2011. They watched Super Bowl XLVII instead of playing in it. They went 12-4 instead of 13-3.
But after taking a step back to look at the 2012 season in its totality, the conclusion here is that, indeed, New England did get better. Sometimes that doesn't always show up in the end, for various reasons.
The Patriots led the league in point differential — they scored 226 points more than their opponents (Broncos were next at 192) — after finishing second to Green Bay (201) at 171 points. They led the league with 557 points scored, and even improved, marginally, going from 15th with 342 points allowed, to ninth and 331 points.
In terms of yards, the Patriots' offense led the league thanks to a dramatic uptick from the rush: They went from 20th in yards per game to seventh, and from 24th to 17 in yards per carry. Defensively, the Patriots improved their league standing across the board: total yards (31st to 25th), rushing yards per game (17th to ninth), rushing yards per carry (24th to sixth), passing yards allowed (31st to 29th), and passing yards per game (30th to 28th).
And it wasn't just on a stat sheet where the Patriots showed improvement — it was there on film.
Going back through our positional ratings throughout the season and comparing them with 2011, the Patriots showed a noticeable dropoff at only one position, receivers/tight ends. That group went from a 3.7 average rating (out of 5) in 2011, which was tied with the defensive line for tops on the team, to 3.0. And that can almost directly be attributed to tight end Rob Gronkowski not being 100 percent to start the season, and then basically missing the final eight games, including the playoffs. Not only was there a dramatic dropoff not having him as a pass catcher, he left a huge hole with his blocking.
Outside of the defensive line (3.7 to 3.6), the rest of the positions all executed at a higher level this season, with the linebackers (up .52), secondary (.43), and special teams (.41) leading the way.
The end results might not show it, but the Patriots were on the uptick this season. Now it's up to them to sustain it.
Here are the average positional ratings from the 18 games. A few things to keep in mind: These are not about talent or in comparison to the rest of the league. These ratings reflect only the overall execution at each position over the course of the season on a game-to-game basis, on a zero to 5 scale. Only 10 perfect ratings were given out during the season, which is double last season. Turnovers on offense are graded harshly, as are big plays allowed on defense.
Quarterbacks(3.9 out of 5)
Tom Brady was once again terrific, and better than a year ago, when his average was 3.6. Brady endured a bout of inaccuracy in 2011 because of an elbow injury, but he had no such problems this season. Brady earned a rating of 4.0 or better in 12 games, which was an improvement over nine in 2011. Brady's statistics overall dipped a bit, which likely has to do with two factors: a bit of a transition to returning offensive coordinator Josh McDaniels, and tight ends Gronkowski and Aaron Hernandez playing nearly half the snaps they did in 2011 because of injury.
Brady's completion percentage of 63.0 ranked 10th in the league and was his lowest since 2006 (61.8). Brady was at 65.6, fourth in the league, in 2011. Brady's passer rating slipped from 105.6 (third) to 98.7 (sixth). His yards per attempt went from 8.57 (second) to 7.58 (eighth). Brady again was fourth in the league in touchdown passes (34) but his interceptions declined from 12 to 8. Brady led the NFL with a 1.3 interception rate. He was sacked 27 times in the regular season (32 in 2011). Brady was blitzed 173 times, according to Stats LLC, sixth-most in the league, and his passer rating vs. the blitz of 117.6 was third in the league.
Running backs(3.7 out of 5)
Improved from 3.34 in 2011. This group was a big point of emphasis last offseason because the Patriots needed to get more explosive, and they delivered in a big way, going from 29 explosive runs (10 yards or more) from running backs to 53. Stevan Ridley led the way with 30 (BenJarvus Green-Ellis had 12 in '11), followed by Brandon Bolden (11), Shane Vereen (7), and Danny Woodhead (5).
The running backs also improved their pass blocking. This year's group allowed 10.5 quarterback pressures (one sack) compared with 14.5 (3.5 sacks) between Green-Ellis and Woodhead last season.
Ridley finished seventh in the NFL with 1,263 rushing yards, third in first downs (82), and tied for third with 12 touchdowns. Ridley's five total fumbles (three lost) are a concern, but backs usually improve in that department over time. If Ridley is going to become a three-down back, he's also going to have to work on his pass catching. He had two drops on just eight catchable passes. Vereen was much improved over the course of the season, and it's a shame Bolden wasn't seen after his PED suspension because he definitely impressed as an early-down complement to Ridley.
Receivers(3.0 out of 5)
Despite replacing Chad Ochocinco with Brandon Lloyd, this group faltered this season and likely will be looked at closely by the coaches. Drops were certainly an issue, as the team went from 35 to 42, with Wes Welker's 13 leading the way — but it was the same number he had in 2011. Of course, Welker seems to have bad timing. Probably more alarming were the 21 drops combined among Hernandez (doubled 2011 total to 10), Lloyd (6), and Gronkowski (5). They should be better than that. The Patriots also dipped from leading the league in explosive passes (72) to tied for seventh (57). That can almost directly be attributed to coming up short with yards after the catch. The Patriots went from 6.7 yards after the catch last season — the best under Bill Belichick — to 5.9, their worst mark since 2009.
Injuries did not help. Hernandez and Gronkowski combined to basically play a full season between them, and the promising Julian Edelman played just nine games. The Patriots thought they had a good backup tight end in Visanthe Shiancoe (they even used their one designated-to-return spot on injured reserve for him), but he suited up in five games before being released with zero catches. The tight ends were also worse run blocking without a healthy Gronkowski. In 2011, they allowed 16 stuffed runs (runs of 1 yard or less outside of short yardage). This year it was 30.5 with Michael Hoomanawanui (two sacks allowed) leading the way with 11.
Offensive line(3.5 out of 5)
An area of concern heading into the season with the retirement of left tackle Matt Light and the failure to report of right guard Brian Waters, Dante Scarnecchia's crew more than held its own in a restocking year that showed great promise. It wasn't a total triumph, but it was pretty good. The offensive line's responsibility for the 28 sacks (35 in 2011) was 20.5, which was an improvement from 23.5 in 2011. This year's line allowed five fewer stuffed runs. In every other category, the 2011 group was superior, even playing one more game: hurries (81.5 to 95), knockdowns (39.5 to 52.5), and total quarterback pressures (144.5 to 168).
All eyes were on left tackle Nate Solder, and while he's a better run blocker than Light, Solder (4.5 sacks, 28.5 hurries, 12.5 knockdowns, 45.5 total pressures) will have to grow into Light's shoes. As for replacing Waters, (2.5 sacks, 6 hurries, 4 knockdowns for 12.5 total pressures in 2011), Dan Connolly allowed 2.5 sacks, 8.5 hurries, and 9.5 knockdowns for 20.5 total pressures — but in 300 fewer snaps. Left guard Logan Mankins was much better this season after playing with an ACL injury all of last season. He allowed just half a sack, 18 total pressures, and 9 stuffed runs. In 2011, he allowed 3.5 sacks, 24 total pressures, and 16 stuffed runs. Center Ryan Wendell (4 sacks, 13.5 hurries, 5.5 knockdowns, 23 total pressures, 11 run stuffs) improved and was playing excellent at the end of the season. Right tackle Sebastian Vollmer led the team with 6.5 sacks allowed, and his 37 total pressures were second. In his last full season in 2010, Vollmer allowed 1 sack and 17 pressures.
Defensive line(3.6 out of 5)
Another standout, fundamentally sound season for the front four as they welcomed position coach Patrick Graham with Pepper Johnson moving to linebackers. The entire front seven was a little bit better against the run (117 stuffed runs in one fewer game than 2011's 109), but the plan to upgrade the pass rush again failed to come to fruition. The 214 total quarterback pressures were 25 fewer than 2011, and the sack total declined from 51 to 40.
That mostly had to do with the ankle injury to rookie right end Chandler Jones, who accounted for 38 percent of the Patriots' pressures through Week 10 but only 8 percent from that point on. The Patriots had no viable alternatives behind Jones. Rob Ninkovich continued to be consistent, but without Jones playing a full season, the Patriots needed four players (Jones, Justin Francis, Jermaine Cunningham, and Trevor Scott — 15.5 sacks, 78.5 total pressures) to replace Andre Carter and Mark Anderson (22.5 sacks, 78 total pressures in 2011).
For the second straight season since moving from the 3-4 to the 4-3, Vince Wilfork had a great impact, as he was third on the team with 26.5 pressures (sacks declined from 6 to 3.5) and led the team with 21.5 stuffed runs. Combined, Kyle Love and Brandon Deaderick (25.5 pressures, 26.5 stuffed runs) were slightly more productive than Wilfork, but the Patriots need more from this group against the pass.
Linebackers(3.6 out of 5)
Big jump for this group from 3.1 in 2011 as the two returners, Jerod Mayo and Brandon Spikes, elevated their games and made more of an impact, and rookie Dont'a Hightower showed a lot of potential if he can learn the finer points and become more consistent. The starting trio had 7 sacks, 41.5 pressures, and 36 stuffed runs. In 2011, linebackers had 2 sacks, 25 pressures, and 26.5 stuffs. Spikes actually did the best with his opportunities. According to profootballfocus.com's pass-rush snaps, Spikes got pressure on 19 percent of those snaps, followed by Hightower (16.8) and Mayo (16.1). Mayo is fine in pass coverage, but Spikes and Hightower definitely lacked. The Patriots appear to be a coverage linebacker short (they haven't had an effective one since Gary Guyton in 2010) of having a great group. The defense as a whole recovered an amazing 21 fumbles — double the league average of 10.
Secondary(2.9 out of 5)
This unit was still the team's weakest spot, but it showed the biggest improvement, going from 2.4 in 2011. As far as actual numbers, the Patriots improved from allowing 79 passes of 20 or more yards in 2011 to 74 and were still last in the league. Another big area in which they'll look to improve.
The Patriots have really been hurt by the inability of Ras-I Dowling, the 33d overall pick in the 2011 draft, to stay on the field. He's a physical freak and can match up with big receivers. But Dowling got hurt again, which forced the trade for Aqib Talib. Getting Talib showed what the Patriots have been missing without Dowling. Talib, rookie Alfonzo Dennard, and Kyle Arrington gave the Patriots competent cornerbacks.
Moving Devin McCourty to free safety gave the Patriots deep stability for, well, a long time. Patrick Chung's failings at strong safety were a major disappointment, and forced Steve Gregory to play out of position.
The Patriots improved from 20th in passer rating allowed (84.3) to 17th (86.9), and allowed 38 fewer first downs passing in the regular season. The third-down defense has improved each season from the 47 percent high in 2010 (42 in 2011, 39 in 2012). Yards allowed per pass also slightly improved from 7.1 in 2011 to 6.9.
Special teams (3.5 out of 5)
The Patriots finished 13th in the overall rankings compiled by Dallas Morning News guru Rick Gosselin, with opponent punt average (50.3 yards) the worst mark. Overall, the Patriots improved slightly in opponent kickoff and punt returns (third in the NFL each). Outside of McCourty's 104-yard kickoff return for a touchdown against the Jets, those returns were mostly a disappointment as the Patriots slipped from fourth in the league to ninth. The Patriots had just two returns of more than 30 yards while opponents had eight. Patriots punt coverage was outstanding with one return over 20 yards; the Patriots had six themselves. Zoltan Mesko, who had a punt blocked against Arizona, ranked in the bottom half of the league in average and net, but punters with good offenses are often punished. Stephen Gostkowski, who missed a game-winning kick against Arizona, was 20th in field goal percentage (83; 85 in 2011) and ninth in touchback percentage (46.8). He was 16th in the latter (39.8) in 2011. Matthew Slater once again was selected as the AFC's Pro Bowl special teams player after leading the team with 20 tackles (12 solo). Rookie Nate Ebner really impressed as the season went along with 17 tackles (14 solo). Linebacker Mike Rivera was also in double digits (12).