Patriots
Best Bets Week 12: Take the Points and Roll With Rob Gronkowski and the Patriots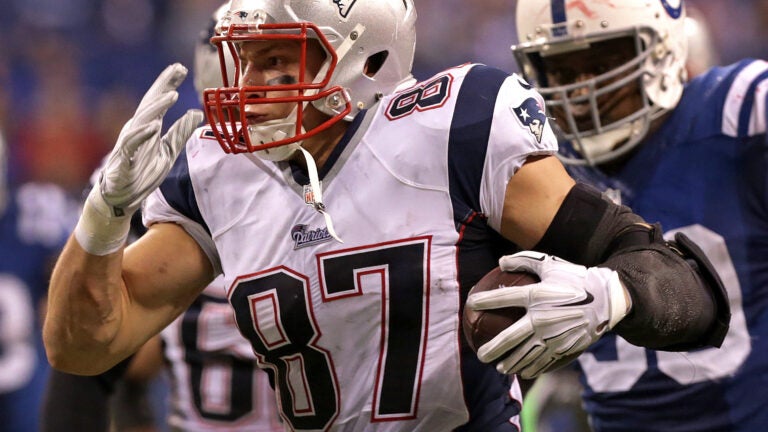 Welcome to Week 12 of BDC Sports' Best Bets – the Sylvester and thief in raccoon's clothing edition – a weekly presentation by Steve Silva and Chris Rattey that looks at a few NFL match-ups too juicy to pass up if gambling is one of your hobbies. Or part-time jobs.
Silva has been awfully quiet in the office this week, after pulling a mirror move and dropping all five picks last weekend after a flawless performance the week prior. Rattey maintained his +.500 streak with his third 3-2 mark in a row, and the big swing puts Rattey only two games behind Silva in the grand scheme.
Oh Steve …
[fragment number=0]
Check out the Podcast version of Best Bets with the RadioBDC crew at the bottom of the article.
Silva record last week: 0-5 (27-16 overall) Rattey record last week: 3-2 (25-17-1 overall)
Now on to the picks …
Rattey Pick 1: @ Patriots [-7] over Lions The Skinny: Let's just get right to it: The Patriots are going to absolutely demolish the Detroit Lions. There really is no question about it. Close your eyes and try to imagine that Patriots offense, at home on what looks to be a gorgeous autumn afternoon, not scoring more than 22.3 points on Sunday. Now open them … and there's the mediocre Detroit Lions offense averaging 15.2 points per game on the road. The Lions haven't received a good old fashioned whooping since week two when they got stifled by … cough, cough … Carolina by a 24-7 score. So they're due. The Patriots are a juggernaut right now, and the defense will feast on Stafford all day long. Look for multiple picks and sacks at a festive Gillette Stadium.
Silva Pick 1: @ Patriots [-7] over Lions The Skinny: It's not a trap. It's not a Super Bowl preview. But it should be an easy win for the Patriots. Since 2010, New England is 31-3 in the second half of the regular season and have not lost a regular-season home game since Dec. 16, 2012, when the 49ers topped them 41-34. Detroit won't break the streak. Over their six-game winning streak, the Patriots have averaged 40.5 points per game, so something has got to give when they face the NFL's top-rated defense that allows a league-low 15.6 points per game. The Patriots have won 13 straight games against NFC North teams, including a 2-0 record in 2014. Matthew Stafford just doesn't scare anyone and is 0-15 on the road against teams that finish the season with winning records. The Pats are peaking and this is their time of year. The Lions will have trouble scoring on Sunday.
Rattey Pick 2: @ Bears [-5.5] over Buccaneers The Skinny: It will be a showcase of two lousy defenses in the windy city Sunday afternoon. But speaking of another team due for something, the Bears offense is bound to have a day, so why not have it be against a visiting Bucs team that's ranked 30th in points surrendered (27.9), 27th in total yards (384.4), 30th in passing yards (266.1) and 22nd in rushing yards (118.2). The Bucs actually have played exceptionally well ATS on the road, showcasing a 4-1 record vs. a 0-5 home mark. But 2-8 Tampa Bay cannot stop any facet of the game on defense, so look for those Chicago skill positions to rack up the yards and points. And the Bucs are equally as bad on offense, so look for the Bears to climb out of the NFL cellar for points allowed as a result of Tampa's well-rounded shabbiness.
Silva Pick 2: @ Broncos [-7] over Dolphins The Skinny: Yes, Denver's offense is banged up after the 22-7 whooping by the Rams, but Peyton Manning rarely has two bad games in a row … and that bad game was a 389-yard day in St. Louis that resulted in only one touchdown. The Broncos are 8-0 ATS in their last eight games following a SU loss. The Dolphins are 2-5 ATS in their last seven games as a road underdog. The caveat here will come down to the status of Emmanuel Sanders and Julius Thomas, who have scored 18 of the Broncos 29 passing touchdowns this season. Manning will have to connect with Demaryius Thomas as his primary receiver if Sanders and J. Thomas can't go. The air attack won't be easy, as Miami's pass defense has allowed just 208 yards per game. For Denver to cover, the pass rush is going to have to be in Ryan Tannehill's face throughout the game and the top-ranked defense against the run will have to contain running back Lamar Miller.
Rattey Pick 3: @ Broncos [-7] over Dolphins The Skinny: A tiny part of me wants to avoid this game at all possible costs. Why? Because the Miami Dolphins are a sneaky gaze and difficult to trust. I mean, they should suck, right? But their defense is ranked 4th in the NFL in points against, 2nd in total defense, 2nd in passing yards and 8th against the run. Who knew? But I think the Broncos, after two rough road performances, will come back home and seize control of the AFC West after KC's choke job in Oakland Thursday night. Miami … sneaky … like a thief dressed in raccoon clothing. (Did you know that a gaze is a pack of raccoons? You're welcome for today's nature lesson.)
[fragment number=1]
Silva Pick 3: @ 49ers [-9] over Redskins The Skinny: The 'Niners return home to Levi's Stadium after two straight road wins to face the 'Skins. Most of their games have been tight this season, so the thinking is that Kaepernick and Co. are primed to get their offense in gear for a blowout win. It's officially become a circus for the 3-7 Redskins with the disappointing Robert Griffin III channeling his inner Bill Belichick and proclaimed he's "focused on San Francisco'' nine times during this week's press conference. Griffin is pick prone and the 'Niners lead the league in interceptions with 16 after picking off Eli Manning five times last week. And the on-the-run signal caller has been sacked 11 times in the last two games. The Redskins were embarrassed by the Buccaneers last week and are 0-5 ATS in their last five games following a straight up loss. The Redskins shocked the Cowboys on the road in Week 8, but lightning won't strike twice Sunday in San Francisco. The 49ers are 4-1 ATS in their last 5 games as a favorite and 15-5 ATS in their last 20 games as a home favorite when favored between 3.5-10.0 points. San Francisco is also 3-0 SU and 2-0-1 ATS in their last three games against Washington.
Rattey Over/Under Special: Jaguars at Colts under 50.5 The Skinny: I am sticking with a couple themes here. The first is the Colts will suffer the usual punch-drunk sloppiness that comes after a Patriots beat down. You see it all the time. It took the Bengals a couple games to get their act together after their Patriots loss. Denver was completely wobbly in St. Louis last weekend after the New England thumping. So why not the Colts? Combine that with the Pissed Off Pick (P.O.P), the Colts defense could pitch another home shutout against the 1-9 Jags that boast the league's worst scoring offense (15.8). Hell, the Colts might win 50-0. And I would still come out on top. Take the under.
Silva Over/Under Special: Bengals at Texans over 43.5 The Skinny: Going back to belief that the dome is point friendly if indeed the roof is closed at NRG Stadium Sunday. Four of the last five Texans' games have gone over. Ryan Mallett should keep the momentum going in his first start in front of the home fans and the Texans running game didn't miss a beat when backup running back Alfred Blue ran for 156 yards in Cleveland and Arian Foster could return this week. The Bengals offense returned to form last week in the Superdome as Andy Dalton threw for three touchdowns as A.J. Green broke out with six catches for 127 yards and a TD. Yes, J.J. Watt is a force – on both sides of the ball — but Cincinnati has been able to protect Dalton this year with a solid offensive line.
STINKY CHEESE SPREAD UPSET LOCK OF THE WEEK
Rattey: Cardinals [+6.5] over @ Seahawks The Skinny: I will keep asking this adorable Arizona Cardinals team out on dates if they continue to throw those winks my way. What the hell is going on over in Phoenix? I'll tell you what … an 8-2 record ATS (3-1 on the road). Truthfully, if I'm Arizona, boasting the best record in the NFL at 9-1 and I see the books throw me 6-1/2 points – I'm insulted. I might switch this to my P.O.P. The defending Super Bowl champs have allowed almost every team to stick with them this year – especially at home – save for a 38-17 home thumping of the New York Giants (they blow), and the rowdy home opener against Green Bay. But what defending Super Bowl champ doesn't hand it to its opponent right after they drop the banner in front of its home crowd? I'll bite and pick up the tab again. Let's see where this thing goes, Zona.
Silva: @ Vikings [+9.5] over Green Bay The Skinny: The Pack has been en fuego, but they're due for a letdown. I'm holding my nose on this one hoping that the Vikings are the kind of team that can put pressure on Aaron Rogers and slow down Green Bay's offense. While Rogers is having the best season of his career. But the Packers are only 2-3 on the road this season, putting up 22.3 points per game compared to 33 points at home. Since getting spanked by the Pack 42-10 in Green Bay in Week 5, the Vikings have allowed 18.8 points per game. On offense, Teddy Bridgewater slumped last week in a 21-13 loss to the Bears and he'll have to be effective scrambling against a Packers defense that has allowed 238 yards per game through the air this season. By the numbers, the Vikings are 8-2 ATS in their last 10 games following a SU loss, 10-2 ATS in their last 12 games as a home underdog. Let's see if they can keep this one close.
[fragment number=2]