Patriots
The Knuckles: Football Turkeys Just in Time for Thanksgiving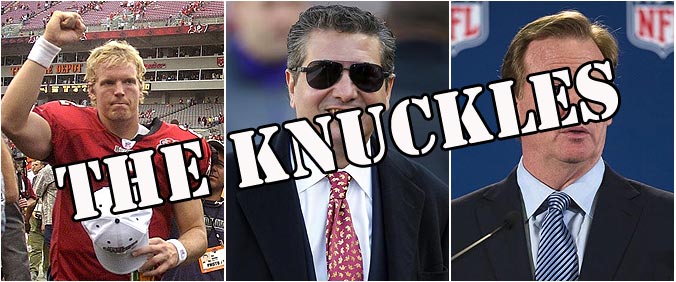 Thanksgiving is almost here, Knuckles fans! And now that we're just days away from the joy of stuffing our faces and passing out on the couch, it's about time we return to the NFL and recognize the most absurd and imbecilic the past week has to offer. Knuckleheads seem to grow on trees in and around the NFL, and since that's probably what will be on your TV when you collapse into a food coma after dinner next Thursday, what better way to set the mood than by getting in the holiday spirit and honoring these special individuals?
So without further ado, let's get to this week's awards, guaranteed to make you feel bloated and drowsy before you even stand up from the table.
BRONZE: Chris Simms – Every so often, a media member says something completely ridiculous just so people will talk about how completely ridiculous he/she is. After all, there's no such thing as bad publicity, as carnival barkers like Skip Bayless and Stephen A. Smith and Jay Mariotti and several other trolly trolls in all corners of this particular world strive to prove regularly.
Enter Chris Simms, former NFL quarterback, son of Super Bowl champion/lead CBS analyst Phil Simms and current Bleacher Report/CBS talking head, who has gotten himself noticed these past couple weeks for proclaiming that Tom Brady is no longer one of the five best QBs in the league.
Fine, Chris. If you honestly believe that, as you first told Peter King for his "Monday Morning Quarterback'' dirge during the Pats' bye week, then repeated with borderline gleeful enthusiasm on Thursday afternoon's "Felger and Mazz'' program on 98.5 The Sports Hub, you're certainly entitled to you opinion. That's not why you're a complete and total knucklehead.
No, you're a knucklehead because of the rationale that informs your opinion.
For the record, Simms' top five is as follows:
1.Aaron Rodgers 2.Andrew Luck 3.Ben Roethlisberger 4.Russell Wilson 5.Peyton Manning
With the exception of Rodgers at No. 1, that's a fairly flawed list. Luck is very good but, as Patriots' fans have now seen three times in the past three seasons, is not there yet. Roethlisberger is fantastic and a winner and belongs, just a rung or two lower than third. Wilson, while extremely talented and very unique in his abilities, is nowhere near this class yet. And Manning, despite all his hiccups in big games and not perfect conditions, has to be in the top three.
Anyway, Brady belongs in this group and I'm not just saying that for provincial reasons. In fact, Simms is a former Pats' assistant coach, grew up in a locker room where Bill Belichick first came to prominence and noted in his chat with Michael Felger and Tony Massarotti that Belichick is "the greatest coach of all time.'' Maybe he's trying to avoid seeming like a homer and just overdoing it?
Hard to say. But it's painful to hear someone who actually played and coached the game say that Brady's "the worst downfield thrower the league has to offer,'' then shoo away criticizing Manning and his wobble throws for the same reason because Manning "has the greatest collection of weapons around him the NFL has ever seen,'' and "I just give him the slight edge over Tom right now just because more is on his shoulders week to week.''
So congratulations, Chris. Before last week, you were best known either for being Phil's kid or for getting your spleen ruptured in a game a few years ago. Now you're best known for being willing to play the role of the idiot in public. Well done.
[fragment number=0]
SILVER: The Washington NFL Team – There are few teams in any sport more fun to point and laugh at than the Washington pro football entry. Since hardly a week can go by without this hopelessly incompetent collection of knuckleheads doing something stupid – on the field or off – let's reward them with a bright, shiny Silver Knuckle.
First, they were blown out at home by the previously one-win Tampa Bay Buccaneers last Sunday. Then, former sensation, now shell of himself quarterback Robert Griffin III, who was terrible in the game and hasn't been right for two years, said a few things that made people think he was publicly blaming his teammates for the loss.
"It takes 11 men,'' he said. "It doesn't take one guy and that's proven. If you want to look at the good teams in this league and the great quarterbacks, the Peytons and the Aaron Rodgers, those guys don't play well if their guys don't play well. They don't.''
Hmmm. Not awesome. But also not as bad as it was made out to be, especially because he he said a couple more things right afterward suggesting that he was indeed holding himself accountable, at least in some part.
That should have been the end of it (beyond the fact that Griffin has become a moving target after his very public feud with the horrid Mike Shanahan, Washington's last coach, during the 2013 season as well as the impression that he's the special pet of little man owner Daniel Snyder). But his current coach, Jay Gruden (no, the other one), decided it was in his and the team's best interest to pile on.
"Robert needs to understand he needs to worry about himself No. 1 and not everybody else. It's my job to worry about everybody else. Yes, everybody else needs to improve, but it's not his place. His place is to talk about himself and he knows that.''
Wow. And that doesn't even include Gruden's listing all the fundamental things kids learn in Pop Warner that Griffin screwed up/doesn't know how to do properly.
It gets better though. Griffin decided to defend himself on Facebook. People like Steve Young and (naturally) Mike Florio ripped him, with Young, a very close friend of Shanahan, saying he's heard Griffin doesn't work hard from "previous coaches,'' which is hilarious considering the source. Then on Wednesday, everyone predictably tried to walk everything back, with Griffin parroting Belichick's "We're on to Cincinnati,'' routine about this week's Washington opponent the 49ers. And Gruden, sounding programmed by Snyder's evil henchmen, took back all the negative (albeit, somewhat refreshing in its honesty) criticism he levied on his QB.
So here's Washington, 3-7 and going nowhere yet again. Washington has posted three winning seasons this century, one of them Griffin's rookie year when he was outstanding until Shanahan left him in a playoff game despite a serious knee injury. Griffin's confidence is clearly shot thanks to being completely ruined by Shanahan, as overrated and unaccountable an NFL coach as any in recent memory.
The common thread, of course, is Snyder, the most loathsome owner in pro sports now that Donald Sterling has been banished to the old, racist guy hinterlands. There's not enough time to list all the reasons why he is a horrible, insufferable person (here's one!). So for our purposes here, just know that the biggest reason this team is a laughingstock pretty much every year and why a once proud, standard bearer franchise is one of the league's sorriest over the past 15-plus years is Daniel Snyder, all-time knucklehead.
[fragment number=1]
GOLD: Roger Goodell – Oh hey, Rog. We've missed you here at The Knuckles. But we're thrilled to see you back at the podium now that you've emerged from your ivory tower long enough to remind everyone that you are still clueless while simultaneously snickering at anyone who thinks anything will ever cost you your job.
In short, by suspending Adrian Peterson for the rest of the season despite his negotiating a no contest plea to a misdemeanor, Goodell basically used him as a PR tool to improve his own image and make himself look tougher (and more sensitive at the same time) after the debacle of the Ray Rice case and the abject embarrassment of how clumsily he handled it. In doing so, he's ignoring the judicial system and the league's collective bargaining agreement. At the same time, he's making up the rules as he goes along while condescendingly wagging his finger in the process. Goodell is so transparent in his incompetence, he actually makes Peterson look slightly sympathetic despite the horrifying things the Vikings' running back did to his four-year old.
This is nothing new though. Goodell gladly engages in cynical actions that are near impossible to justify in the name of making truckloads of money, shielding his billionaire bosses from ridicule and protecting his own ass. And as much anyone complains or calls for his head, the NFL will just do what it always does. It will keep Goodell, more in over his head than ever, out of the public eye and silent for a few weeks while everyone who was angry or protesting or saying mean things gets bored or finds something else to be angry about and simply goes away. And the TV ratings will keep rising and the dollars will keep flowing and you and I and everyone else hooked on football will keep on hanging around.
[fragment number=2]
Exactamundo. Mine too. Roger Goodell knows this. And he thrives on it.