Patriots
Wells Report: 'More Probable Than Not' Patriots Staffers Deflated Footballs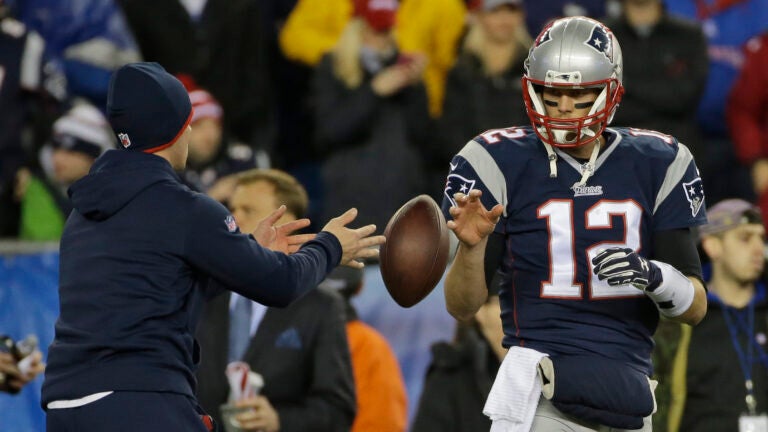 The NFL's long-awaited Deflategate report found that Patriots' team staffers likely took part in an attempt to circumvent league rules and quarterback Tom Brady was probably "at least generally aware'' of it.
The 243-page report by investigator Ted Wells, which was sent to NFL commissioner Roger Goodell on Wednesday, found it "is more probable than not that'' team staffers for the Patriots deliberately underinflated footballs to gain advantage over the Indianapolis Colts in the AFC Championship game on Jan. 18 at Gillette Stadium.
Timeline of Deflategate Controversy
[bdc-gallery id="106353″]
Patriots owner Robert Kraft said in a statement Wednesday that he still believed the team had not done anything inappropriate.
Goodell said NFL executive vice president Troy Vincent would help determine how the Patriots would be penalized.
"As with other recent matters involving violations of competitive rules, Troy Vincent and his team will consider what steps to take in light of the report, both with respect to possible disciplinary action and to any changes in protocols that are necessary to avoid future incidents of this type,'' Goodell said in a statement. "At the same time, we will continue our efforts vigorously to protect the integrity of the game and promote fair play at all times.''
What would become known as Deflategate began during the Patriots 45-7 victory over the Colts in the AFC Championship in January. Eleven footballs the Patriots provided for the game were found to be underinflated by as many as two pounds each which could make them easier to throw and catch during the rainy game at Gillette.
Here are key sections from the "Executive Summary'' section of the Wells report:
"For the reasons described in this Report, and after a comprehensive investigation, we have concluded that, in connection with the AFC Championship Game, it is more probable than not that New England Patriots personnel participated in violations of the Playing Rules and were involved in a deliberate effort to circumvent the rules.
"In particular, we have concluded that it is more probable than not that Jim McNally (the Officials Locker Room attendant for the Patriots) and John Jastremski (an equipment assistant for the Patriots) participated in a deliberate effort to release air from Patriots game balls after the balls were examined by the referee,'' the report said.
"Based on the evidence, it also is our view that it is more probable than not that Tom Brady (the quarterback for the Patriots) was at least generally aware of the inappropriate activities of McNally and Jastremski involving the release of air from Patriots game balls.
"We do not believe that the evidence establishes that any other Patriots personnel participated in or had knowledge of the violation of the Playing Rules or the deliberate effort to circumvent the rules described in this Report. In particular, we do not believe there was any wrongdoing or knowledge of wrongdoing by Patriots ownership, Patriots Head Coach Bill Belichick or any other Patriots coach in the matters investigated.''
The report indicates that Brady would not make documents, texts, and emails available to the investigation.
"Similarly, although Tom Brady appeared for a requested interview and answered questions voluntarily, he declined to make available any documents or electronic information (including text messages and emails) that we requested, even though those requests were limited to the subject matter of our investigation (such as messages concerning the preparation of game balls, air pressure of balls, inflation of balls or deflation of balls) and we offered to allow Brady's counsel to screen and control the production so that it would be limited strictly to responsive materials and would not involve our taking possession of Brady's telephone or other electronic devices. Our inability to review contemporaneous communications and other documents in Brady's possession and control related to the matters under review potentially limited the discovery of relevant evidence and was not helpful to the investigation.''
In a January press conference at Gillette Stadium, Brady said he "didn't alter the ball in any way'' prior to the AFC Championship game.
"I have a process I go through before every game where I go in and take the footballs I want to use for the game,'' Brady said. "What happened Sunday night was the same process I always go through. I don't think anything of it. I woke up Monday morning and answered a question on a radio show, and that was the first I heard of it.''
Kraft, in a statement released Wednesday, called the report "incomprehensible:''
"When I addressed the media at the Super Bowl on January 26 – over 14 weeks ago – I stated that I unconditionally believed that the New England Patriots had done nothing inappropriate in this process or in violation of the NFL rules and that I was disappointed in the way the league handled the initial investigation. That sentiment has not changed.
"I was convinced that Ted Wells' investigation would find the same factual evidence supported by both scientific formula and independent research as we did and would ultimately exonerate the Patriots. Based on the explanations I have heard and the studies that have been done, I don't know how the science of atmospheric conditions can be refuted or how conclusions to the contrary can be drawn without some definitive evidence.
"What is not highlighted in the text of the report is that three of the Colts' four footballs measured by at least one official were under the required psi level. As far as we are aware, there is no comparable data available from any other game because, in the history of the NFL, psi levels of footballs have never been measured at halftime, in any climate. If they had been, based on what we now know, it is safe to assume that every cold-weather game was played with under inflated footballs. As compelling a case as the Wells Report may try to make, I am going to rely on the factual evidence of numerous scientists and engineers rather than inferences from circumstantial evidence.
"Throughout the process of this nearly four-month investigation, we have cooperated and patiently awaited its outcome. To say we are disappointed in its findings, which do not include any incontrovertible or hard evidence of deliberate deflation of footballs at the AFC Championship game, would be a gross understatement. In addition, given our level of cooperation throughout the process, I was offended by the comments made in the Wells Report in reference to not making an individual available for a follow-up interview. What the report fails to mention is that he had already been interviewed four times and we felt the fifth request for access was excessive for a part-time game day employee who has a full-time job with another employer.
"While I respect the independent process of the investigation, the time, effort and resources expended to reach this conclusion are incomprehensible to me. Knowing that there is no real recourse available, fighting the league and extending this debate would prove to be futile. We understand and greatly respect the responsibility of being one of 32 in this league and, on that basis, we will accept the findings of the report and take the appropriate actions based on those findings as well as any discipline levied by the league.''