Patriots
Meet Jeffrey Kessler, the lawyer backing Tom Brady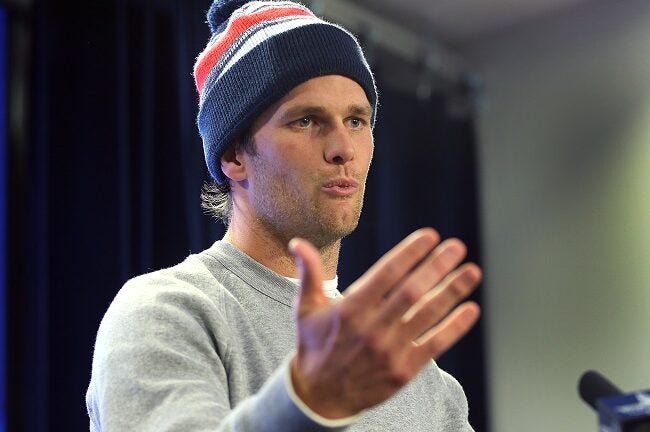 The NFL had its say. Now, with his appeal filed, it's Tom Brady's turn.
Reports broke Tuesday that the Patriots' embattled quarterback hired high-profile attorney Jeffrey Kessler, and his record suggests there may be no one better to have on your side in a fight with the NFL.
Who he is
Kessler is a partner at the New York office of Winston and Strawn, a Chicago-based law firm with 850 attorneys worldwide. He has been recognized by law rankings guide Chambers USA as one of the country's top business lawyers and by U.S. News and World Report for his work in antitrust and sports law.
Kessler chairs Winston and Strawn's antitrust practice and also tries cases in such areas as intellectual property, complex litigation and government criminal and civil investigations. He has also tried a number of high-profile sports cases on behalf of athletes, counting among his clientele the NFL Players Association, the National Basketball Players Association, The NHL Players Association, the MLB Players Association and assorted other groups and individuals.
In short, Kessler is a man the NFL knows well to be wary of.
"Hiring Kessler is different from hiring an excellent litigator in general,'' said Michael McCann, an attorney and director of the Sports and Entertainment Law Institute at the University of New Hampshire. "This is a litigator who is really familiar with the NFL rules and policies and that certainly puts him in an elevated position.''
What he's tried
McNeil, et al. v. NFL, et al – In one of the most impactful cases in NFL history, Kessler successfully argued against the league's Plan B system, which gave clubs limited rights to retain 37 players each season, on behalf of Jets running back Freeman McNeil and a host of others. That decision paved the way for the league's adopting a free agency system.
Zenith v. Matsushita – In a major non-sports case, Kessler was part of a team that successfully defended electronics companies Matsushita and JVC in the U.S. Supreme Court over claims of a worldwide conspiracy.
Brady v. NFL – In 2011, Kessler represented lead plaintiff Tom Brady and a class of other players in the case that ultimately led to the end of the 2011 NFL lockout and the establishment of a new collective bargaining agreement.
Sprewell v. NBA – When the Golden State Warriors' Latrell Sprewell was suspended for a year and had the remainder of his contract voided by the NBA in 1997 after choking coach P.J. Carlesimo, Kessler successfully got the voiding of his contract overturned and his suspension reduced to the remainder of the season.
Kessler also aided the appeals of Saints linebacker Jonathan Vilma, Vikings running back Adrian Peterson and Ravens running back Ray Rice, all of whose suspensions were ultimately reduced or overturned.
What happens next
With Brady's appeal filed, the league announced that NFL commissioner Roger Goodell will hear the case. That's obviously a tough sell for those hoping for a more "neutral'' arbiter.
McCann said a pair of notable neutral options would have been former NFL labor attorney Harold Henderson, who heard Peterson's appeal, or retired federal judge Barbara Jones, who heard Rice's.
Should Goodell rule against Brady, it will be up to Brady to decide whether to drop his fight or file a lawsuit under the International Labor Relations Act or could pursue a defamation case. Whichever avenue Brady chooses, McCann said his hiring Kessler makes court a likely scenario.
"(Kessler's) real strength would be if Brady later on sues,'' McCann said. "We don't know if it's going to happen, but if it does, I think Kessler would be a very intimidating lawyer…Brady retaining Kessler has a signaling effect to the NFL.''
Court is far from a foregone conclusion, though, as both sides could be compelled to provide evidence that didn't make it into the report, whether that be testimony by Brady, McNally, Jastremski or figures on the league's side, or Brady's electronic records, which he did not turn over to investigators per the Wells Report.
At this point, there are more ifs in this situation than certainties – and the Patriots' context report hasn't exactly cleared the waters. But if he were a betting man, McCann would put his money on a court case, and subsequent reduction.
"I do think there's at least a reasonable thance this winds up in court,'' McCann said. "The most likely outcome is the suspension is reduced or overturned, and Brady is playing either in week 1 or week 3.''