Patriots
Rob Gronkowski's brother confirms one of the family's most ridiculous stories yet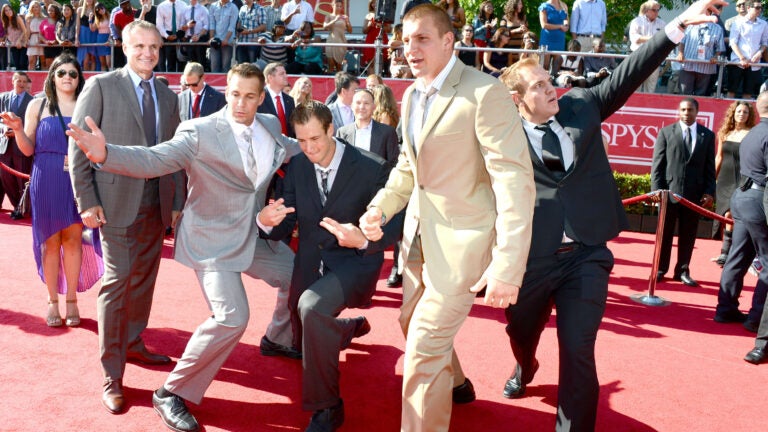 Boys will be boys. In the case of Rob Gronkowski and his band of partying brothers, men will be men acting like boys.
One of Gronkowski's brothers, Chris, appeared on Boston sports radio Tuesday and confirmed a report that he and his brothers had a 'sword fight' in the bathroom during ESPN's ESPY awards in 2012.
"I think we were at the ESPYs, and the bathroom, the line was taking forever and so whatever a normal family would do, you just go and have a sword fight with all of us,'' Gronkowski said on Toucher and Rich.
What's a sword fight? Former Patriot Wes Welker, who was sitting in with Chris Gronkowski during the radio interview, was a little confused.
"A sword fight? So you guys are just all in there peeing on each other, basically?'' Welker asked.
Not exactly, but not far off, either. Gronkowski said that he thought all five Gronk bros were involved in the bathroom shenanigans. He was surprised to find out it became a news story.
"What kind of reporter actually comes in there and then writes a story about that?'' Gronkowski asked. "Come on.''
The story was first told by Bill Simmons on his B.S. Report podcast in 2012, and Simmons' telling of the tale was picked up by several sports and news outlets.
"Gronkowski is in line for the bathroom. There's a line, two urinals and a stall. They're all waiting. Gronkowski is with his two brothers, who just looked awesome. He goes into the stall and he turns around to one of his brothers and says, 'Crossys?' The second brother goes in, the third brother goes in, and then there's some guy who's waiting — some small guy — and they say, 'Let's get him too.' They grab this guy and pull him in, and they all pee in the bathroom together, in the stall,'' was how Simmons told the story.
Bill Belichick's best draft picks
[bdc-gallery id="139049″]