Patriots
Tom Brady's appeal hearing with Roger Goodell concludes after 11 hours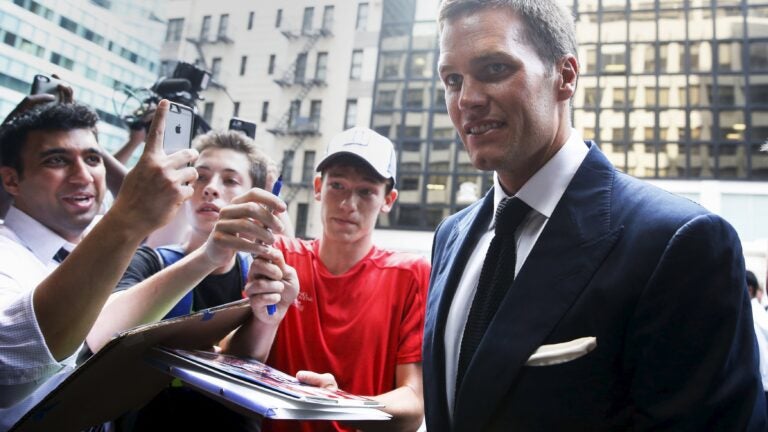 Now we wait.
Tom Brady's hearing with NFL Commissioner Roger Goodell concluded just after 8:30 p.m. Tuesday, the NFL Network's Ian Rapoport reported, more than 11 hours after it began. According to Rapoport, no further hearings are scheduled.
In an appearance Tuesday on ESPN's NFL Insiders, ESPNBoston's Mike Reiss said a source told him the hearing went well for Brady.
"I reached out to someone just recently that had a direct line into that room [where the appeal was being heard], close to Tom Brady,'' Reiss said. "Their feeling was that it went very well this morning, but also an acknowledgement that the NFL holds all the cards here.''
A large media throng gathered outside NFL headquarters on Park Avenue in New York City Tuesday morning to watch Brady arrive for the appeal hearing of his four-game suspension. Brady's meeting with Goodell began at 9:30 a.m.
Brady, wearing a navy blue suit, was greeted by a couple of autograph-seeking fans and media cameras as he entered league headquarters at 345 Park Avenue via a side entrance.
One fan chanted "Free Tom'' as Brady crossed the sidewalk with his agent Don Yee after arriving in a black Chevrolet suburban.
[fragment number=0]
ESPN's Sal Paolantonio said the hearing was moved into the basement of the building due to the large number of attendees — about 40 people — that arrived while his colleague Adam Schefter tweeted out that Brady was testifying under oath today.
Shefter also reported Tuesday afternoon that Brady's defense team was given four hours to present its entire case and that the proceedings were expected to wrap up today and not continue Thursday. NFL spokesman Greg Aiello later tweeted that there is no strict four hour time limit on Brady's team's presentation and "it is expected to go beyond that.'' According to the Globe's Ben Volin, the proceedings are expected to end around 5:50 p.m. after the NFL has approximately two hours to give its own testimony.
[fragment number=1]
NFL Players Association outside counsel Jeffrey Kessler, who has had a history of success in getting high-profile punishments against NFL players reduced, arrived about 40 minutes before the scheduled hearing. NFLPA attorney Heather McPhee also accompanied Brady into the building.
[fragment number=2]
Ted Wells—the lawyer commissioned by the NFL to conduct the Deflategate investigation—is part of the NFL team representing the league at the hearings.
The NFLPA had formally requested that Goodell to recuse himself from hearing the appeal because he might be called as a witness and could not be impartial. But Goodell said it was his responsibility to oversee the hearing to protect the integrity of the league.
[fragment number=3]
Goodell has said he's looking forward to hearing from Brady and has "an open mind'' regarding reviewing any new information the Patriots superstar quarterback and his team can bring to the table today. That new information could include scienfitic studies that could refute the findings presented in the the Wells report regarding the reduced PSI levels in footballs in the AFC Championship game against the Indianapolis Colts in January. New information from Brady could also be related to text messages exchanged between Brady and the two Patriots staffers implicated in the Wells report.
[fragment number=4]
Both sides are allowed to present evidence and call witnesses during the proceedings.
Once the lawyered-up teams from both sides present their cases and make closing arguments, Goodell will then make a final decision on the Brady's suspension, although no timetable has been set for that verdict to be rendered.
Story continues after photo gallery
Tom Brady: The best New England football fans have ever seen
[bdc-gallery id="117672″]
Over the last few weeks, the momentum regarding the scandal seems to have shifted back into Brady's corner as he hopes to clear his name.
First, a study released by the American Enterprise Institute earlier this month examined the evidence and methodology of the Wells report and concluded in a 16-page report that the science used by the Wells team was deeply flawed.
[fragment number=5]
Last week, Science News weighed in and essentially sided with Brady with a report, entitled 'Deflategate favored foul play over science,' that suggested gameday conditions could have accounted for the PSI changes in the footballs.
The league has set aside two days — Tuesday and Thursday — to hear the Brady appeal if the process cannot be completed in one day.
If Brady does not get his suspension overturned and/or is unhappy with the commissioner's final decision, his last option of appeal would be to file a lawsuit in federal court.