Patriots
What to expect from Patriots with Jimmy Garoppolo at quarterback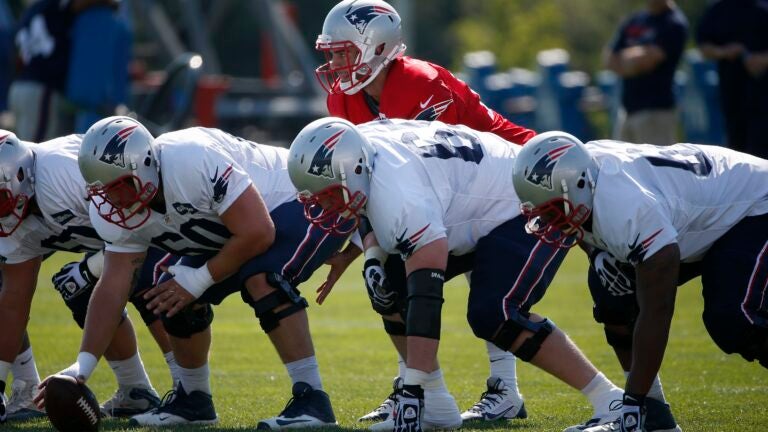 COMMENTARY
Jimmy Garoppolo stood in front of dozens of reporters, packed like sardines in a patch of grass roughly three yards wide and two yards deep. It would be a surprise if there weren't more than a few microphones covered with condensation or residual sweat that was dripping down Garoppolo's face in nearly 90-degree heat. The second-year Patriots quarterback, and Tom Brady's backup, had just completed his first official practice of 2015.
His demeanor in that media scrum was the same he says he had when he heard the news that Brady's suspension was upheld.
"You know, not much of a reaction to it, really,'' Garoppolo said Thursday. "Just stayed focused on what I can control and what I'm trying to learn right now and improve on.''
Not much of a reaction? Apparently, Garoppolo is unlike anyone else in New England.
The Patriots drafted Garoppolo in the second round in 2014, as a long-term insurance policy to Brady. They probably didn't envision that they would need to call on him so soon. Make no mistake; this is not the end of the Brady era in New England, but it is our first glimpse into what the Garoppolo era could look like.
And make no mistake, it will look different — at least at first. Don't expect Garoppolo to head to the line of scrimmage with the exact same command and poise that Brady has built over the course of his 15-year career. The second-year quarterback has a working knowledge of the Patriots offense, but he's working on his Associates Degree. Brady long ago earned his Doctorate.
Patriots head coach Bill Belichick and offensive coordinator Josh McDaniels will have to dial it down, at least a little bit, while Garoppolo proves he's up to the test. In that sense, the Garoppolo era will begin in much the same way as the Brady era began: with a game plan that is suited to Garoppolo's strengths and that masks some of his deficiencies.
The strengths: nimble feet, natural elusiveness, accuracy, a quick release, and an ability to throw on the move.
The weaknesses: "good enough'' but not elite arm strength, lack of experience against complicated defensive looks, and lack of experience operating from under center
Garoppolo has had time to work on the latter two weaknesses since entering the NFL.
"He's made a lot of progress,'' Belichick said. "Now we're into a second year and we'll see where that continues and where we're able to pick up on the learning from last year, and that goes for all of our second year players. We'll see. It's different being out there in pads, different being out there in a competitive situation, which we haven't gotten to yet but that will be coming shortly.''
We saw quite a bit of Garoppolo under center at spring practices, and we've also seen a lot more of him under center at training camp. He has also flashed enough arm strength to get a deep ball to where it needed to be.
That being said, it would be in the Patriots best interest if they do not ask him to throw eight or more go-routes a game. That would not be tailoring the offense to his strengths. Let him throw in rhythm, with three-step drops and a quick release to get the ball to a slot receiver running a drag route across the field, a boundary receiver running a curl route that stops 10 or 12 yards beyond the line of scrimmage or a tight end running a stick route where he can body up a linebacker.
We're also likely to see a lot of screens, which can take advantage of Garoppolo's quick release as well as the Patriots' abundance of quick-footed wide receivers who run well with the ball in their hands. The Patriots usually run a lot of screen drills in practices, which are intended more for the linemen to get an opportunity to practice blocking in front of the ball-carrier.
It wouldn't be the first time the Patriots have relied on yards after the catch in the passing game with a young quarterback. Matt Cassel earned 57.3 percent of his passing yards after a receiver already had the ball in their hands, according to Scott Kacsmar of Football Outsiders. Get the ball out of Garoppolo's hands and put it in the hands of the Patriots' proven skill position players; that's one way to make the young quarterback's life easier.
Of course, that's all elementary stuff. Defensive coordinators will be ready to throw Garoppolo out of his comfort zone with aggressive play calls that will force the young signal-caller to think. When you think, you hesitate. When you hesitate, you're late. Whether it's pre-snap disguises, late shifts, or exotic blitz packages to mess with the Patriots' protection calls, defenses will use every trick in their playbook to keep Garoppolo off his game.
The coaching staff is already taking measures to get ahead of the curve on this weakness. In the first two days of practice, we've seen the Patriots coaches working with Garoppolo on his coverage recognition and decision making. Garoppolo will stand in the middle of the field while three or four coaches drop into a coverage look. The goal is to get Garoppolo recognizing these coverages. There are no receivers running routes in these drills, but there are certain "coverage-beaters'' that are designed to get open against certain looks; Garoppolo needs to know what he's seeing, and which routes will be open against the defense in those situations.
There is one particular advantage that the Patriots have over their opponents, though: the element of surprise. Between his mop-up duty against the Kansas City Chiefs and the second half of the season finale against the Buffalo Bills, there is still less thane one full regular season game worth of tape on Garoppolo. The Patriots can roll out any surprises they may have up their sleeve that could help Garoppolo in his transition.
One of those surprises might be a few plays that are designed to get Garoppolo moving. Some designed rollouts and bootleg passes could make Garoppolo's reads easier. Those plays do not come without their drawbacks — mainly, the fact that a bootleg pass cuts the field in half, which limits the receiving options. Those drawbacks could be outweighed at times by the benefits — simplified reads and limited risk of a sack or turnover.
Bootleg passes could kill two birds with one stone: minimizing Garoppolo's weakness of inexperience against complex defense while maximizing his strength as a scrambling passer.
Garoppolo has shown a propensity to throw on the move in training camp so far, delivering a few solid strikes on plays where he has not had an opportunity to get his feet set under him.
The Patriots could even take it one step further, giving Garoppolo the opportunity to keep the ball and run with it on some option plays. While we're thinking of things in terms of risk-reward management, the Patriots have to be cognizant of the possibility that Garoppolo could take a big hit on one of those runs and what that would mean for the franchise: some very important snaps for a third-string quarterback.
Garoppolo has enough strengths that he should be able to execute the majority of what the Patriots will ask him to do. More importantly, the Patriots coaching staff is exceptional at accentuating a player's strengths and working around a player's weaknesses.
Beyond simply the game-plan changes, the Patriots' other offensive players will have to build rapport with their new quarterback.
"Just going out there and working hard when we get our reps together, go out there and get our chemistry down,'' tight end Rob Gronkowski said of how he can get on the same page with Garoppolo. "Obviously, every quarterback throws a little different for sure, so knowing the way he throws and knowing where the ball is going to be and just working together and getting the reps in together.''
That chemistry-building process is not in full throttle just yet; Garoppolo spent most of his day throwing to the likes of Josh Boyce, Michael Hoomanawanui, Jimmay Mundine, Zach D'Orazio and other second-string receivers.
But whatever he's being asked to do, he's executing it with ease. Thus far, through two practices, Garoppolo has completed 48 of his 68 pass attempts and has thrown just one interception.
That's a great start, but it only matters if Garoppolo carries his strong start in training camp into the preseason, and subsequently into the regular season when he'll be asked to step into the four-time-Super-Bowl-Champion-sized shoes of Tom Brady.
2015 Patriots Schedule
[bdc-gallery id="118609″]