Patriots
Watch Texans-Redskins joint practice break out into a massive brawl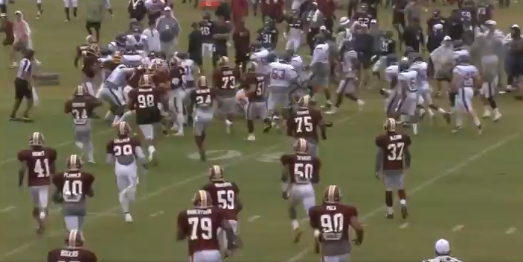 The Redskins and Texans' joint practice got completely out of hand. A brawl broke out between the two teams on Saturday, and it was captured on an ESPN broadcast. The ESPN commentator said it looked like a scene from Braveheart.
Prior to the brawl, the ESPN commentators remarked about how feisty players were getting on the two fields of play. But the chippiness escalated. Immediately following a large scuffle between the Redskins' offense and the Texans' defense, a similarly large scuffle ensued on the field where the Texans' offense played the Redskins' defense.
One fight seemingly bled into the next, and what started as three separate fights became one enormous brawl.
[fragment number=0]
[fragment number=1]
Ironically, the best hit of the day seemed to come when a Texans' running back trucked his defender — not during the brawl.
[fragment number=2]
Redskins wide receiver Pierre Garcon laughed on SportsCenter later and said that it was an elaborate ruse to end practice early. But Texans defensive end J.J. Watt saw it differently.
"Football's a violent game,'' Watt said in the video below. "Anyone who says otherwise is lying to you and sometimes you're out there, tempers get flared. Everybody's competitive — everybody's competitive on both sides of the ball, and sometimes things happen. That's just the way it goes, and we worked it all out and practiced on our own … Perfectly fine with it. It's fine to show a little flare every now and then.''
[fragment number=3]
The Patriots will face both of these teams in the 2015 season. They host the Redskins in Week 9 and travel to Houston to play the Texans in Week 14.
The Patriots were one of the trailblazers in holding joint practices during training camp. And many NFL teams have followed suit, recognizing the successful practices the Patriots have had with squads like the Eagles and Saints.
Notable newcomers to Patriots training camp
[bdc-gallery id="109813″]