Patriots
Gov. Baker took the Ice Bucket Challenge in a 'Free Brady' t-shirt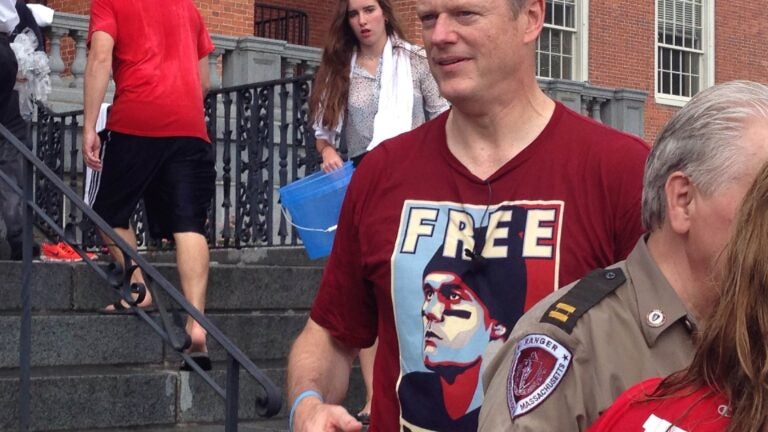 Add Massachusetts Governor Charlie Baker to the list of New Englanders who want to see Patriots quarterback Tom Brady cleared of all charges related the the seven-month-long Deflategate scandal.
Baker wore a "Free Brady'' t-shirt while taking the ALS Ice Bucket challenge at the Massachusetts State House Monday.
[fragment number=0]
Baker was joined at the State House by Pete Frates, the former Boston College baseball player who was diagnosed with ALS in 2012 and helped the Ice Bucket Challenge go viral in Facebook posts across the country last summer. Baker talked with Boston.com about his decision to wear the shirt made to support the Patriots quarterback in his ongoing battle with the NFL.
"I talked to the Frates family about it and, I said, 'You know, I got this t-shirt somebody sent me, and I was thinking about wearing it, but this is your day, you let me know,''' Baker said. "And they said 'Go for it.'''
The governor says he recently made a donation to ALS research but would not say how much. He elaborated on his support for the cause in a statement.
"Last summer, Pete Frates inspired millions of people around the country and the world — including Lauren and I — to participate in the Ice Bucket Challenge to raise awareness and critical ALS research funding,'' Baker said. "It is our pleasure to host Pete and his family at the State House on Monday as we continue to fight for a cure.''
The Red Sox kicked off the relaunch of the challenge last week at Fenway Park with challenge founders Frates and Pat Quinn. The challenge has been circulating among MLB teams since then.
Baker and his wife Lauren are no strangers to the challenge. They took it last year.
Since the effort began in 2013, over 17 million people are estimated to have taken the Ice Bucket challenge which has raised more than $220 million around the world.
Cool off at these 12 Massachusetts swimming spots:
[bdc-gallery id="108790″]
Boston.com's Dialynn Dwyer contributed to this report.