Patriots
Tom Brady's Ugg ads on the Mass. Pike, ranked
Because his newest ad is now up over the Pike, just like clockwork.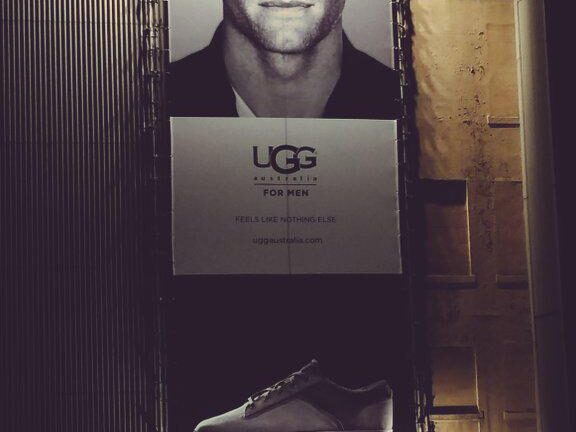 It's September, everyone, and aside from celebrating all that is autumn with your shameless pumpkin spice lattes and back-to-school sweaters, it means it's time to commemorate another new Tom Brady ad for Ugg. Rejoice, or otherwise discharge your loyalty.
This time every year, that vertical billboard over the Mass. Pike comes down in time for football season, only to be replaced with a new shiny shrine of our fair quarterback and those bumpkin footwear. It's like a changing of the guards, except with Tom Brady's face.
Here, we give you a ranking of the Mass. Pike ads of Tom Brady's past and present. Frivolous? Maybe. Do we still care? Absolutely.
No. 8: The Ghosting of Brady
Look at this incredibly empty Ugg ad lacking its Tom Brady. Learn from your mistakes, Ugg.
[fragment number=0]
No. 7: Is This an Instagram?
The Inkwell filter meets high fashion man-boots.
[fragment number=1]
No. 6: The Dozier Dad
There's nothing like a hip dress shoe paired with a pensive gaze into the distance to give us considerable "L.L. Bean dad'' vibes.
[fragment number=2]
No. 5: Dog Dayz
Here's Tom Brady being unintentionally upstaged by a canine. It's fine, it happens to the best of us.
[fragment number=3]
No. 4: All Black Errthang
"Hey girl, this sweater? It's boyfriend material.'' -Tom Brady, probably.
[fragment number=4]
No. 3: Long Hair Slicked Back, White (Under)shirt
Here's Tom Brady with a James Dean daydream look in his eye.
[fragment number=5]
No. 2: The Pancake Chronicles
What a family man. Work that spatula, Tom.
[fragment number=6]
No. 1: The G.O.A.T.
Almighty cheekbone guardian Tom Brady is watching over us with vigilance like the prophet Tim Tebow says he is. Bow down.
[fragment number=7]
Tom and Gisele sightings:
[bdc-gallery bgmp-legacy-id="whlPxtNmEeGzCeao6hD4TQ" id=""]