Patriots
Tom Brady has been reading the same self-help book for almost a decade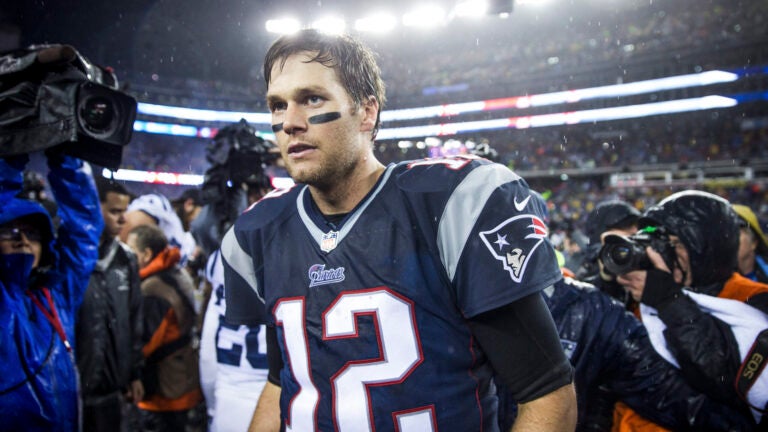 To get through the trying times of Deflategate, Tom Brady read the same spiritual self-help book that he and Gisele have been reading for almost a decade, he said in an interview with WEEI on Tuesday.
"I read a pretty cool book about nine years ago that is kind of a mantra for my life. One of the mantras in the book is don't take things personally,'' Brady told WEEI.
Brady said that the book was The Four Agreements: A Practical Guide to Personal Freedom, a self-help book that says it is "rooted in traditional Toltec wisdom beliefs.''
"It hit me at the right time,'' Brady said. "It was very relevant at that point in my life, and I read it once a year to reflect and gain a little perspective. It's served me pretty well.''
It's served him well in plenty of interviews, too. Brady and his wife Gisele Bundchen have referenced The Four Agreements a number of times over the past decade.
Back in 2008, in a story for Esquire, Brady cited it as the "very spiritual book'' that made him stop his life and say, "Goddamn.'' From Esquire:
The tenor of his answers is too consistent, the flat tone too rehearsed. Where do you get this stuff, Tom Brady? Do you have a guru? Is there an Emersonian life coach in some whiteboarded conference room in Foxboro? The Brady fesses up: "The Four Agreements, by Don Miguel Ruiz. Very spiritual book. You read it and you just go, Goddamn. You know, how can I be more honest, accept things that don't go as planned? When you try to combat everything, at the end of the day you realize that you're responsible for yourself.''
Those mantras certainly sound like they'd be relevant through the bizarre twists and turns of Deflategate.
That Esquire story also featured Brady's thoughts on how God feels — or doesn't — about Brady and football.
"Look at the attention I get: It's because I throw a football,'' Brady said. "But that's what society values. That's not what God values. God could give a shit, as far as I'm concerned.''
Brady's seal of approval sent at least one Amazon reviewer to the book back in 2008.
"This book was brought to my attention by the interview in Esquire of Tom Brady,'' user C.S. Gontarz wrote in September 2008. "It is easier said than done to follow the four agreements put forth, but they are great guidelines to attempt to follow.
Less than a year later, Gisele said The Four Agreements was among a handful of her "current favorites'' in an interview with Vanity Fair.
"Everything became so much simpler … It's like, 'Oh—now I get it!' You have this kind of epiphany—I don't need to sweat the small stuff! Enjoy the journey, not the destination,'' Gisele said. "Reading things is so important to me—things that can open up your mind. You need to feed your mind.''
In a 2010 interview, Gisele told Vogue how she discovered The Four Agreements through a simple search.
"She also logged on to Amazon.com and typed in SPIRITUAL BOOKS, which led to a passion for the writings of Miguel Ruiz,'' Vogue wrote.
Gisele may have given the book to Brady to read when they started dating in 2007. The supermodel, now 35, said she first read The Four Agreements in her early 20s in an interview with Origin Magazine.
So what kind of lessons has the author Miguel Ruiz been imparting on the Patriots' besieged quarterback?
[fragment number=0]
Photos: Patriots fans reveled in Brady's overturned suspension in the team's final preseason game.
[bdc-gallery id="112714″]