Patriots
5 keys to the Patriots' matchup against the Bills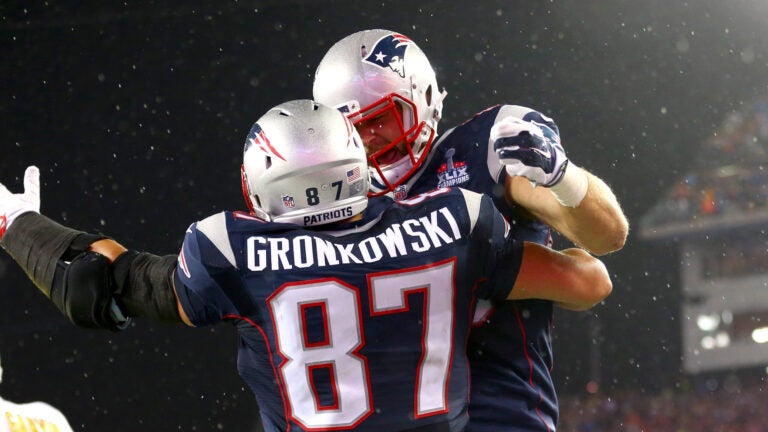 COMMENTARY
The Patriots' bulletin board isn't lacking for material ahead of the team's Week 2 matchup with the Bills.
Buffalo head coach Rex Ryan belittled New England running back Dion Lewis. Bills defensive tackle Marcell Dareus said nobody liked the Patriots. Even the team's store has joined the trash talk ahead of Sunday's game in Orchard Park, N.Y.
Meanwhile, the Patriots are keeping relatively quiet. Rob Gronkowski Belichick-ed his way out of responding to Ryan's compliment that only King Kong could cover him 1-on-1. The Patriots' other massive tight end, Scott Chandler, downplayed matching up against his former team. And Tom Brady somehow generated more attention with comments about Donald Trump and the GOP race than anything he said about the Bills.
Of course, the Patriots comments about Ryan and the Bills, as brief as they may have been, could be just as biting.
"I think our record against him has been OK,'' Patriots head coach Bill Belichick told reporters on Wednesday. "I'll take it.''
The Bills get their chance to walk the walk against the Patriots after talking the talk at 1 p.m. on Sunday in Buffalo. Here are five keys for the Patriots to prevent that upset.
1. The Patriots should deploy two-tight-end sets to dominate
Most NFL defenses don't have an answer for one 6-foot-6 tight end. The Patriots have two of those.
Defenses opposing the Patriots in 2015 will have no choice but to commit personnel to covering Gronkowski and Chandler while knowing that any strategy may likely prove ineffective over the course of four quarters. The tandem had six catches for four touchdowns in Week 1.
Broadcasters might describe that conundrum as being part of a chess match. It isn't. It's a fight between boxers in different weight classes.
2. The Patriots need to hinder the Bills' blitzes
Rex Ryan's defense threw 27 blitzes at Colts quarterback Andrew Luck in Week 1. But Tom Brady is no stranger to Ryan's aggressive defenses — and their effectiveness.Via The Boston Globe, Brady has posted a 90.1 passer rating against Ryan's defenses with the Ravens and Jets since 2007. Against the rest of the NFL in 113 games during that time period, Brady has a 101.6 rating. Ryan may not truly be the Patriots' kryptonite, but he has occasionally played the role of Lex Luthor, beating the Patriots in four of 14 matches since 2007.
The Patriots have a number of ways to manage the rush from elite defensive linemen like Mario Williams, Jerry Hughes, Kyle Williams, and Marcell Dareus. The most obvious is strong offensive line play. But the unit is still falling into place, as the Patriots are experimenting with five different combinations, according to NESN.com. Lucky for them, Brady will bail them out for much of the game by releasing the ball quickly. But if the Patriots want to avoid looking like the Colts' offense in Week 1, the offensive line will need to return the favor and, on occasion, bail out its quarterback.
3. LeGarrette Blount's return will have an impact on the Pats' offense
Patriots running back LeGarrette Blount is an unrelenting battering ram, even when the defense knows he's coming.
Will he be the bruiser that breaks Buffalo's will in the first half? Or will he be the Patriots' closer, chewing up clock after the Patriots pass their way into the lead? Perhaps, Blount will do both. Either way, his usage may go a long way toward mitigating the impact of Bufflo's aggressive pass rush.
Following the emergence of running back Dion Lewis and Blount's one-game suspension, the Patriots' backfield workload remains unclear. Head coach Bill Belichick tends to have no patience for fumblers, and Lewis did lose a ball in Week 1. It's hard to say whether Lewis will get the Stevan Ridley treatment or the opportunity to be the next Shane Vereen.
In 26 regular and postseason games with the Patriots, Blount has lost just two fumbles. He hasn't lost one in 15 games.
4. The Patriots' defense must limit the Bills' rushing offense
The Bills might just have one of the most versatile rushing attacks in the NFL this season. Quarterback Tyrod Taylor is a dynamic runner out of the pocket and in the read option. Wide receiver Percy Harvin, who played a significant amount of running back at University of Florida, can be dangerous in all sorts of ways from the slot.
Despite running back LeSean McCoy's lackluster rushing totals in Week 1 (17 carries, 41 yards), he contributed significantly as a receiver with three catches and 46 yards.
McCoy may be limited on Sunday due to a hamstring injury, but that's not necessarily a problem for the Bills. Rotational players Karlos Williams and Boobie Dixon — both listed at 6-foot-1 and 230 pounds — used their size to rush for touchdowns against the Colts. Williams averaged 9.1 yards per carry.
In their opener, the Patriots' "bend don't break'' defense looked as willowy as ever while Steelers running back DeAngelo Williams shredded them. The Patriots should be terrified of the creative ways Bills offensive coordinator Greg Roman highlights his runners' strengths.
The Patriots front seven can prevent the Bills' ground game from taking control by getting off blocks and tackling better. Through one game, they seem to miss Vince Wilfork's (and even vintage Jerod Mayo's) presence in the middle of the defense.
5. Attention, Stephen Gostkowski: Late-game heroics may be necessary
In five of the last six regular-season matchups between Ryan and Belichick, the game has been decided by three points or less. The Patriots have also won five of those six matchups.
New England might need a game-winning touchdown from Brady or a go-ahead field goal from Gostkowski on Sunday. If it's particularly close, perhaps a referee will contribute a controversial butt tap in a key moment.
It's familiar territory for a Ryan-led team to challenge the Patriots, but it's also familiar for them to lose.
Prediction: Patriots 24, Bills 21
12 great things Rex Ryan said about the Patriots
[bdc-gallery id="113344″]