Patriots
These 55 Patriots players caught Tom Brady's first 400 touchdown passes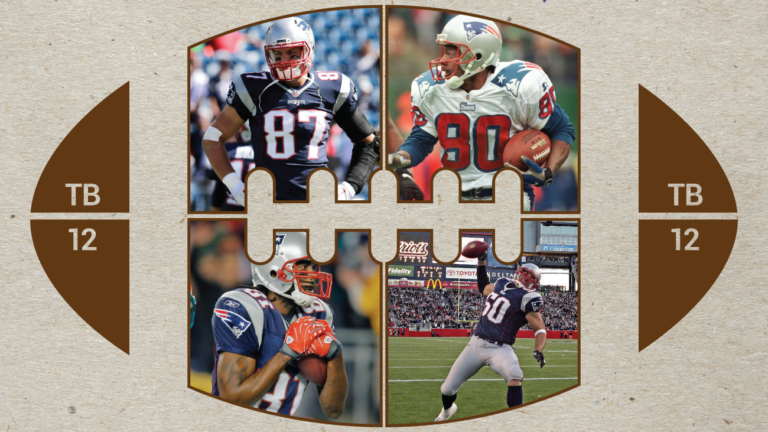 Membership in the NFL's 400 touchdown club is exclusive.
It has been a bit easier to earn a spot in Tom Brady's touchdown club.
The New England Patriots' quarterback threw his first career touchdown pass to wide receiver Terry Glenn on Oct. 14, 2001. More than 4,000 completions later, he tossed his 400th career touchdown pass to wide receiver Danny Amendola on Sept. 27, 2015. In between, Brady threw touchdowns to a Brady (no relation), a Jackson, two Johnsons, a Tim Wright, a Tim Dwight, and a linebacker.
Here are the 55 players to catch at least one of Tom Brady's first 400 career touchdown passes.
Rob Gronkowski (57 touchdown catches)
Randy Moss (39)
Wes Welker (34)
Deion Branch (24)
Aaron Hernandez (18)
Daniel Graham (17)
Ben Watson (17)
Julian Edelman (16)
David Patten (16)
Troy Brown (15)
Christian Fauria (13)
David Givens (12)
Kevin Faulk (10)
Mike Vrabel (8)
Shane Vereen (7)
Brandon LaFell (7)
Tim Wright (6)
Jabar Gaffney (6)
Danny Amendola (4)
Aaron Dobson (4)
Danny Woodhead (4)
Reche Caldwell (4)
Brandon Lloyd (4)
Bethel Johnson (4)
Donte' Stallworth (4)
Kenbrell Thompkins (4)
Antowain Smith (3)
Chad Jackson (3)
Doug Gabriel (3)
Jermaine Wiggins (3)
Corey Dillon (2)
Marc Edwards (2)
Alge Crumpler (2)
Sam Aiken (2)
Donald Hayes (2)
Brandon Tate (2)
Tim Dwight (2)
Kyle Brady (2)
Chris Baker (2)
Charles Johnson (1)
Terry Glenn (1)
Laurence Maroney (1)
Heath Evans (1)
Andre' Davis (1)
Scott Chandler (1)
Matthew Mulligan (1)
Larry Centers (1)
Dedric Ward (1)
Cam Cleeland (1)
Brian Tyms (1)
Patrick Pass (1)
Michael Hoomanawanui (1)
Chad Johnson (1)
Tom Ashworth (1)
David Thomas (1)
*All stats via Pro-Football-Reference.com
Tom Brady Career Timeline
[bdc-gallery id="117672″]