Patriots
Only standard Patriots have to meet is their own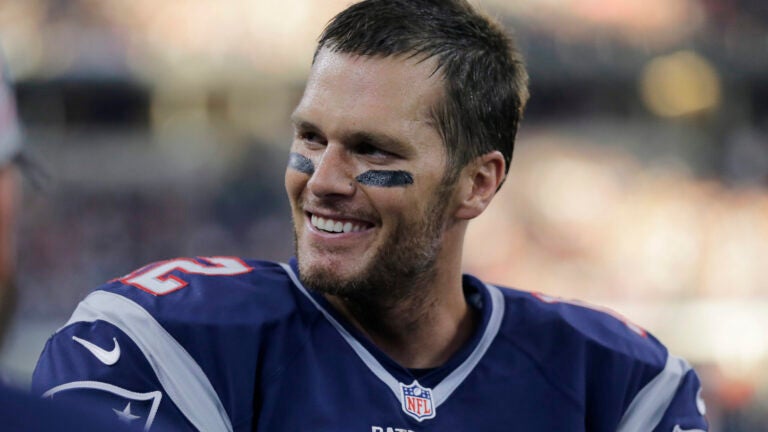 COMMENTARY
Maybe this has been obvious to you for the past several Sundays if not the past several seasons. It's certainly no hallelujah-inspiring epiphany here, either. But it is a core principle in the Patriots' enduring success that is worth acknowledging, because it becomes more apparent with each successive and impressive victory:
This team cannot be measured against what other teams are accomplishing. They can only be measured against themselves.
Maybe that seems trite, but it's also as true as the aim of Stephen Gostkowski's right foot (or Tom Brady's right arm, if you must stick with the classic analogy). And you can be sure that's how Bill Belichick is thinking.
It's especially true within the context of the present tense, a quarter of the way into their season. Undefeated talk? That's a sport-radio crutch for the days when there's nothing to gripe about.
There is absolutely no point is pondering the 5-0 Cincinnati Bengals as some kind of measuring stick right now. Same goes for any temptation to compare them to the also-unbeaten Denver Broncos. The Ravens stink (you'd think karma would have come for them years ago) and the Colts would be wise to move all of their cherished possessions into a bomb shelter once the vengeful Patriots take the field next Sunday.
But beyond that, this is a premature time for drawing concrete conclusions about any real or perceived contender.
It's also why I can't take much away from the Patriots' methodical 30-6 victory over the Cowboys Sunday.
Dallas should be good, with a decent offensive line and an aggressive pass rush led by Greg Hardy, who is almost as talented as he is evil.
Dallas is not good right now. The reasons for the latter are obvious to anyone who pays cursory attention to the NFL, and perhaps even to Chris Mortensen.
The Cowboys are without Tony Romo and wide receiver Dez Bryant, one of the most potent passing tandems in the NFL. They have replaced them with Cleveland Browns reject Brandon Weeden and … actually, I don't know off the top of my head who their other receivers are, because checkdown junkie Weeden refuses to throw the ball more than 10 yards.
Dallas could have lined up prime-of-career clones of Drew Pearson and Michael Irvin out there Sunday and Weeden still would have thrown a 5-yarder to Darren McFadden on third and 9. I now understand why he entered the game with a completion percentage over 70 percent. He doesn't challenge the defense or himself.
It's essentially pointless to try to conclude anything we didn't already know about the Patriots from the defeat of Dallas. Sure, there were further confirmations of some fairly recent revelations – Jabaal Sheard looks like the steal of free agency, and Dion Lewis runs like Kevin Faulk in percolating cleats – as well as reminders of specific traits and characteristics that we have known for a long time. Tom Brady, sacked five times in the first half, reminded us of just how tough he is, not that we needed the reminder or were particularly interested in witnessing one.
Of course, taking the common-sense approach to the Patriots' condition at this point in the season shouldn't prevent us from marveling at certain accomplishments … especially, in fact, when we are measuring them only against themselves, and particularly their past selves.
You can interpret this as a reference to a season ago, when at the quarter-pole they were 2-2, had just been clobbered by Kansas City, and the most vocal caterwaulers among us were warning us that the end was near for Brady. I'm curious whether their celebration of the Patriots' Super Bowl victory a couple of months later was tinged with at least a hint of embarrassment.
But this is intended more as a reference to what we've seen from the Patriots offense in the past compared to what we're seeing now. To put it bluntly, this group looks more than capable of measuring up to the best offenses of the Brady era, and it's worth noting that the Patriots offense has been many things in that time.
In 2001, it was a creative and efficient group, but hardly one with much star power. In 2004, Corey Dillon ran for 1,600 yards. In 2007, Randy Moss and Wes Welker arrived and passing records fell. In 2011, it was built around tight ends Rob Gronkowski and Aaron Hernandez. As far as I can tell, there have been three constants through the seasons: Brady, a tough and dependable slot receiver (Troy Brown, Welker, now Julian Edelman), and a capable third-down back (Kevin Faulk, Danny Woodhead, Shane Vereen, and now Lewis).
This offense, as currently constructed, is hinting that it might be the most well-rounded unit the Patriots have ever had. They systematically remove suspense from situations, such as the 3-3 first quarter Sunday, that briefly feel like suspense might be building. They can beat opponents any way the defense allows, and as the Colts are about to find out, they can beat opponents when vengeance is part of the game-plan.
This team cannot be measured against what other teams are accomplishing – or not accomplishing. They can only be measured against themselves. It's the highest standard, and right now, one they appear ready to meet yet again.
PHOTOS: Patriots vs. Cowboys
[bdc-gallery id="147639″]