Patriots
Patriots Player Power Rankings: Tom Brady leads way against Cowboys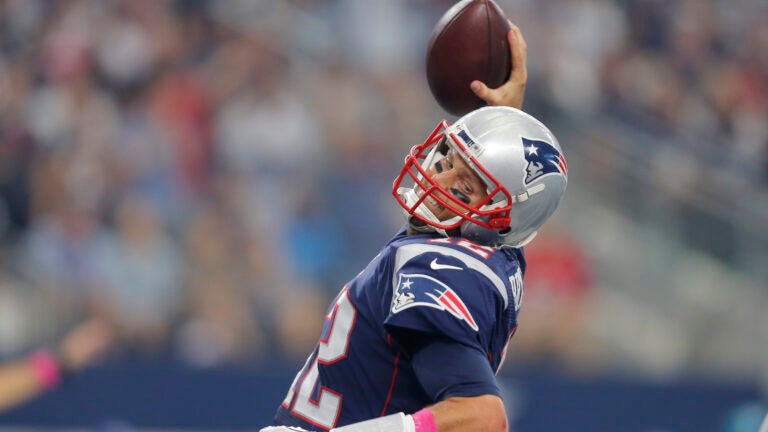 COMMENTARY
Tom Brady was knocked down, but not slowed down.
In the New England Patriots' 30-6 win over the Dallas Cowboys Sunday, Brady was sacked five times, but still scored three touchdowns (two passing, one rushing), leading the Pats to a 4-0 start and setting a franchise record for most points through four games. Jamie Collins, Malcolm Butler, and Devin McCourty led the Patriots defense in stifling the Cowboys offense, which had fewer total yards (264) than Brady (278).
Here are the top 10 Patriots players from Week 5.
1. Tom Brady
2. Julian Edelman — The Patriots wide receiver finished with 120 yards, and a touchdown. He averaged 30 yards per reception. Defenders were embarrassed on multiple occassions.
3. Jamie Collins — Collins had 10 tackles, one for loss, to go with a forced fumble. But those stats don't do the linebacker's performance justice. He was disciplined and impactful on nearly every defensive play. Patriots safety Devin McCourty may have said it best: "The dude is not human.''
4. Dion Lewis — Racking up a touchdown and 93 total yards from scrimmage, the 5-foot-8, 195-pound ankle-breaking running back put on a show.
[fragment number=0]
5. Devin McCourty — For much of the game, McCourty covered Jason Witten, who had five receptions but was held to 33 yards. McCourty made the Cowboys' best offense weapon a non-factor.
6. Rob Gronkowski — With Edelman and Lewis scoring touchdowns, Gronk's day (4 receptions, 67 yards) was a humbler than previous weeks. Of course, it was no less powerful.
[fragment number=1]
7. Jabaal Sheard — The pass-rushing specialist had two sacks and three quarterback hits. Job done.
8. Malcolm Butler— The No. 1 cornerback had just one tackle — because the ball was rarely thrown his way.
9. Dave DeGuglielmo — Brady was sacked five times in the first half and zero times in the second. The Patriots offensive line coach, and head coach Bill Belichick, appeared to make adjustments that fixed the leaky offensive line — for now.
10. Ryan Allen — The scoreline doesn't show it, but there was a field-position battle in the first half. After not being needed in Week 3, Allen's solid punts backed up the Cowboys offense while the Patriots offense struggled early in pass protection.
Casting the "Deflategate'' movie
[bdc-gallery id="111305″]