Patriots
Tom Brady and Brian Hoyer gave Bill O'Brien an adorable nickname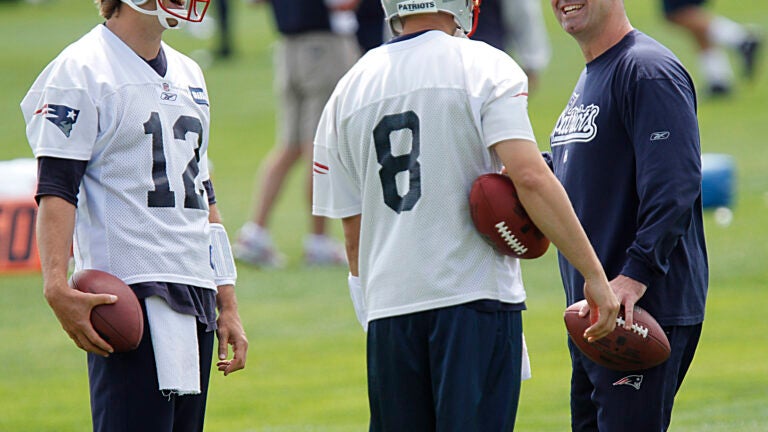 Bill O'Brien is "The Teapot.''
When the Texans head coach was the Patriots offensive coordinator and quarterbacks coach, he worked with Tom Brady and former Patriots backup and current Texans starter Brian Hoyer, who gave the coach the nickname for his temper.
They even brought a teapot into the locker room, and the quarterbacks covered it in notes that chronicled "teapot'' moments.
"Those were some good times,'' Hoyer told reporters Wednesday. "Basically, any time we felt it was justified, we'd put it on the teapot like it was the Stanley Cup. I brought a teapot in one day. Tom (Brady) and I thought it would be funny to just keep adding to the story. At a certain point, I started writing them down in my notebook. Finally, when we brought the teapot in, we started wrapping them around and eventually it was pretty full.''
When probed, O'Brien said there were a few people with teapot temperaments in locker room.
"It wasn't all me, that's the thing, they blame that whole thing on me,'' O'Brien said. "You want to talk about the teapot, you got to ask Hoyer, he caused that, he was the one.''
Hoyer spearheaded the teapot tradition, but seemed to go temper-tantrum free in New England. Brady, however, ended up on the teapot for his infamous sideline argument with O'Brien during the Patriots' 34-27 win over the Redskins in 2011.
"Oh, that was the ultimate,'' Hoyer said. "That was around there. But Tom was on there for that one too.''
[fragment number=0]
There was talk that the teapot would get flown from New England to Houston to continue the tradition.
"Yeah, I'm thinking about it,'' Hoyer said. "I'm not really sure where it is. I know it's up there still. That's something we'll have to find out, see if we can get it down here.''
Hoyer said he thought there was evidence enough on Hard Knocks that the nickname is still as fitting in Houston as it was in Foxboro. But Texans wideout DeAndre Hopkins said O'Brien's "Teapot'' days were behind him.
"He really keeps his composure with us,'' Hopkins said. "I'm not sure how he was in New England, but he's a great coach.''
When the former apprentices (O'Brien and Hoyer) face off against the mentors (Bill Belichick and Brady), emotions will be high.
Perhaps, there will be another moment to wrap around the teapot.
Old Patriots in new NFL uniforms
[bdc-gallery id="462976″]