Patriots
Tom Brady stands by his support of 'friend' Donald Trump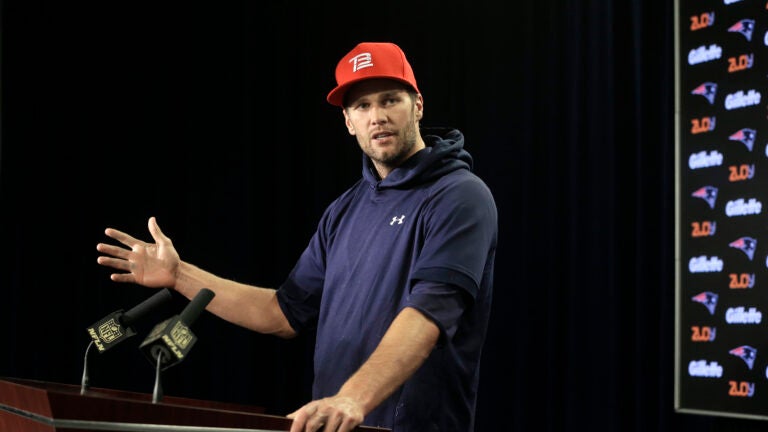 As Donald Trump continues to steep himself in controversy — most recently by outlining a plan to ban Muslims from entering the United States — Tom Brady is not ready to dissociate himself with the man he has repeatedly called a friend.
Brady was asked Tuesday on WEEI's "The Dennis and Callahan Show'' about his support for the Republican presidential candidate, as the New England Patriots quarterback said in September "it would be great'' to have Trump in The White House.
"Can I just stay out of this debate?'' Brady said Tuesday on WEEI, laughing as he spoke. "Donald is a good friend of mine. I have known him for a long time. I support all my friends. That is what I have to say. He's a good friend of mine. He's always been so supportive of me — for the last 15 years, since I judged a beauty pageant for him, which was one of the very first things that I did that thought was really cool. That came along with winning the Super Bowl. He's always invited me to play golf. I've always enjoyed his company.
"I support all my friends in everything they do. I think it's pretty remarkable what he's achieved in his life. You're going from business, kind of an incredible business man and then a TV star, and then getting into politics. It's three different career paths. I think that is pretty remarkable.''
Intended or otherwise, Brady's friendship with Trump has boosted the latter's campaign. According to Trump, having Brady on his side is impacting the polls.
"In Massachusetts, I'm at 48 percent. You know why? Tom Brady said Trump's the greatest,'' Trump told the Washington Post. "He says it to anyone who asks him. You know, it's hard for a guy like him to say that. When you're a football player, you don't want to be taking sides in campaigns and having the Hillary [Clinton] people now say you're not as good as Bart Starr. You understand. So Tom Brady is great.''
One "Dennis and Callahan'' hosts asked Brady Tuesday to clarify his language, as his remarks of "support'' can still be interpreted as Brady's endorsement of Trump's campaign.
"This is really important to you guys, huh?'' Brady said.
Brady admitted he still has a "Make America Great Again'' hat in his locker at Gillette Stadium — the hat which incited speculation about Brady's endorsement of Trump in 2018.
Tom Brady Career Timeline
[bdc-gallery id="117672″]