Patriots
5 keys for a Patriots win over the Dolphins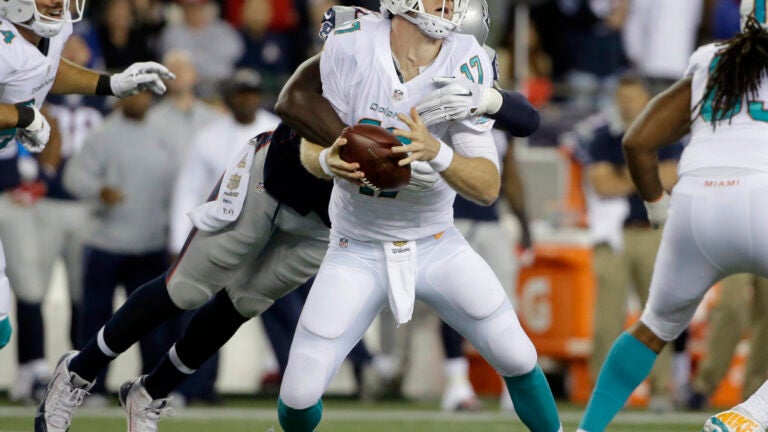 COMMENTARY
The Patriots don't need a win (they can clinch home-field advance through the playoffs with a Denver loss), but they want one. They always want one.
Bill Belichick knows how important momentum can be going into the playoffs. The New York Giants got hot at the right time, and beat the Patriots in the Super Bowl — twice.
New England will look to enter the playoffs coming off a win, rather than a two-game losing streak. Tom Brady and the Pats will try to replicate their Week 8 success against the Dolphins. But New England will likely do so in an entirely different fashion with most of the starters struggling with injury. Lucky for the Patriots, the 5-10 Dolphins are an easy target.
Here are the five keys for the Patriots in what is likely Dan Campbell's swan song.
1. Keep the Dolphins under 100 yards rushing
The Dolphins are more successful when they place an emphasis on running the football. In their wins, they've rushed for 248 yards, 140 yards, 137 yards, 99 yards, and 74 yards. Against the Patriots in Week 8, they rushed for 15.
The Patriots' injuries have caused the run defense to struggle, and the Jets had no trouble blocking the New England's defensive linemen and linebackers, which made for big gashes of yardage from both Bilal Powell and Chris Ivory. The Dolphins offensive line isn't quite as good as the Jets', but running backs Lamar Miller (5-foot-10, 210 pounds) and Jay Ajayi (6-foot, 220 pounds) are an excellent committee. Patriots linebackers need to shore up the interior by getting off blocks. If they can stop the rush, they can prevent the Dolphins from using run-focused, clock-chewing drives to play keep-away from Brady.
2. Finish strong when tackling Ryan Tannehill
This key works in two ways. First, Tannehill is big and mobile — missing a tackle could mean a 20-yard rushing gain for the quarterback (who was once a college wideout). Second, Tannehill has taken a lot of hits this season, and is dinged-up. According to the Miami Herald, he could barely put his own shoes on in the locker room last Sunday. This isn't to say the Patriots should get dirty and end up with penalty flags — but roughing up Tannehill will negatively affect him even more than that does to most signal-callers.
3. Steven Jackson and Brandon Bolden need to shorten third down scenarios
Bolden and Jackson both averaged under 3.5 yards per carry last week, and the Patriots were 1 for 10 on third downs. If the Patriots are going to improve those figures, they will either need Julian Edelman and Danny Amendola to play (which is very unlikely) or they'll need Jackson and Bolden to average more yards per carry.
Jackson and Bolden looked slow getting out of the backfield, and struggled to make significant gains when running between the tackles. They need to work in concert with their struggling offensive line to get the Patriots into 3rd-and-short situations.
4. Tom Brady needs to keep spreading the ball around
Brady has been throwing to six or seven pass-catchers, which doesn't seem like a big number, except when you consider that's about how many pass-catchers the Patriots have had active. Brady may continue to look away from Rob Gronkowski to preserve his health, so Brady will look to James White, Keshawn Martin and maybe even the forgotten tight end, Scott Chandler, if he's healthy.
Brady's stats haven't been gaudy this year, but he's been brilliant. Last week, he threw a perfect pass to Martin for 15 yards in the third quarter by zipping the ball over Buster Skrine's ear, hitting Martin in the hands right in stride. Brady will likely have to complete a few of those thankless but gorgeous passes against the Dolphins.
5. Safeties need to tighten up, communicate in deep coverage
Duron Harmon was left hanging out to dry against the Jets. No Patriots player could single-handedly defend Brandon Marshall last Sunday, and after a miscommunication between cornerbacks, Harmon was left alone to cover Marshall in the endzone — which led to an easy 33-yard touchdown for the wideout. It's a moment that can't happen against Jarvis Landry, DeVante Parker, and Kenny Stills, who are all legitimate deep threats.
With Pat Chung, Devin McCourty, and Jordan Richards all dealing with injuries, Harmon will be tasked with holding the top on the Patriots defense. At 6-foot-3, Parker is rangy receiver with great athleticism, which is the type of receiver that has burned the Patriots in consecutive weeks (see: Marshall and Dorial Green-Beckham). He and Landry will make difficult marks for Logan Ryan and Malcolm Butler. But the Dolphins won't be able to score as many points as the Patriots without the big play. The Dolphins will have to work for their points.
Bill Belichick's first-round draft picks
[bdc-gallery id="140608″]