Patriots
Bill Belichick praises Tom Coughlin: 'A couple of his biggest wins came at our expense'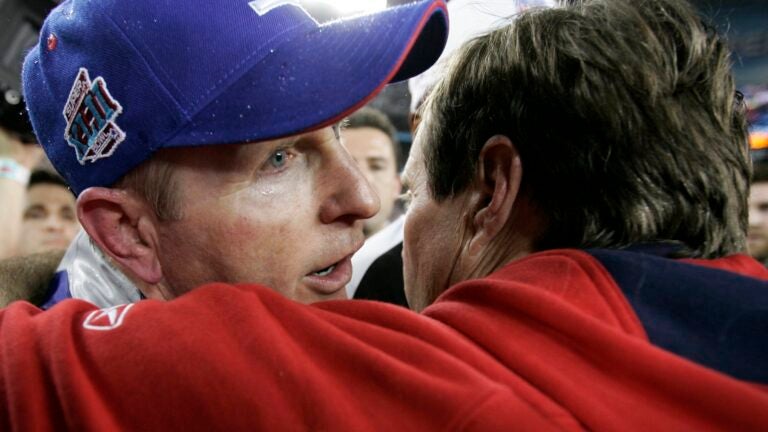 Bill Belichick has worked with Tom Coughlin — on the coaching staff of the Giants in the late 1980s — and worked against him — notably in a pair of Super Bowl defeats for the Patriots. A day after Coughlin announced that he would step down as the Giants head coach, Belichick was asked for his thoughts about his friend and foe.
"Tom's had a great career as a head coach and as an assistant coach – BC [Boston College], Jacksonville, New York,'' Belichick said Tuesday. "He's been a friend of mine for a long time. I have a lot of respect for Tom and his family, the way he approaches his job and the way he coaches. We had a great relationship at the Giants when we were on the same staff and have had good relationships throughout our respective careers.
"A lot for him to be proud of and unfortunately a couple of his biggest wins came at our expense. He deserves a lot of credit for all that he's accomplished in his career.''
Coughlin, who was offered an unspecified position with the Giants, has said he's "not necessarily done with coaching.'' His career record as an NFL head coach with the Giants and the Jaguars is 170-150, and he finished the last two seasons with New York at 6-10.
In response to a question about teams with coaching vacancies being interested in the assistant coaches on his staff, Belichick returned the focus to the Patriots' upcoming playoff game.
"The rest of it, I think I'll leave any comments about any coaching, on any other positions or with any other teams or anything related to that subject is really about the other teams and what they're doing,'' Belichick said. "We have an important game to get ready for here in a week and a half, and that's what we're going to do, so whatever anybody else is doing, we'll abide by the rules that the league has set up for those situations, and those things are really out of our control.''
Bill Belichick's not mad; this is just his RBF
[bdc-gallery id="116024″]