Patriots
Patriots Player Power Rankings: Steven Jackson doesn't make enough of an impact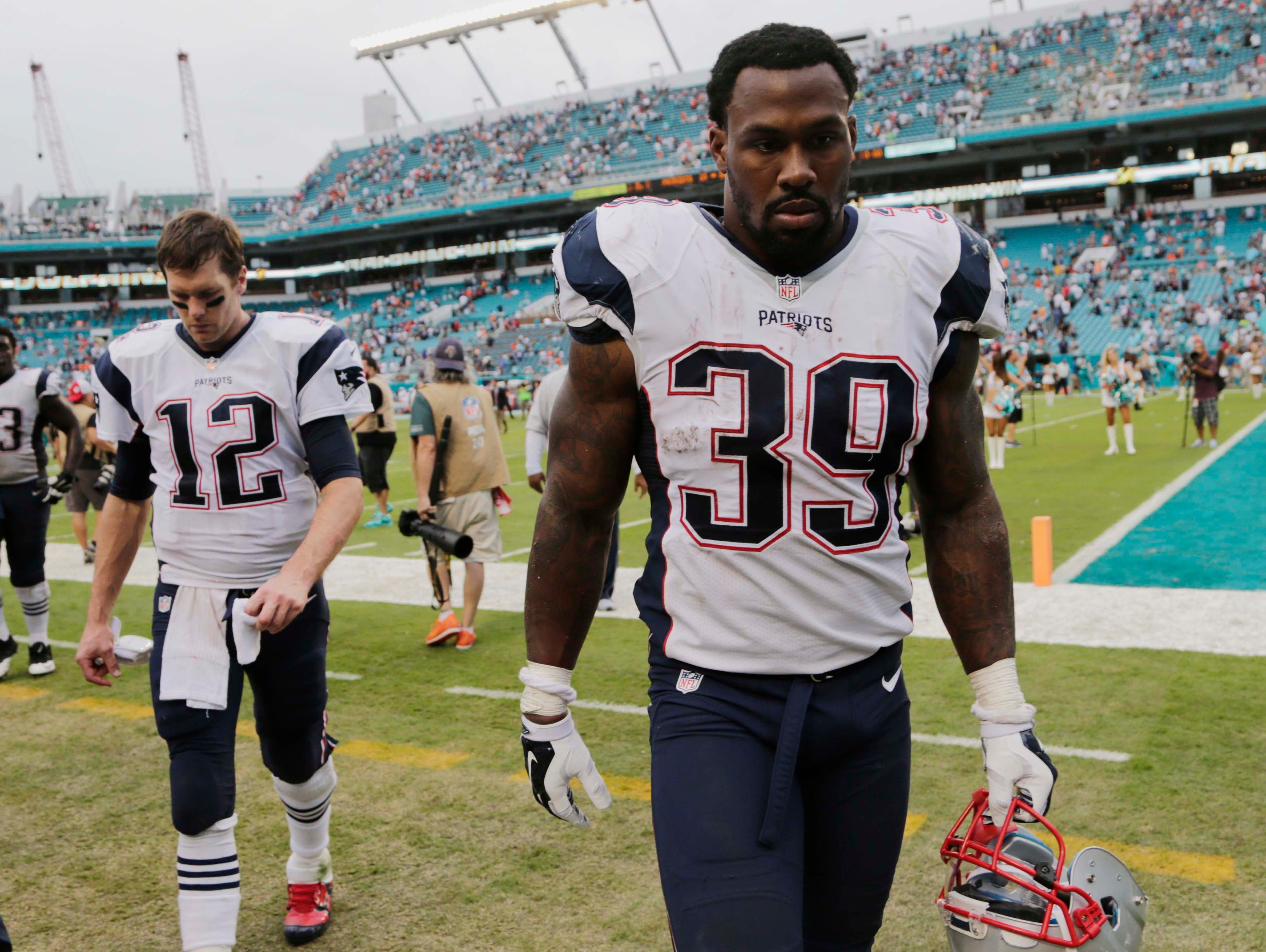 COMMENTARY
The Patriots relied heavily on Steven Jackson, Brandon Bolden, and James White — not Tom Brady — against Miami. Only White delivered.
In the Dolphins' 20-10 win, Bill Belichick's thought process seemed to be that, with the Dolphins rush defense as bad as it is, the Patriots could run the ball to keep things close — and a big defensive play and explosive passing play might seal the deal.
And that gameplan wasn't totally unfounded, as the Patriots stayed within striking distance the entire game. The run game, however, was inneffective, averaging 2.5 yards per carry. The Patriots tried throwing the ball in the second half, but by then, it was too little too late.
In the fourth quarter, Bill Belichick took off his headset, Jimmy Garoppolo entered the game, and Tom Brady limped around the sideline with an ankle injury. Little went as planned.
Here are the Patriots Player Power Rankings from Week 17.
10. Bill Belichick — His gameplan was fantastic in theory. But in practice, it didn't work. When that became clear, the Patriots should have replaced Brady with Garroppolo. Instead, they changed their tack to a passing-first offense, which led to Brady's injury.
9. Malcolm Butler — The Patriots cornerbacks couldn't stop Ryan Tannehill. Yup, Tannehill. Still, Butler allowed three receptions on five targets for 49 yards, according to NESN.com. It was a solid outing for the Pro Bowler.
8. Geneo Grissom — The rookie got his first sack of the season while filling in for the injured Chandler Jones.
7. Devin McCourty — McCourty kept the sad secondary from complete implosion by staying in coverage on an attempted double-pass play early in the game. Had McCourty bit, Jarvis Landry would have thrown the ball for an easy touchdown. Lucky for the Patriots, he did not. He may have also gotten hung out to dry on the Jordan Cameron touchdown, as Leonard Johnson appeared to abandon his coverage.
6. Jabaal Sheard — He pressured Ryan Tannehill six times with a quarterback hit and five hurries. His stats haven't been gaudy, but he's been the Patriots' most effective pass rusher on the season.
5. Tom Brady — He had a turnover-free game despite a leaky offensive line, an ankle injury, and a gameplan geared toward avoiding him from making an impact. It seems he did what he was asked.
4. Steven Jackson — It's unfair to ask the 32-year-old veteran — who was almost a year removed from football — to jump into the frey, and be the most important player in the offense after two weeks in New England. But that's what the Patriots asked. Jackson had a team-high 14 carries for 35 yards and a touchdown, and also caught one pass for 20 yards. It was a solid day, but New England needed him to be more effective than his 2.5 yards per carry.
3. Jamie Collins — Collins had six tackles and did his best to shore up the defense without Dont'a Hightower, who was sorely missed. Collins almost had an interception after deflecting Ryan Tannehill's pass, and as usual was one of the most impactful defenders in run and pass defense.
[fragment number=0]
2. Pat Chung — Chung returned from injury and excelled in his linebacker/defensive back hybrid role, racking up six tackles, and going 2 of 5 for 23 in coverage. He's the most underrated player on the defense.
1. James White — White provided the big play the Patriots had been looking for the entire game. His 68-yard reception got the Patriots back into the game. Unfortunately, it was the only burst of offense the Patriots could muster.
[fragment number=1]
Bill Belichick's not mad; this is just his RBF
[bdc-gallery id="116024″]