Patriots
Tom Brady: Chiefs 'force you into a lot of bad football'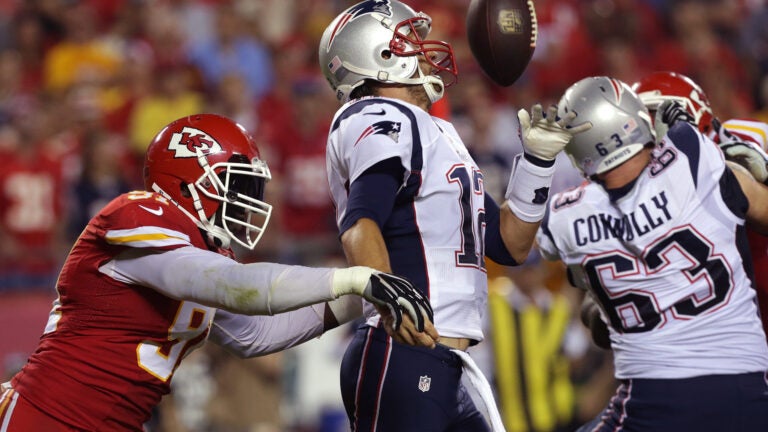 The Kansas City Chiefs have won 11 consecutive games in a formulaic manner, according to Tom Brady. The Chiefs' 30-0 win over the Texans on Sunday was representative of Kansas City's greater body of work.
"I think you can learn a lot from a game, even though it was 30-0,'' he said Monday on WEEI's "Dennis and Callahan Show.'' "Obviously, Houston didn't play really well. I think Kansas City forced them into a lot of bad football, but that's what Kansas City has done a great job of all year. They've forced teams, whoever they played down the stretch — they've won 11 straight — all of them into making a lot of bad plays.
"So when you watch that game a couple days ago, that's really how they've won most of their games,'' Brady said. "They look all very similar. There are a lot of offensive mistakes. Kansas City does a great job protecting the ball and taking advantage of their scoring opportunities, and then they have a good rush, a good front. They've just forced offenses into making a lot of mistakes. I think that's the mark of a good team and that's why they're at this point.''
That winning combination was "exactly'' how the Chiefs beat the Patriots, 41-14, in 2014, Brady said. The loss dropped the Patriots to 2-2 on the season, which led to a reporter questioning Bill Belichick about Brady's standing as a starter.
Belichick scoffed, and the Patriots won the Super Bowl 15 games later.
"They just force you into a lot of bad football,'' Brady said. "And they have guys offensively that can — they control the clock, they run the ball a lot. They have a very good quarterback [Alex Smith] who plays very efficiently. That's what they did to us, and that's been a winning formula for a long time.''
The Chiefs started the 2015 season 1-5, with losses to playoff teams like the Broncos, Packers, and Bengals. Behind defensive coordinator Bob Sutton, the Chiefs have managed the fourth-most takeaways (29) in the NFL. Their 22 interceptions are second-best in the league.
"They play very good defense, they rush the quarterback, they get ahead, they play on their terms,'' Brady said on WEEI. "They do a lot of things effectively and schematic wise that present problems for an offense. Then if you get a little hesitant back there as a quarterback, they force you into mistakes. They have a lot of playmakers on defense.
"You can't really fall asleep for one play or else it's a turnover, and if it's a turnover, they turn those into points. Then you get behind and they make it a one-dimensional game and it just snowballs. That's the kind of team they are … so we have to figure out a formula to beat them.''
The Patriots offense has been ailing in recent weeks, scoring 20 points in each of their final two regular season games. But the Patriots remain in the top five in turnover differential with plus-7.
''The fact that they haven't lost in so long, it's not like you can go to a game and say 'This is how this team defeated them.' That just doesn't exist,'' Belichick said Sunday. ''So we've got to figure out a way.''
Boston MVPs through the years
[bdc-gallery id="137357″]