Patriots
Lessons the Patriots can learn from their last game against the Chiefs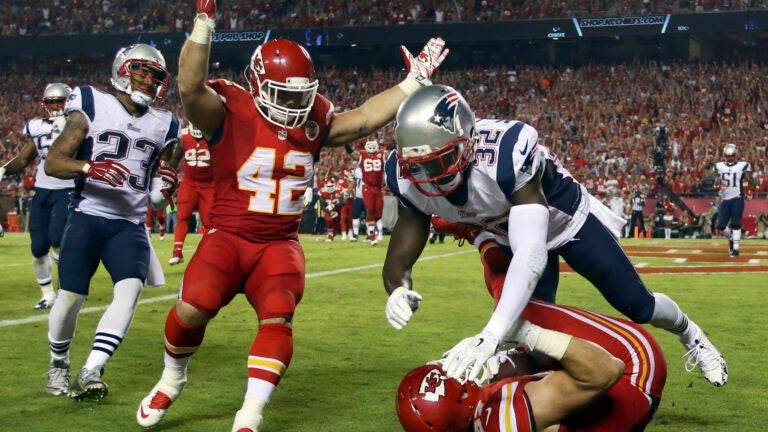 COMMENTARY
Those who don't learn from the past are doomed to repeat it.
The New England Patriots' blowout loss to the Kansas City Chiefs took place nearly two full regular seasons ago — 31 regular and postseason games for the Patriots, 30 for the Chiefs — but there are still plenty of lessons the Patriots should take away from that game in order to avoid a repeat outcome.
Make no mistake; these two teams are much different overall. It's been a long time since then, and both teams have made changes to their roster and to their game plans in that time. That being said, there are enough similarities, from coaches to personnel, that the Patriots can't afford to skip over the tape from their embarrassing 2014 Week 4 loss.
1. Run defense should be a priority: The last time these two teams played, the Chiefs piled up 207 rushing yards against the Patriots. Granted, that was with Jamaal Charles in the backfield — whom the Chiefs have been without since Week 5 of this season; it was also during a time in which the Patriots front seven was being gashed repeatedly against the run — but the Patriots have allowed a whopping 692 rushing yards (115.3) and 4.1 yards per attempt in their final six games of the 2015 season.
This season, the Chiefs ranked sixth in the league in rushing offense (127.8 rushing yards per game) behind running backs Charcandrick West and Spencer Ware. The Chiefs leaned on the running game even in the passing game; according to stats website Pro Football Focus, quarterback Alex Smith attempting 10 of his 30 passes off play-action and completing nine of those 10 throws for 106 yards and a touchdown.
2.Don't let Travis Kelce take over: There aren't many tight ends who compare to Rob Gronkowski, but Travis Kelce has the dimensions and the skill set to warrant such comparisons. At 6-foot-5 and 260 pounds, Kelce has the same ability to both outrun linebackers and overpower defensive backs.
When these two teams last met, Kelce looked more like Gronk than Gronk himself. Kelce caught eight of the nine passes thrown his way that night, going 93 yards and scoring a touchdown in the process. The Patriots tried mixing up coverage on Kelce with little success; the Chiefs tight end caught at least one pass against six different Patriots defenders, per Pro Football Focus.
Kelce is by far the biggest threat in the Chiefs' offense, so if the Patriots can take him away, they should be in business on defense.
3. Justin Houston and Tamba Hali can wreck the offensive game plan: One of the most lasting images from the Chiefs' romp in Week 4 of 2014 is of linebacker Justin Houston swiping at Tom Brady's arm and forcing a sack-fumble in the third quarter. The Patriots were fortunate enough to recover the fumble, but their luck ran out on the next drive, when linebacker Tamba Hali was the one forcing a fumble of Brady.
Houston and Hali combined for three sacks in that game, and are two of the best pass-rushing 3-4 outside linebackers in the NFL. Both men are less than 100 percent, and were missing from practice on Tuesday, but the Patriots will have to have some kind of game plan to take them out of the equation if they suit up. That might mean running right at them, to test their will in a physical way.
Photos: Bill Belichick's best Patriots draft picks
[bdc-gallery id="139049″]