Patriots
New Englanders got so, so much free Dunkin' Donuts coffee because of the Patriots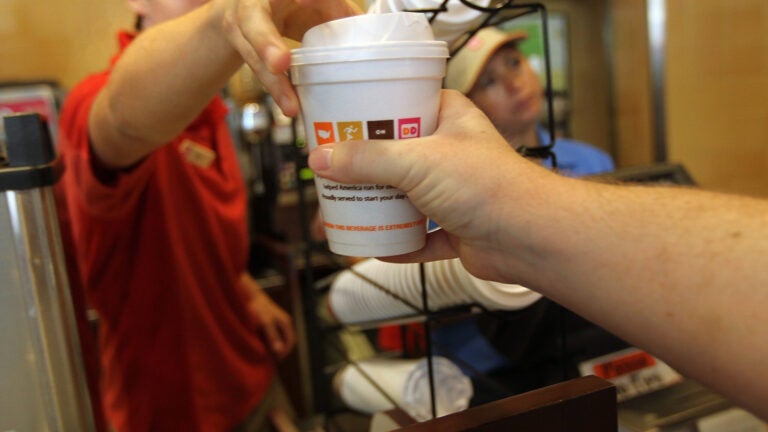 Dunkin' Donuts gave even non-football fans in New England a reason to root for the home team with a free coffee promotion following Patriots wins. And even though Tom Brady may not have partaken, local coffee lovers took advantage.
New Englanders received more than 2.25 million Dunkin' Donuts coffees from the Patriots' 12-4 season, according to data provided by the company.
The Canton-based chain's "Pats Win, You Win'' promotion offered a free hot or iced coffee to customers enrolled in their rewards program the day after the Patriots won. According to Dunkin' Donuts, more than 289,000 people signed up for the DD Perks program this season — in which the Patriots started 10-0 before their first loss.
The promotion was available to customers enrolled in the company's rewards program, DD Perks, at shops in Massachusetts, Maine, New Hampshire, Rhode Island, Vermont, and Connecticut (with the exception of Fairfield County, ahem, Giants fans), as well as Essex and Clinton counties in New York.
If 2.25 million coffees seems like a lot, don't worry: the program didn't put too much of a dent into the bottom line of the coffee chain. Dunkin' Donuts said they sell 1.7 billion cups of hot and iced coffee worldwide per year. In other words, they gave away 0.1 percent of their annual coffee sales for free because of the Patriots.
Dunkin' Donuts says the promotion will continue in the same locations, except for Maine, through the playoffs — which is good, because after Saturday's game — in which the Patriots are favored — it will be nearly a month since New Englanders savored the cream-and-sugar taste of victory.