Patriots
Julian Edelman, Rob Gronkowski prove the difference in Patriots offense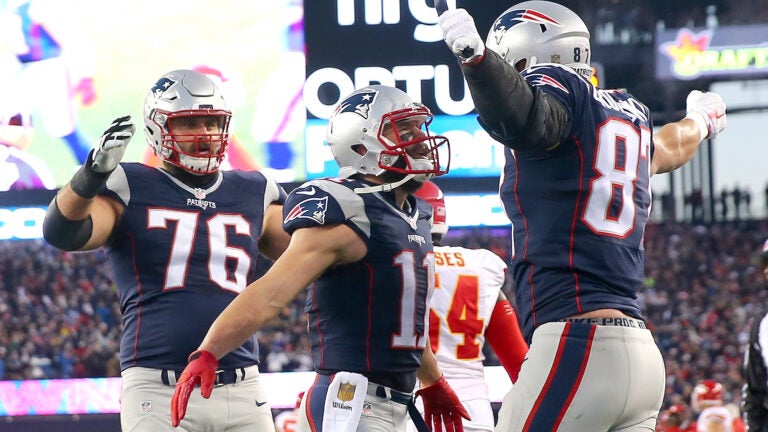 COMMENTARY
FOXBOROUGH — One week of worry was washed away with one dominant drive by the Patriots to start their 27-20 win over the Chiefs in the divisional round on Saturday.
The main source of worry was the effectiveness of wide receiver Julian Edelman. For six weeks, the Patriots' offense had struggled while its best wide receiver recovered from a broken bone in his left foot suffered in Week 10. Hopes were high that Edelman would have a huge impact in his first game back.
For as much consternation as there was about Edelman's health, there was just as much involving tight end Rob Gronkowski, who was in and out of practice this week with knee and back injuries, with reports varying about the severity of his ailments and whether he did or did not have injections in his knee, or even whether he went to the hospital for his knee or for his back.
Edelman was burdened by the big expectation that his return would flip a switch for the entire offense, and that expectation didn't prove too high. He turned his 16 targets into 10 receptions for 100 yards. Those may be pedestrian numbers by Edelman's standards, but they were remarkable considering his recovery from the broken foot. Of course, they weren't surprising to those who know Edelman and his work ethic.
"I think he's worked his tail off,'' quarterback Tom Brady said of Edelman. "He's always been one of the hardest workers I've ever played with, one of the most determined young men that's on this team. He's got as much heart as anybody. That's a serious injury to come back from, and to play the way he played today was great.''
The Patriots' struggling third-down offense was immediately bolstered by the returns of Edelman and Gronkowski. Edelman converted a 3rd-and-10 play on the Patriots' first drive with an 11-yard catch, and Gronkowski converted a 3rd-and-13 with a 32-yard reception and then a 3rd-and-7 with an eight-yard touchdown catch to cap off the first drive.
With 29 conversions on 87 third-down tries (33.7 percent), the Patriots' offense was one of the 10 worst in the league on third down in the final six games of the year. In converting six of their 11 third-down tries against the Chiefs, the Patriots should be feeling much more confident with their offensive production headed into the AFC Championship Game, referred to as the Patriots' "toughest game of the year'' by Edelman.
The toughest part for Edelman might be settling his nerves and not getting ahead of himself.
"I dropped some balls that I shouldn't have, trying to make a move before I caught it,'' he said. "I just had to slow down and get back to the fundamentals. I'm going to be working on those a lot this week.''
If he continues to improve off his performance on Saturday, the rest of the teams remaining in the playoff picture could be in trouble. But Edelman wasn't the only one giving the Patriots' offense a lift.
Gronkowski was up to his usual "smashing and dashing'' ways, turning his eight targets into seven receptions for 83 yards and two touchdowns. If his back wasn't bothering him before Saturday's game, it might be bothering him after carrying several Chiefs defenders all over the field Saturday night.
The Patriots put Gronkowski all over the field: He lined up outside at receiver, in-line at tight end, in the slot, wherever they could get him the ball. He caused problems no matter where he lined up.
"He's a tough matchup for everybody,'' Brady said. "He's got size and speed, so he's a tough matchup. He definitely made some big plays today, the touchdowns were big.''
[fragment number=0]
"Tough'' might be putting it lightly. On Saturday night, Gronkowski became the all-time leader for postseason receiving touchdowns by a tight end in NFL history. He's 26 years old, so describing the accomplishment as "impressive'' might be the understatement of the century.
For six weeks, the Patriots found out what their offense would look like without Edelman and they did not like the results. Fortunately, they didn't also have to find out what life would be like without Rob Gronkowski in the lineup. The Patriots were without Gronkowski for three playoff games from 2012-2013 and they lost two of them.
With both men playing at the level we saw Saturday, it could be a smooth ride for the Patriots offense to the Super Bowl.