Patriots
Every matchup between Tom Brady and Peyton Manning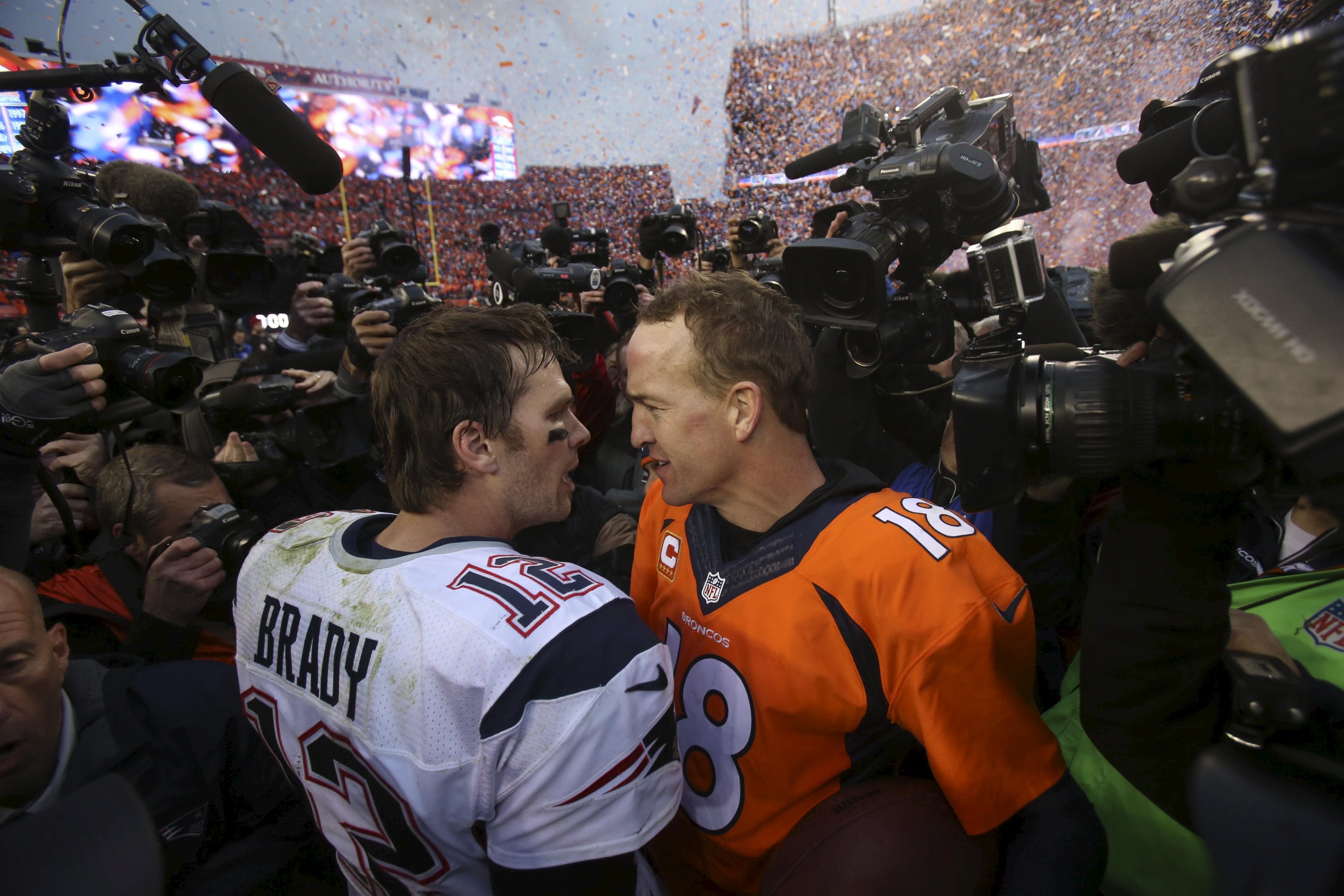 Sept. 30, 2001: Patriots 44, Colts 13 — Filling in for injured quarterback Drew Bledsoe (right), Tom Brady completed 13 of 23 passes for 168 yards en route to a 31-point, defense-led victory in his first matchup against Manning.

Oct. 21, 2001: Patriots 38, Colts 17 — Brady's Patriots rout Manning's Colts again, as Brady throws for three touchdowns and the Patriots defense limits Manning to just one.

Nov. 30, 2003: Patriots 38, Colts 34 — Entering the contest 9-2 on the season, Brady and the Patriots narrowly defeated the Colts after a goal-line stand at the end of the game. Brady threw two TDs while Manning had four scores of his own.

Jan. 18, 2004, AFC Championship: Patriots 24, Colts 14 — Brady and the Patriots capitalized on Manning's four interceptions, advancing to Super Bowl XXXVIII and defeating the Panthers, 32-29.

Sept. 9, 2004: Patriots 27, Colts 24 — The Colts' woes against the Patriots continued, as Indy had a chance to tie the game as time expired, but kicker Mike Vanderjagt, who had hit 42 straight FG attempts, missed a 48-yarder wide right.

Jan. 16, 2005, AFC Divisional Playoff: Patriots 20, Colts 3 — Manning falls to 0-6 against Brady and was not able to find the end zone in this one. Brady only threw for 144 yards and one score, but it was enough for the Pats to advance to Super Bowl XXXIX and defeat the Eagles for their second title in a row.

Nov. 7, 2005: Colts 40, Patriots 21 — Manning took this one personally after losing six straight against New England, throwing for 321 yards and three touchdowns. Marvin Harrison and Reggie Wayne caught nine passes each for a combined 252 yards.

Nov. 5, 2006: Colts 27, Patriots 20 — The Colts marched into Foxboro, and for the second year in a row, Manning came up big, finishing with 326 yards and two touchdown passes, while Brady threw for four interceptions at home.

Jan. 21, 2007, AFC Championship: Colts 38, Patriots 34 — The Patriots went up 21-3 to start the game in Indianapolis before Manning brought the Colts all the way back to mark the largest comeback in an NFL conference championship. Manning finished with 349 yards and went on to win his only Super Bowl against the Chicago Bears.

Nov. 4, 2007: Patriots 24, Colts 20 — With both teams entering the game with perfect records, the Patriots were able to redeem themselves after three straight losses to Indy. The Colts were up 20-10, but two huge Brady touchdown drives won the game for New England en route to their perfect regular season record.

Nov. 15, 2009: Colts 35, Patriots 34 — Forever known as the "fourth-and-2 game,'' the Patriots faced fourth down on their own 28, and Belichick decided to go for it in an attempt to ice the game. However, Brady's pass to Kevin Faulk came up short, and Manning led the Colts downfield for the winning touchdown with seconds remaining.

Nov. 21, 2010: Patriots 31, Colts 28 — Peyton Manning's 396 yards weren't enough as the Patriots staved off a two-touchdown, fourth-quarter comeback by the Colts in Foxboro.

Oct. 7, 2012: Patriots 31, Broncos 21 — In Manning's first game against the Patriots in a Broncos uniform, the Patriots set a franchise record with 35 first downs as Brady moved to 9-4 against Peyton. Wes Welker caught 13 passes for 104 yards in the game.

Nov. 24, 2013: Patriots 34, Broncos 31 — After falling behind 24-0, Brady led an historic second-half comeback. The Patriots scored 31 straight points and then kicked the game-winning field goal in overtime.

Jan. 19, 2014, AFC Championship: Broncos 26, Patriots 16 — Manning threw for 400 yards and two touchdowns, earning his third career trip to the Super Bowl. Brady threw for 277 yards with one touchdown, but it wasn't enough as the Pats lose their second straight AFC title game.

Nov. 2, 2014: Patriots 43, Broncos 21: Making his 200th career start, Brady threw for 333 yards and four touchdowns. Manning threw for 438 yards and two touchdowns, his 14th straight game with two TD passes. It didn't amount to much, however, as the Patriots won the 16th Brady/Manning duel by 22.

Jan 24, 2016: Broncos 20, Patriots 18: Brady threw two interceptions in the first half and Manning's 176 yards and two touchdowns were just enough to lead Denver past New England.