Patriots
NY Daily News depicts Tom Brady as a baby after Broncos' defender calls him a "whiner''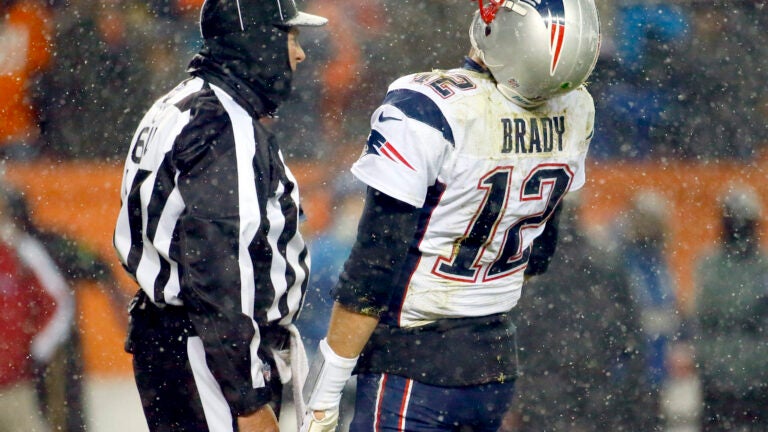 The New York Daily News is having a little fun with the Broncos' trash talk.
After Denver linebacker Malik Jackson labeled Tom Brady as a "whiner'' who "definitely throws tempter tantrums'' on NBC's "ProFootball Talk Live'' Tuesday, the New York tabloid photoshopped Tom Brady's face onto the body of a baby with the headline, 'CRYBRADY' on the back of Wednesday morning's sports page.
[fragment number=0]
Earlier on Tuesday, Broncos linebacker Antonio Smith was asked if he thought the Patriots quarterback was a crybaby.
"That would be an accurate statement,'' Smith told the Colorado Springs Gazette. "I've never seen any quarterback look to the referee right after he gets sacked more than Brady. Every time he gets sacked he looks at the ref like, 'You see him sack me? Was that supposed to happen? He did it a little hard. Please throw a 15-yard penalty on him. Get him fined.'''
The two teams last met in Week 12 when Denver narrowly defeated Brady and the Patriots 30-24 in overtime. Brady was disputing calls by the referees throughout the game, then said after the game that he didn't think he'd ever been that visibly pissed off.
"With Brady, he's a great competitor,'' Smith went on. "You know it's coming. He's going to cry about getting hit, but he's going to take the hit and keep going.''
The Patriots get set to take on the Denver Broncos for the AFC Championship at Sports Authority Field Sunday afternoon at 3:05 p.m.
Tom Brady Career Timeline
[bdc-gallery id="117672″]