Patriots
Patriots Player Power Rankings: Who's better than Tom Brady?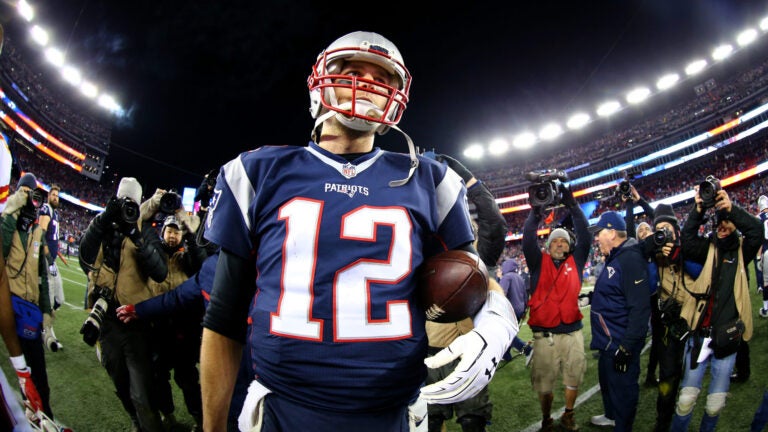 COMMENTARY
Nobody's better than Tom Brady. Ask former Patriots and current Broncos cornerback Aqib Talib. He agrees.
During the Patriots' 27-20 win over the Chiefs, Brady tied Steven Jackson as the team's rush-attempt leader — and the Patriots therefore had no semblance of a rushing attack to help alleviate pressure in the passing game. Yet Brady completed 66.7 percent of his passes for 302 yards and two touchdowns.
Brady threw a few dangerous balls, most notably on his final pass of the game, which bounced off linebacker Tamba Hali's hands, somehow landed in Julian Edelman's grasp, and went for a game-clinching first down.
But Brady carried the team. And New England has its swagger back in time for a trip to Denver for the AFC Championship Game.
Here are the Patriots player power rankings from the AFC Divisional Game.
10. Andy Reid — New England owes the Chiefs head coach a thank you. With 2:33 left in the game and the Patriots leading, 27-13, the Chiefs were on the 1-yard line. It took them 1:15 of gametime to get into the end zone, essentially terminating their chances of winning the game. And Reid perpetuated his reputation for poor clock management.
[fragment number=0]
9. Devin McCourty — Jason Avant's 26-yard reception was the longest of the game, as McCourty patrolled and controlled the deep half of the field.
[fragment number=1]
8. Justin Coleman — The undrafted rookie faced multiple receivers but was 3 of 8 when targeted, allowing 26 yards, according to NESN.com. He finished the game with a pass break-up and a holding penalty.
7. Dont'a Hightower — His return from injury was less discussed than the return of Edelman but no less important. He continues to be a terror in run defense (6 tackles), the pass rush (two quarterback hits, two hurries), and pass defense (2 of 3, allowing 15 yards).
6. Sebastian Vollmer — Brady finished the game without taking a sack. Edelman allowed Brady to return to his insane 2-second delivery, but Tamba Hali and Justin Houstin can probably close on a quarterback at that pace. Credit to Vollmer and co. for keeping Brady relatively clean.
5. Patrick Chung — Chung was tasked with limiting the Chiefs biggest weapon: Travis Kelce. The tight end finished with six catches for 23 yards. Job done.
[fragment number=2]
4. Julian Edelman — There was no easing Edelman back into the offense. He was the focal point from the start, getting the team's first two first-downs. He finished with 10 receptions for 100 yards.
3. Chandler Jones — The Patriots finished the game plus-1 in turnover differential thanks to Jones's forced fumble. In a 7-point game, Jones's heads-up play was paramount. It wasn't the best game of his career, as he hoped it would be, but it was a great showing.
[fragment number=3]
2. Rob Gronkowski — Edelman did much of the work getting the Patriots into the red zone. Gronk finished. His stat line: 83 yards, two touchdowns.
1. Tom Brady — Via CSNNE's Phil Perry, during Brady's career as a starting quarterback, he's got a better chance to go to the AFC Championship Game (10 of 15, 66.7 percent) than he has to complete a pass (63.6 percent) — which is absurd.
Best sports bars to watch Patriots games
[bdc-gallery id="109509″]